Online Scratch Cards
Like with many other things, including books and lotteries, scratch and win tickets have made the transition from the real world to the online world, and there's no going back. Offering great INSTANT prizes, fun gameplay, tremendous variety, and excellent return to player (RTP) percentages, online scratch cards offer tons of excitement to fans of traditional scratch tickets and new players alike. In this guide, we take an in-depth and unbiased look at the best games available today so that you can start playing right away.
If you've ever played a scratch card in real life, you already know how much fun they can be, and online scratch cards can offer a similar experience right on your mobile device or computer—no coin necessary. Also called scratch-off tickets, scratch-n-win tickets, scratchies, and scratchers, scratch cards are instant-win games that more akin to bingo, slot machines, and game shows games than they are to traditional lotteries. If you've been curious to try them out but don't know much about them, keep reading as we take a close look at what online scratch card games are, what they offer, and what you should look for when navigating the many options that exist nowadays.
What Are Scratch Cards?
Scratch cards are small cards made of cardboard that generally have a fine but opaque layer of silver latex or acrylic concealing various symbols underneath. Players scratch this layer off, usually using a coin, to reveal the symbols underneath. If several symbols (usually three, but this can vary from game to game) match, then the player wins a prize. It's also possible to scan a ticket's barcode (also hidden under a layer of latex) to see if you won a prize, but what's the fun in that? While a few clever people in the past were able to figure out whether or not some scratch cards were winners before they were even scratched, this is unlikely to happen anymore as games and lotto organizations have gotten smarter with how they made them and closed loopholes over the years.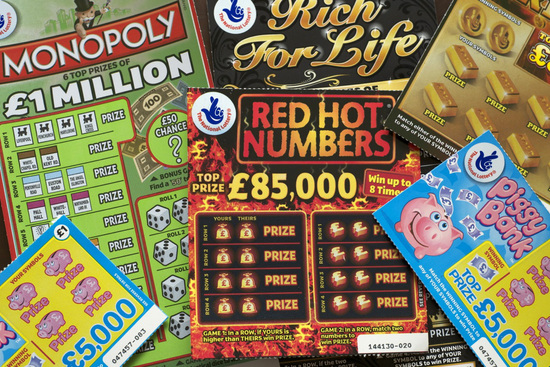 Online/digital scratch cards are almost identical to their physical counterparts in every way with the exception that they require players to use a mouse pointer (on a computer) or finger (on a phone or tablet) to "scratch" off the top layer, and they often have animations and sometimes even sounds and music. Just like with books, some people prefer the paper versions while others swear by the digital versions because of the immense convenience that they provide, but this really comes down to personal taste.
Brief History
Back in 1974, an American computer scientist based in Massachusetts by the name of John Koza decided he had had enough waiting around for lottery results and came up with the world's first instant-win lottery scratch card. Koza, who had developed a special computer algorithm to ensure each card was truly random, teamed up with a marketing specialist named Daniel Bouwer to start a company called Scientific Games Corporation, and the rest is history. The first organization to employ and promote what was aptly called "The Instant Game" was the Massachusetts State Lottery. The game, which had a jackpot of $10,000, outsold regular lottery tickets in its first week by 270%, and as the cards' popularity began soaring, lotteries all over America soon began adopting them for their own games; by 1995, they were commonplace worldwide. Then, as the global phenomenon of online casinos and lotteries exploded, online scratch cards arrived in 2002, and the industry hasn't been quite the same since.
Pros of Online Scratch Cards
There are many advantages to playing online scratch cards, some of which already exist with conventional cardboard scratch cards and others that make the digital versions superior. Here are the main ones:
Easy to Play
Most scratch card games are so straightforward that even a child could understand them. Usually, all that's required to win a prize is to match three symbols, and different symbols correspond with different prize values. For example, matching three cherries might be worth $2, while matching three pots of gold might be worth $10,000. The symbols and values vary widely from game to game, so it's generally a good idea to note what they are before you begin playing; however, with online scratch cards this doesn't really matter that much because everything will be clearly spelled out for you. If you win a prize, you'll definitely know because of the animations and messages that pop up onscreen.
Instant Prizes
Compared to regular lotteries, which sometimes have daily draws but usually only one or two per week, scratch-off tickets reward people with prizes around the clock. You don't have to wait until a draw takes place and remember to check your tickets; instead, you simply scratch your card, see if any symbols have matched, and—hopefully—rejoice. It's really as easy as one-two-three, and you know instantly whether or not you've won something.
Big Wins
The many prize tiers offered by scratch cards might start with small prizes like $2 or a free play at the lower end but go up to tens, if not hundreds, of thousands of dollars—and sometimes even $1 million. Some cards offer fixed prizes, including cash, electronics, and holidays, while others are multipliers of whatever amount you wager—similar to slot machines. For example, if you wager $10 and choose a 50X multiplier and end up winning, you'd walk away with $500—just like that. Many cards also have a "Bonus" box that gives you an additional shot at winning a prize, even if you didn't win anything in the main game.
Good Odds / Return to Player
While there are no guaranteed wins because they are games based on chance that ultimately must generate money for the sites that host them, scratch cards offer pretty great odds overall. Although the exact return to player (RTP) varies from website to website and especially game to game, scratch cards generally offer much better odds than conventional lottery games and even traditional paper scratch tickets. For example, it is common for most lotteries to have odds of 1 in several million, and conventional scratch cards often return about 66% of its cost in prizes. Some digital scratch games, however, can have returns in the 90% and up range, which are very high return percentages.
Just like physical scratch cards, online ones have a certain number of prizes set aside for each prize tier, with usually one jackpot, multiple second-place prizes, and so on all the way until the final tier at which there are usually thousands of prizes available. Once all the cards in a series are scratched off and accounted for, that series is considered finished and a new one with a new jackpot begins.
It's worth noting that the cards are randomly generated and likewise appear randomly to the players who access them online, and there's no way to know if the card in front of you is a winner or loser until you scratch it—just like with the cards that are sold in stores.
Many Prize Tiers
Different scratch-and-win tickets have different numbers of prize tiers. Some could have just a six or eight, but it's not uncommon to see games with as many as 18 prize tiers. Compared to conventional lotteries, which sometimes have as many as nine prize tiers but usually less, digital scratch cards really offer players many chances to win.
Fun to Play
Unlike lotteries, which are passive activities once you've selected and submitted your numbers, scratch cards are exciting, interactive games to play even if you don't win a prize. The simple ones just take a few seconds to scratch off, but other ones, like bingo, can take several minutes to play through. As a result, the maxim "it's the journey that matters, not the destination" applies pretty well to them—though of course the journey's a lot more enjoyable when you win a big prize at the end!
Available Anytime
Online scratch cards are available 24/7, so you don't need to worry about making it to your local lottery retailer or convenience store by a specific time. Simply pull out your mobile device or computer, go to your favourite scratch card site, and play to your heart's—and wallet's—content.
No Mess
Unlike paper scratchcards, which always leave a mess behind because of the latex or acrylic film that needs to be scratched off, digital cards are as clean as it gets. You can play a few quick games, close your browser window, and move on to doing something else without having to tidy anything up.
Great Graphics & Animations
The best online scratch cards will feature colourful graphics and even animations that make them much more exciting and engaging than static paper scratch tickets. Since this greatly adds to their appeal, it is one of the main reasons they are nowadays as popular as they are. That being said, beautiful graphics are sometimes used as a means to draw people in and distract them from the fact that the game's odds or payouts aren't that great, so do keep this in mind if winning prizes is an important consideration for you.
Many Offer Free Play
If you want to try out a specific scratch card before you pay to play it, or you just want to play for free because you enjoy the experience, you're in luck because the vast majority of online scratch cards offer free play. To do this, you don't have to sign up with the site or provide any payment details or anything like that; instead, you just press the "PLAY FREE" button (or something similar) and off you go. This is a really great feature that was never possible with the real-world scratch cards available in stores, for obvious reasons.
Affordable
If do you find a game that you would like to try playing with real money, the good news is that most are very cheap to play, often ranging from as little as $0.05 to $50 and occasionally even higher per play, especially with games where it's up to you to decide what amount you're comfortable wagering. With the cheaper games, you can play for hours and not feel guilty about burning through your life savings.
Various Payment Methods
Most websites that feature digital scratch-off tickets accept a wide range of payment options that range from credit cards (Visa, MasterCard, Discovery, etc.) to bank transfers to e-wallets like Skrill, Neteller, Trustly, PayPal, WebMoney, and many others. In other words, it's pretty damn easy to pay for a scratch card online!

Cons of Scratch Cards
Like with anything else, digital scratch cards have a few downsides to them:
Usually Need to Register with a Site
Although "Free Play" games you can start enjoying immediately, playing games for money will almost always require you to sign up with an online lottery site, casino site, dedicated scratch card site, or some other type of site. However, if you're signing up with a quality service this shouldn't be an issue nor take long to complete. Most registration processes take just a couple of minutes and require basic details such as email address and mailing address, and a deposit through your preferred deposit payment method. And if you think you'll be playing the games fairly often, then having an account with the site is a great way to keep track of the games you've played and your winnings over time.
Not Giftable
One of the things that people love doing with paper scratch cards is giving and receiving them as gifts, especially in birthday cards or Christmas stockings. Unfortunately, there's no way to do that—at least for now—with digital cards.
Restricted in Some Countries
Some countries (or certain regions of some countries) have strict restrictions on all forms of online gambling—including online scratch cards, lotteries, and casinos—so in those countries it might be tough to find a local provider. However, this can usually be overcome by playing via a foreign-based website and, if necessary, using a VPN.
Withdrawing Winnings Can Take a Few Days
Different websites have different policies when it comes to paying out winnings to players, and some of the wait times can even dictated by the software providers. That being said, most websites will pay out within several business days, but this can still be annoying when you want your winnings instantly. Compared to brick-and-mortar scratch card and lottery retailers, who generally pay out smaller winnings immediately, this is definitely a downside. Therefore, if you really don't want to wait, look for sites that advertise quick payouts.
What to Look for in Online Scratch Cards
Finding the best scratch cards online might seem like a daunting task considering there are so many websites and cards out there, but it's actually not so bad once you know what to look for. In our scratch card reviews these are the specific elements that we look at (and that you should look for too):
Site Reputation
One of the most important factors is what the reputation of the hosting website is, as a quality website will generally feature quality content. This doesn't automatically mean that ALL of the games they will feature will be excellent, but it's also unlikely that they will feature any crap games that no one would want to play. Scratch cards are usually featured on online lottery sites and casino sites, but sometimes they are featured on official lottery organizations' sites and even sites completely dedicated to scratch cards. And, just like with the best online lottery sites and casino sites, good sites will look great and function well, be trustworthy, have a solid customer support department, accept a wide range of payment methods, and create an overall positive user experience.
Quality Provider
Although online scratch cards come in many different types and sizes, some of the best ones are made by software providers such as Microgaming, NetEnt, Playtech, and Novomatic. These companies are also behind some of the best online casino and slot games. Since these are big companies with plenty of resources and years in the industry, you know you can count on their products to be polished and entertaining. That being said, sometimes the simple games that aren't flashy are the ones that offer the best prizes or odds, as they aren't trying to distract you with anything else.
Themes
Just like with slot games and other casino games, scratch cards generally cover a wide gamut of themes, including popular movies, music, board games, comic books, sports, and holidays, to more random things like characters or themes that are simply related to the websites that host them. In the end, it's entirely up to you to decide what themes appeal to you most, but remember that the key thing is just to have fun—scratch tickets are games after all!
Free Bonuses / Matched Deposits
The types of websites that tend to feature scratch-off tickets know there are tons of competitors trying to attract your attention (and money), so many offer enticing freebies so that you sign up with them instead of "the other guys". As a result, many sites will 100% match whatever amount you deposit (up to a certain amount) so you get much more bang for your buck. For example, if you're a new player who deposits $100, you could actually get $200 in credit to use on the site. Some will even match your deposit by 200%!

Furthermore, it's quite common for the best sites to give you free credits just for signing up with them—even if you don't deposit anything! That way you can try out their scratch games and play for real money to see if the site works for you. Another popular type of offer is known as the "refer-a-friend bonus", which gives you free credits for every friend who signs up and makes a deposit into the site.
Offers like this vary from site to site, with some being for new players and others for regular ones, but whatever flavour they come in, one thing is certain: they're a great and low-risk (or even risk-free) way to get a taste of scratch cards and the sites that host them.
Sizes of Prizes
As mentioned earlier, the prizes that scratch cards pay out can vary greatly from game to game, with some being capped at hundreds or thousands of dollars and the biggest games going up to $1,000,000. Some scratch cards feature growing jackpots, something common to certain online slot games and casino games, meaning there is a jackpot pool that keeps increasing in size until someone eventually wins it. While there is nothing wrong with playing the games that offer the largest prizes, just keep your expectations realistic and remember that the bigger the prize, the tougher the odds of winning it. In other words, playing easier games might ultimately be a lot more fun since you're more likely to win more often.
Types of Games
Online scratch cards can come in all shapes and sizes, and with different numbers of panels. Some have six panels, while others have nine, and still others have whatever amount best suits the game. Scratch games like bingo, for example, might require you to scratch only certain panels rather than all of them, while ones that resemble slot games can look even different. Moreover, some games simply feature virtual pull-tabs and therefore don't involve any actual "scratching" but function in the exact same manner as the ones that do. There's no such thing as a "best" type of game, as it just comes down to people's personal preferences because some like simpler games and others like ones that have a bit more depth to them. If you're not sure where to start, free-playing a bunch of them should help you figure out what you like pretty quickly.
How to Play Online
Now that you know what to look for, actually playing scratch cards online is a pretty straightforward process because they're available on many lottery sites (where you can play lotteries online from around the world as well), casino sites (which also feature video slots, table games like blackjack and poker, roulette, and more), and smartphone apps. The technical requirements are usually easygoing: a decent computer or mobile device with a HTML5-enabled web browser and an adequate Internet connection. Since most modern devices come with the former preinstalled, there's usually little extra that you need to do.
Within the sites or apps, the scratch card subsection will generally be labelled as "Scratch Cards" or "Scratch Tickets" or something similar, but sometimes they're even lumped into whatever section features instant-win games, which can be pretty similar aside from the whole scratching thing. Regardless of where you find them, the process is usually the same: you sign up with the site, you deposit funds into your account (unless you are using the free play option), and you have fun.
For games that require wagers, you need to choose the amount that you are willing to bet, which is simplified for you via buttons on the command bar (usually located near the lower part of the game) for the minimum and maximum amounts available, as well as plus and minus buttons that allow you to manually choose whatever amount you are comfortable with. If you scratch the card and reveal the correct number of symbols (and corresponding multipliers), your bet will be multiplied by that amount and you'll get to keep all the spoils to yourself.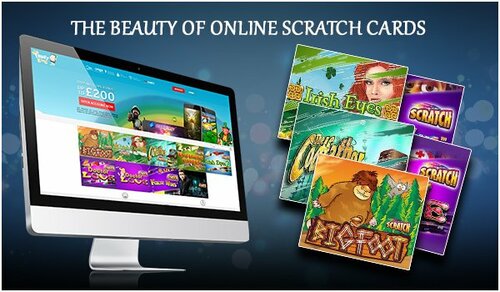 Online Scratch Cards: Conclusion
Digital scratch cards are a great way to enjoy the fun and excitement of traditional scratch cards without making a mess or physically having to go anywhere to buy them. And, unlike real cards, you can play them just for fun without spending any money. As a result, they're a great way to while the time away if you're bored and want some stimulation. But if you do want to play for real money, online scratch cards are among the best types of games out there because of their good odds, great jackpots, and instant prizes. In fact, once you find a few favourites, you might find it hard to go back to traditional scratch cards ever again.
FAQ - frequently asked questions
Why should I play scratch cards?

Your personal reasons may vary, but the main reasons that other people play scratch cards is because they're fun and interactive and offer fairly good odds and instant prizes. Why wait days for a lotto draw when you can get the results of a scratch card right away?

How are online scratch cards better than paper scratch cards?

The main ways they're better is that they offer incredible convenience, are available any time, offer better return to player (RTP) percentages, and leave no mess. Many also have great graphics and animations that make them more enjoyable to play than static paper cards.

Do I have to wager a lot of money to play?

Not at all. Online scratch cards come in all sorts of styles and prices, so if you only want to stick to playing cheap games that cost 5 cents a play, go ahead. Similarly, if you want to play a scratch game that has wagers rather than fixed amounts, you can play nothing but the minimum amounts. Heck, you can just play scratch games for free if you don't want to spend any money—just to enjoy the experience!

Is it legal to play real-money scratch games online?

That depends on where in the world you are playing from, as different countries' governments have different laws concerning online gambling, which usually includes lotteries, casino games, and scratch games. While most countries permit the activity, there are a few, including Brazil, Indonesia, and Saudi Arabia, that ban it. Meanwhile, India permits it in some states but not others. If you're not certain about your country's stance, make sure you check an official online government resource before playing, just to be sure.

Are online scratch cards a con?

If you're playing them through a reputable and eCOGRA-certified (or equivalent) website, then you can rest assured that the cards you're playing are legit and heavily regulated. However, if you are playing through a random website that has poor online reviews (or no reviews at all), then they could very well be a con. Like in every industry, the majority of businesses have a code of ethics that they proudly uphold, but there will always be a few shady ones that try to make a quick buck. The good news is that most sites like this don't last very long, as the Internet will rip their reputation to shreds.

Where can I safely play online scratch cards?

All of the best scratch-off games found online will be featured on gaming sites that are certified by eCOGRA or an equivalent organization. Therefore, as long as you make sure you're playing through a credible site, all of the scratch cards that it features will be safe to play, and your personal and financial details will be secure.

Do online scratch cards work?

Yes, in the same sense that online lotteries and casinos work, but remember that like these other games, online scratch cards are games of luck. In other words, sometimes you'll win and other times you'll lose. If you're expecting to win a jackpot or even a prize every time, then you'll likely be disappointed, but if you go in thinking of them as games that are meant to be enjoyed and through which you might occasionally win some (small or big) prizes, you'll have a lot more fun playing them.

If you mean this in the sense that you'll actually receive whatever prizes you win, then definitely. However, if you're asking whether you'll win a prize every time you play, then absolutely not. Online scratch and win tickets are games of chance, just like real-world scratch cards, lotteries, and casino games. If every card was a winner, then the operators would go out of business awfully quick. That being said, many scratch cards do offer pretty good odds, so your likelihood of winning some sort of prize is actually quite good.

What's the best place to buy scratch tickets online?

This is a subjective question because it depends on the types, variety, and odds of the games that you want to play, how quickly you would like to receive your winnings, whether you want free deposit credits, and so on. That being said, you can rest assured that any game or website we give a good rating to will be well worth your time checking out.

How can I receive my scratch card winnings?

Most websites will automatically deposit your winnings directly into your user account. That way, you can use them to play other games or withdraw them via your preferred withdrawal payment method. The waiting time for this varies from website to website, but most generally will complete the transfer within a few business days.