Lottery Scams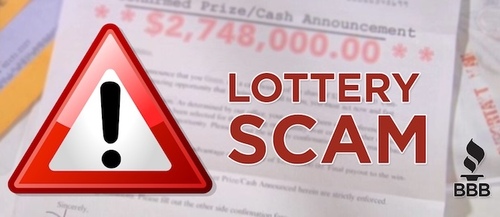 To date, the largest prize money anyone has ever gotten from a lottery is €38.4 million, from the Netherlands State Lottery. It is no wonder then, that so many people consider the lottery as a shining grace that will end their money woes. Unfortunately, scrupulous individuals know this and take full advantage of people's need for easy winnings. This is why lottery scams run rampant throughout the world wide web.
Common Types of Lottery Scams
Today's post is a helpful guide for both beginners and veterans in the online lottery betting scene. After all, just because you've been betting for a long time doesn't mean scammers will find new ways to try to deceive you. To protect yourself, it's important to know the facts about lottery scams: the different types of lottery scams as well as how to spot one.
Lottery Scams by Mail
According to the Australian Competitor and Consumer Commission, a total amount of $1.45M was scammed from around 6,950 victims. The same source revealed that 43.1% of these lottery scams were done via email. Since email addresses are easy to harvest, scammers find this route to be the most lucrative.
You've probably seen the usual "Congratulations, you have won!" subject line on most spam emails. If you're a discerning individual, you may wonder why some people actually fall for this type of scam. However, you'd be surprised at how clever these scammers can get.
So how does this type of lottery scam work? Well, it's harmless if you don't open the email itself. However, some people do fall for this type of scam and open the email. Sometimes the simple act of opening an email can be a bad thing, as malware and viruses exist.
Even if the email is clean, its intentions may not be as clean. Usually, the sender will inform you that you have won a prize and that they need you to send them money to cover transaction fees. Once the victim sends the money, the scammers are not heard from again. Sometimes, the scammers don't even ask for money. They inform you that they are sending the prize to your bank account and will ask for your details. They will then use your banking information for criminal activity, which may put you at odds with the law.
Lottery Scams by Phone
Although lottery scams via phone are not as common as email scams, they are actually more effective. While the modus is the same as email scams, this time it is a live person talking to you, asking for your bank info or requesting that you send them money for transaction fees. It is a different matter altogether when you're talking to a live person. Emails can be ignored easily; phone calls not so much. Some scammers also have a way of speaking that is very convincing, almost hypnotizing.
International Lottery Scam
When people receive correspondence announcing a lottery win, they are smart enough to search the company's background first. In most cases, people will discover that these companies don't exist, or they do exist and are wanted for scamming. However, some scam artists use the name of legitimate lottery websites to try and deceive people. When the person searches for the international lottery company, they will find that the company does exist and is legitimate, and so they are lured into the trap.
If you receive an email, text message or a phone call from someone who claims to be a representative of a legitimate company, it is your right to contact the company in question through their website to check if the person is indeed telling the truth.
Online Lottery Betting Scams
Online lottery betting is a common alternative to actual lotteries. People in lottery betting would guess the winning combinations of a draw without entering the actual draw. If they guess the winning combinations, the company that owns the lottery betting website will pay the jackpot. Since the prize money isn't paid by the actual lottery organization, the money comes from the website owners. Online lottery betting websites get their funds from accumulated ticket sales; however, sometimes the ticket sales is lower than the jackpot that is up for grabs and the website can't pay up. Some websites bank on the fact that nobody will guess the winning combination so their money pool grows larger, and when someone does win, scam websites often shut down mysteriously.
How to Protect Yourself from Lottery Scams
Since scammers are getting more and more resourceful each day, people should be more vigilant when it comes to dealing with whatever type of deception they decide to throw at you. Below are just some helpful tips to spot scammers and how to get out of a possible scam situation.
The first step to protecting yourself in lottery scams is to know this simple fact: if you did not enter any lottery draw, then it makes no sense whatsoever that you won something. Won a 3-night stay at the Bahamas, but you don't remember actually signing up for such a draw? Chances are, it's a scam. Legitimate lottery websites get their winners from a pool of participants, who spent money to purchase tickets to the draw. If you don't remember purchasing anything or signing up for anything, then it's a scam.
Legitimate lottery websites and organizations will never ask for a transaction fee just so they could send the prize over. With legitimate lotteries, they impose a flat fee for each ticket you purchase from them, and if they ever need funds so they could send money to you, they will simply deduct it from your prize money. In no situation should you ever send an advance payment just so you could get your prize money.
People let their guards down if scammers don't ask money from them. But remember this: even knowledge of your banking details could get you into trouble. If they are a legit lottery organization that you signed up for, then that information should already be in their records and you don't need to give that information again.
Be vigilant when it comes to phone calls. As stated earlier, some scammers have a way with words, and sometimes you may get carried away with the excitement of their voice. Don't let them control the conversation: continue asking questions about the so-called lottery that you won, especially if you don't remember entering. Don't be ashamed to hang up the phone if you start to suspect that it's a scam.
In rare cases, you may get victimized by a blackmail lottery scam where the individuals would first send a partial payment to your account, and then later on they will tell you that the money sent to you comes from illegal means and may try to blackmail you. Again, don't give away financial information until you're sure about who you're talking to. If you're already in the midst of it, don't hesitate to report it to authorities. They are well aware of blackmail lottery scams so don't be afraid that you will get punished for having illegal money in your account.
How to Avoid Scam Online Lottery Betting Sites
This section is specifically for online lottery betting sites. For the uninitiated, most lottery betting sites look the same; however, you'll find that with enough research, it's easy to weed out the scam ones from the legit ones. Here is a list of things to look for when browsing through an online lottery betting site.
The lottery should be owned and operated by a legitimate company. The website should have details about the company, such as its date of incorporation and where it is located. Once you find the name of the operator, do a search on Google to see if the operator company has been involved in any shady dealings.
The website should be certified by the gambling commission in their jurisdiction. This information can be seen on a website's "About US" page, but just to make sure, you can contact the gambling commission directly to see if they did certify the online lottery site.
The website has testimonials from previous winners. While lottery betting winners are not as publicized as actual draw winners, the website should still be proud that someone won on their lotteries. Of course, upon the request of the winner, their name will be changed to protect their identity, but every legit website knows that the easiest way to ease the minds of potential users is to show previous winners. It is an easy way of saying, "here, our website is legit and some people have already won through us". Websites that keep mum about their previous winners should put you on alert.
The website must be available through several support channels. If a website has a phone number, live chat, email support, and social media account, then chances are they're legit. Scam websites try as much as possible to remain hidden, especially in social media sites like Facebook, where one simple comment from a scam victim could blow their cover.
Check the website's date of incorporation. A common modus for scam lottery betting sites is that they will continue running until a person wins the jackpot, after which they will disappear. Then the website resurfaces under a new name. This does not mean that all new lottery websites are possible scam sites; it's just that it's better to go with lottery sites that have been in the industry for several years.
Read their terms and conditions thoroughly. The stricter they are, the better. For example, legitimate websites will always prohibit minors from signing up, as well as those in countries where gambling is illegal. However, if a certain website is very lax about these legal requirements, chances are it's a scam website.
Look up reviews of the lottery website on search engines. Scam victims are always very vocal about their experience, so if someone was scammed by a certain online lottery website, you're sure to find evidence of it.
Look at the website's level of security. Certain measures should always be at play, such as the presence of SSL. They know that lottery websites contain lots of important information such as credit card details and identification documents, so they want their customers' information to stay safe.
Hopefully this guide is helpful to you as you explore the world of online lotteries. Remember that while lotteries offer such tempting rewards, you should exercise caution and proper discernment to ensure that scammers don't take advantage of your hopes and dreams.