WinTrillions Welcome Offer: 25% off first order—no limit!
What's better than playing the best lotteries from around the world regardless of where you live? How about saving 25% at the same time? That's exactly what WinTrillions provides with this fantastic welcome offer that has NO LIMIT. Whether you buy one entry or 200, WinTrillions will apply a discount of 25% to your ENTIRE ORDER.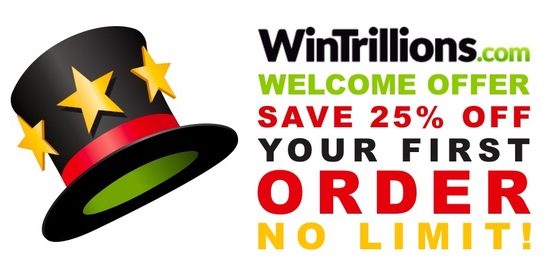 If that sounds like something you'd like to take advantage of, simply click the link at the bottom of this page to be redirected to WinTrillions.com. Once there, click through their lotteries and add however many tickets you like to your shopping cart. Once you're done, head over to the checkout screen and you should see the discount applied automatically. After that, just finish the checkout and signup process, and you'll be good to go.
Please note this offer only applies to lottery entries—not syndicates, scratchcards, slots, or anything else.
A pioneer in the online lotto industry, WinTrillions is regarded as one of the top lotto sites in the world, giving players the chance to bet on the outcomes of the most exciting lottery games available. Whether it's through individual entries or fun extras like syndicates and subscriptions, WinTrillions has you covered.
Join WinTrillions now