LottoKings Welcome Offer: 25% off your first order, no limit
If you've been considering trying out LottoKings, this welcome offer should make the decision an easy one: get 25% off your ENTIRE first purchase. Whether you want to dip your toes with just one entry or jump right in and stockpile a bunch, you'll save 25% off the whole order. With incredible games like Powerball, EuroJackpot, and Canada Lotto 6/49, it's easy to find one (or five) that will appeal to you.
To take advantage of this generous deal, click on the link at the bottom of this page and you'll be taken to LottoKings.com. Once there, click on the "More Lotteries" button at the top of the screen to see all the great lotteries available on the site, listed in order of the nearest upcoming draw. Add as many entries for as many lotteries as you want to your shopping cart, and continue to the checkout screen.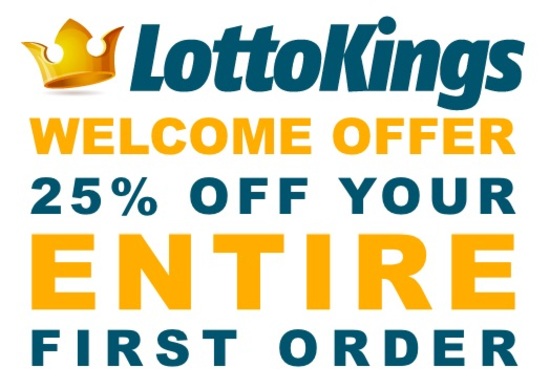 One thing to keep in mind about this promo is that it only applies to lottery entries. It does NOT apply to syndicates, slots, scratch cards, or anything else available on the site.
Founded in 2010, LottoKings has been giving lotto lovers from around the globe the opportunity to play the best lottery games available today. With great promos (like this one!) for new players, discounts, syndicates, scratchcards, and even slot games, it's easy to see why the site is as popular as it is.
Join LottoKings now