International Lottery Winners from India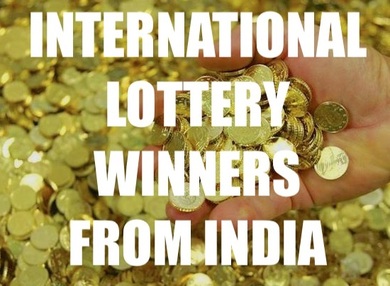 While betting on sports is a popular Indian pastime, currently only 13 Indian states allow citizens to play the lottery. Popular local games, such as the Kerala and Sikkim lotteries, have draws every single day—but their prizes aren't very big compared to international lotteries.
The top prizes on the Kerala lotteries are worth just ₹70 lakh to ₹1 crore, while an international lottery like the EuroMillions draw nets winners an average top prize of €61 million (₹509.5 crore).
With foreign lotteries' massive prizes and significantly better odds of winning, more Indians are playing them than ever before—and winning more than anyone else! According to data from the Abu Dhabi Big Ticket Raffle and the Dubai Duty Free Millennium Millionaire Lottery, Indians have won the most prizes out of all other nationalities' players.
Just how much did they win? Here's a countdown of the biggest international lottery winners from India.
10. C.J. - ₹26.5 lakh
A winner from India, who identified himself only by his initials, C.J., won €32,161 (₹26.5 lakh) on the Austria Lotto in November 2018.
He successfully guessed 5 of the 6 numbers to win the second-place prize. How did he choose the numbers? C.J. told the lottery website that they were completely random.
C.J. had been buying lottery tickets online since 2017 through theLotter.com, one of the world's most popular lottery agents. He usually played Australia Saturday Lotto, New Zealand Powerball, and Spain Bonoloto. Apparently, he chose to play the Austrian Lotto on a whim. How's that for luck?
9. SREENU SREEDHARAN NAIR - ₹1.52 crore
In November 2019, Sreenu Sreedharan Nair from Kerala won an immense 15 million dirham (₹30.5 crore) prize on the Big Ticket draw in Abu Dhabi. He bought the ticket online nearly two weeks early for himself and a group of colleagues.
As part of a 22-person workplace lottery pool, Nair paid 25 dirhams of the 500 dirham ticket price. This bought him a 5% share of the big win—which came out to a comfortable 750,000 dirhams (₹1.52 crore).
The 28-year-old labourer was making a modest income of Dh 1,500 before his win. After collecting his prize, he planned to go back to Kerala to finish building his house.
8. NIRMAL DHAMODARASAMY - ₹7.49 Crore
Nirmal Dhamodarasamy could not believe his eyes when he realized he'd won $1 million (₹7.49 crore) on the US Powerball lottery in February 2016.
The 23-year-old Indian graduate student was studying at the University of Illinois in Chicago when the historic $1.5 billion (₹7489.75 crore) Powerball jackpot caught his attention. Instead of buying a ticket at a store, he paid for a Powerball subscription on the Illinois Lottery's website and let the system pick the numbers.
Dhamodarasamy knew he'd won when he checked his numbers on the lottery's cell phone app and got a confirmation email. The young winner planned to fly his parents in from India for his graduation.
7. SANDEEP MENON - ₹7.49 crore
Sandeep Menon was living in Kuwait when he became the winner of a $1 million prize (₹7.49 crore) from the Dubai Duty Free raffle.
Menon was the 132nd Indian national to win the Millennium Millionaire prize since the raffle began in 1999. His winning ticket number was 2095 in series 277.
"I've never won anything in my life, especially not something as huge as this," the happy winner told reporters.
Tickets to the popular Dubai Duty Free raffle can be purchased in person or online through the lottery's official website.
6. USHAKIRAN PATEL - ₹7.49 crore
Sixty-two-year-old Indian native Ushakiran Patel was living in New York when she won the $1 million (₹7.49 crore) Powerball prize in 2018.
Mrs. Patel didn't play the lottery often, but by March 7, 2018, the Powerball jackpot had ballooned to a colossal $346 million (₹2591.4 crore).
She didn't have a favourite set of numbers, so she chose the Quick Pick option. The computer managed to match five of the winning numbers, which didn't win the jackpot but still netted the hefty second-place prize.
Mrs. Patel planned to use her money conservatively to make her retirement much more comfortable.
5. TOJO MATHEW - ₹14 crore
Tojo Mathew, originally from Kerala, India, quit his civil supervisor job in Abu Dhabi and decided to move to New Delhi with his wife in June 2018.
He bought a ticket to Abu Dhabi's Big Ticket raffle at the airport on the way to India—and got the surprise of his life when he landed. Incredibly, he'd won the $1.9 million (₹14 crore) prize!
Mathew always wanted to own a house, and his huge international lottery win gave him the funding to make his dream come true.
4. MOHAMMAD FAYAZ - ₹24.7 crore
In October 2019, Mohammad Fayaz, a 24-year-old accountant from Mangalore, Karnataka, won Abu Dhabi's Big Ticket Raffle. He took home an astounding 12 million dirham prize—that's ₹24.7 crore!
On the eve of his win, lottery organizers had trouble reaching Fayaz because his phone line was busy. Eventually they got through, and the lucky winner finally collected his big cheque a month later.
The young accountant plans to share the money with his siblings, put most of it in savings, and perhaps open his own business in the United Arab Emirates one day.
But for now, he told reporters, "I want to safeguard this money to my best ability."
3. SOPNA NAIR - ₹24.7 crore
Sopna Nair, an Indian woman from Kerala, had been living in Abu Dhabi for 9 years when she unexpectedly won the Big Ticket raffle in June 2019. Her husband, also from Kerala, had no idea that she'd bought the ticket.
With her family still reeling from shock, she took home a whopping 12 million dirham jackpot (₹24.7 crore/$3.2 million).
Nair told the media that she planned to support her immediate family and relatives and continue her regular charitable work now that she had the financial freedom to do so.
"I want to support underprivileged people, especially women," she told the Khaleej Times.
2. HARIKRISHNAN V. NAIR - ₹24.7 crore
Harikrishnan Nair of Alleppey (officially called Alappuzha) bought three lottery tickets in 2017: one each in March, November, and December. It was this last ticket that won him a huge prize on the Big Ticket draw in Abu Dhabi: 12 million dirhams (₹24.7 crore).
Nair thought the news of his win "was a prank," and he didn't believe it until several lottery representatives called to convince him.
Nair had been living in Dubai since 2002, working as a business development manager in construction. He had not been able to visit his mother in India for two years. After winning, he planned to visit home and donate to charity.
1. SANDEEP "SUNNY" SINGH - ₹172.2 crore
Sandeep Singh, a young Indian living in America, became one of two winners of an astounding $61 million Mega Millions jackpot in October 2012.
Sandeep, who goes by "Sunny," was working two jobs to help his family pay the bills and had been dumped by his girlfriend days before. On the lucky day, he bought a scratch-off game on a whim and won $4—and then used that money to buy his winning ticket.
The 22-year-old was entitled to a $30.5 million prize. He chose the lump-sum payout option rather than yearly instalments and collected an astonishing $23 million (₹172.2 crore) after taxes—the biggest prize ever won by an Indian on an international lottery.
CONCLUSION
These are the stories of just a few Indian winners who took home big prizes from international lotteries and raffles. International lotteries offer a host of benefits, huge jackpots, and better odds of winning than Indian lotteries. They're also convenient to play, since you can buy your tickets and collect your winnings online. For more details, see our guide on how to play the lottery online in India.