Play New Zealand Powerball Online – How to Play and Buy Tickets
New Zealand Powerball is an awesome supplementary game that New Zealand Lotto players can add on to exponentially increase their winnings.
With jackpots that start at NZ $4 million (€2.4 million) and can roll over many times, this a game that has a lot to offer even to non-Kiwi lotto players.
Read on as we go over how it works and how you can play New Zealand Powerball online.

New Zealand Powerball History
The Kiwi version of the Powerball, which is operated by the New Zealand Lotteries Commission, first came onto the scene in February 2001.
At first the Powerball number range was smaller than it is today, at just eight numbers, but in October 2007 this range was increased to 10.
Meanwhile, the minimum and maximum prizes in the game's early days were also smaller: NZ $1 million (€606,000) and NZ $15 million (€9.1 million), respectively.
Over the years the minimum jackpot gradually increased to the NZ $4 million (€2.4 million) it is today.
The cap also increased several times. First it increased to NZ $30 million, then NZ $40 million, and finally today's NZ $50 million (€30.3 million) amount.
Between August 2004 and July 2015, players could win additional prizes if the serial code on their ticket matched the one that was randomly drawn each draw.
In addition to winning an all-expenses-paid trip to the Lotto New Zealand studio in Auckland, winners would go on the live TV show to spin the "Winning Wheel." This was a giant wheel with prizes that varied from cash to cars to houses to trips. As exciting and popular as this side game was, it was eventually cancelled.
For every draw that was held between February 2001 and late May 2018, Ryo Catteau Mimosa machines were used.
However, after there were several on-air technical issues with the machines that required re-draws, the operators decided to switch to the much more reliable Smartplay Halogen II machines. These machines have become standard in many lotteries around the world.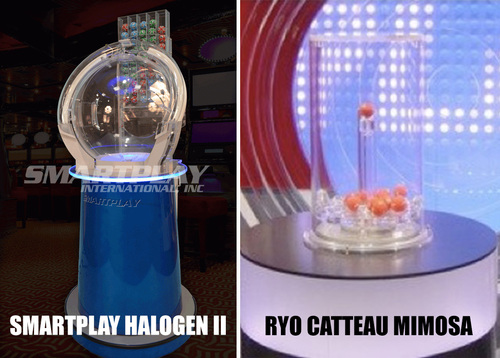 How to Play New Zealand Powerball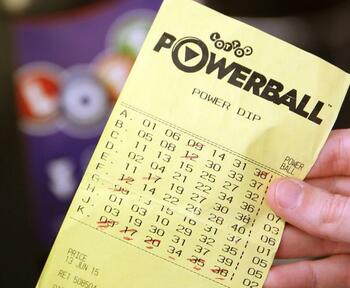 The New Zealand version of Powerball is different from every other Powerball game in the world because it's not a standalone lottery. Rather, it's an add-on option to the New Zealand Lotto.
This means that once you've chosen your six numbers (from a range of 1 to 40) for that game, you can choose an additional number. This is the Powerball number, and it comes in a range of 1 to 10.
If you match all six numbers from the main lottery and the optional Powerball number, then you win the NZ Powerball prize. This is usually much bigger than the NZ Lotto's fixed NZ $1 million.
To have a shot at a draw, you must play a minimum of four lines.
You can choose your own numbers for each of these lines or opt for a "Power Dip". This will allow you to buy 8, 10, 12, or 16 lines comprising randomly chosen numbers for both the NZ Lotto and NZ Powerball.
Once the jackpot reaches the NZ $50 million cap, the next draw is a "Must Be Won" draw. If no one wins this one, then the money rolls down to the secondary prize tier/division.
How to Play New Zealand Powerball Online
Many of the best online lottery sites allow people to play international lotteries via the Internet regardless of their geographic location.
This opens up an incredibly large selection of games, including New Zealand Powerball, even if you want to play from the US, Canada, Europe, Australia, and pretty much everywhere else.
Many online lottery websites also offer great welcome bonuses and various other promos that official lotteries never do.
Therefore, the tremendous value and convenience they bring to players makes the small fee they add on to each ticket sale negligible.
Odds of Winning New Zealand Powerball
Given the size of some of New Zealand Powerball's jackpots, the odds of winning it aren't too shabby at 1 in 38,383,800.
Compared to the US Powerball (1 in 292,201,338) and the Australia Powerball (1 in 134,490,400), one might even say they're fantastic.
Swiss Lotto, however, has similar prizes and slightly better odds (1 in 31,474,716), while both Canada Lotto 6/49 (1 in 13,983,816) and Canada Lotto Max (1 in 28,633,528) offer bigger prizes and much better odds.
Here is the full breakdown of NZ Powerball's seven prize tiers (divisions) and the odds of winning them:
# of Matched Numbers
(PB = Powerball)

Prize
(Estimated)

Odds of Winning

6 + PB

Jackpot

1 in 38,383,800

5 + Bonus + PB

NZ $37,252

1 in 6,397,300

5 + PB

NZ $1,155

1 in 193,858

4 + Bonus + PB

NZ $107

1 in 77,543

4 + PB

NZ $57

1 in 4,846

3 + Bonus + PB

NZ $40

1 in 3,635

3 + PB

NZ $15 + 4 bonus lines (fixed)

1 in 352
New Zealand Powerball Drawing Time
NZ Powerball is a biweekly lottery game whose draws take place in Auckland every Wednesday night at 8:20 pm NZDT and every Saturday night at 8:00 pm NZDT.
Winners can pick up their prizes as late as a full year from when the draw was held. Any unclaimed prizes are returned to the prize pool.
Biggest New Zealand Powerball Jackpots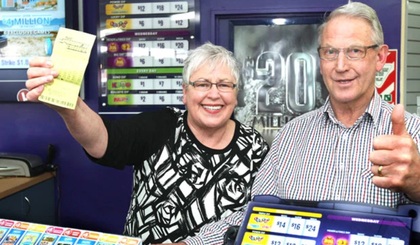 While the sizes of the New Zealand Powerball jackpots aren't anything close to the American or even Australia versions of the game, they are still pretty incredible.
Though none have reached the NZ $50 million cap, one has come close.
Here are the three biggest prizes in the game's history to date:
NZ $44 million (€26.7 million): November 9, 2016
NZ $36 million (€21.8 million): June 24, 2009
NZ $35.2 million (€21.3 million): April 9, 2011
Payout Options
All NZ Powerball winnings are paid out is as a single cash lump sum. There are no annuity payments possible with this particular lotto.
Taxes
The government of New Zealand does not consider lottery wins as income. Therefore, if you are fortunate enough to win the New Zealand Powerball jackpot, you won't be taxed at the source.
There is still a chance that your own government could tax you when you transfer the money back home. This, however, depends on what your country's lottery tax laws are.
New Zealand Powerball – Is It Worth Playing?
NZ Powerball is a must for those who are already playing the New Zealand Lotto and definitely a game worth considering for those who aren't.
Even among the world's best lotteries, few have prizes this big and odds this decent.
Plus, all prizes are tax-free, meaning you'll collect exactly what was advertised. How can you go wrong with that?
User Reviews and Comments (1)