Play Swedish Lotto Online – How to Play and Buy Tickets
Swedish Lotto, sometimes referred to as Lotto 7/35 because of how the game is played, is Sweden's biggest lottery game. It is also among the oldest lotteries in the world.
A staple among many Swedes, it is loved for its solid odds and interesting double-draw and multiple bonus ball mechanics. But is this game worth playing from abroad?
Read on as we find out below and explain how you can play Swedish Lotto online.

Swedish Lotto History
Swedish Lotto's roots go all the way back to 1896, when it was called the "Lotteriexpeditionen."
It wasn't until the 1930s that the government licensed a private company named Tipstjänst to make its gambling services available to the public.
When gambling in Sweden began getting out of control by the 1940s, the government seized the company in 1943 in an attempt to get a handle on the problem.
It wasn't until 1980 that the first version of the game that's so popular today was introduced
. In 1997, Tipstjänst and another company, Svenska penninglotteriet, merged to create the fully state-owned Svenska Spel, which is Swedish Lotto's current operator.
Despite being one of several licensed lotteries in the country, Swedish Lotto is definitely the biggest and most popular.
Today, millions of people watch its two televised draws every week, and with the advent of online lottery services, even lotto players from abroad are getting in on the action.
How to Play Swedish Lotto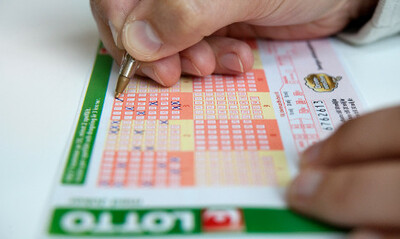 How Swedish Lotto is played is quite different from most other lottery games.
First of all, not one but two sets of numbers are drawn during each draw, and the range of numbers chosen is quite small: 1 to 35.
On top of that, four bonus numbers (called Joker Numbers) are drawn. Since all entries, which consist of seven numbers, are automatically entered into both draws, players' chances of winning are doubled.
If all of your seven numbers match the seven numbers that are drawn in either of the two draws, you win the jackpot prize.
Swedish Lotto's guaranteed jackpot is one million Swedish kronor (approximately €97,701.594). This number can grow significantly to hundreds of thousands and even millions of euros because there is no cap on either the number of rollovers or the jackpot amount.
However, due to its fairly good odds, the jackpots never grow beyond modest levels. They also vary from draw to draw because they are always a percentage of the total pool that is available.
That being said, Swedish Lotto occasionally has a super jackpot known locally as "Drömvinsten", which in Swedish means the "Dream Win".
These jackpots are much bigger than the regular jackpots (in the tens of millions), but to get a shot at winning the Drömvinsten you need to play the Extra Game.
Although this game costs only a little bit extra to enter, the odds of winning multiply exponentially (see the table of odds in the section below).
How to Play Swedish Lotto Online
Though Swedish Lotto is not readily available through all lotto agents and lottery betting sites, a few do offer access to it.
These sites also offer subscription and syndicate options, which can make Swedish Lotto's already good odds of winning even better.
Odds of Winning Swedish Lotto
The odds of winning one of the regular jackpots in Swedish Lotto are 1 in 6,724,520, which are very good compared to other national European lotteries.
The odds of winning the UK Lotto, for example, are 1 in 45,057,474, whereas the odds of winning Polish Lotto are 1 in 13,983,816.
However, if you decide to play for the "Dream Win" prize discussed above, your chances of winning go from pretty good to pretty dismal: 1 in 337,915,578.
While the potential windfall that you could win would be many times bigger than what you'd win in the regular game, with these kinds odds you might as well play EuroMillions and EuroJackpot. Or even the world's biggest lotteries, the US Powerball and Mega Millions—all of which offer much bigger jackpots and odds.
The table below shows the full breakdown of Swedish Lotto's odds:
| | | |
| --- | --- | --- |
| # of Matched Numbers | Prize (Estimated) | Odds of Winning |
| 7 + 2 Extra Game Numbers | Super Jackpot | 1 in 337,915,578 |
| 7 | Jackpot | 1 in 6,724,520 |
| 6 + Bonus | €3,500 | 1 in 240,161 |
| 6 | €360 | 1 in 40,027 |
| 5 | €13 | 1 in 847 |
| 4 | €3 | 1 in 59 |
Swedish Lotto Drawing Time
The Swedish national lottery draws take place twice per week: Wednesday night at 6:20 pm CET and Saturday night at 8:00 pm CET.
The draws are held at an undisclosed location in Stockholm.
Biggest Swedish Lotto Jackpots
Thanks to the Drömvinsten, Swedish Lotto's jackpots have reached some staggering heights over the years.
Here are the three largest in its history:
SEK 237,697,528 (€23,223,427.47): April 23, 2013
SEK 215 million (€21,005,842.795): March 27, 2010
SEK 144 million (€14,069,029.593): June 15, 2005
Payout Options
All Swedish lotto prizes, regardless of their size, are paid out as lump sums in cash.
Taxes
Sweden does not tax lottery wins, so you can rest assured that you'll actually receive all the money that you win.
But if you're playing Sweden Lotto online through a lottery ticket agent, then check your home country's tax laws to see if your winnings will be taxed domestically.
Swedish Lotto – Is It Worth Playing?
This Scandinavian lottery brings a lot to the table and is definitely worth trying out. Especially if you're happy to sacrifice bigger jackpots for better odds.
The interesting 35/7+2B format and truly solid odds of winning a regular jackpot make Swedish Lotto a fairly unique lotto. No wonder why it is as popular as it is among Swedes!
Overall, it's a great national lottery whose popularity is starting to attract attention from an increasing number of players in other countries as well.
User Reviews and Comments (1)