Play EuroJackpot Online – How to Play and Buy Tickets
If you live in Europe (and don't live under a rock), then you've probably heard the name "EuroJackpot".
Considered one of the biggest and best lotteries in the world, EuroJackpot has developed quite a following since it first appeared in 2012.
With huge jackpots and pretty good odds (as far as major lotteries go anyway), it's obvious why EuroJackpot attracts millions of regular players—about 270 million, in fact. Few lotteries offer such a balanced experience—especially for such a decent price point.
Read on to see how to play EuroJackpot online and learn about its rules, prize payout structure, history, and more.

EuroJackpot History
The idea of EuroJackpot was first conceived in 2006 when several European countries sought to challenge the immense success of EuroMillions. That game had spread like wildfire through Europe since its founding in 2004.
As a result, EuroJackpot was finally launched in 2011 after an agreement was signed in Helsinki, Finland, between the Finnish lottery operator Veikkaas and the lottery companies of seven other European countries.
The first draw took place on March 23, 2012. The initial participants were Germany, Denmark, Estonia, Slovenia, Finland, and the Netherlands. They were soon joined by Italy, and later that year, by Spain.
Without a doubt, EuroJackpot has achieved its founding objectives. Today it is one of the biggest transnational lotteries on the planet, played in 18 European countries.
The full list of participating countries as of October 2015 comprises Croatia, Czech Republic, Denmark, Estonia, Finland, Germany, Hungary, Iceland, Italy, Latvia, Lithuania, the Netherlands, Norway, Slovakia, Slovenia, Spain, Sweden, and Poland.
How to Play EuroJackpot
The goal of EuroJackpot is to match five of 50 possible main numbers and an additional two of 10 Euro numbers.
The numbers are drawn from two different sets of balls, so it is possible to draw the same number twice.
You may pick your own numbers or have them be randomly selected for you.
An official EuroJackpot entry ticket usually costs €2, but this could vary slightly depending on where you're playing from.
Anyone who correctly chooses the five main numbers and matches the two Euro numbers will win outright. The jackpot is shared if there are multiple winners.
The EuroJackpot starts at €10 million. If no one matches the seven required numbers, the jackpot keeps growing.
When it reaches the cap of €90 million, it rolls down to the lower tiers. This means it pays out to the closest matches—the next in line being 5+1, followed by 5, and then 4+2 and so on.
In other words, it is possible to win the EuroJackpot grand prize even if you didn't match all of the numbers, and this is a key feature that can greatly increase your odds of winning.
In fact, this is exactly what happened in August 2012. A German lotto player had matched the five primary numbers but only one of the two Euronumbers—yet still managed to score the €27-million grand prize.
As you'll see in the odds table below, his chances of winning as a second-tier winner rather than a jackpot winner were much, much better. This is why Eurojackpot is one of the best roll-down lotteries in the world.
Once the game has paid out, the jackpot reopens at €10 million and the process begins anew.
Odds of Winning EuroJackpot
There are 12 prize levels in Euro Jackpot, and cash prizes are paid at each level. The odds of winning the grand prize are 1 in 95,344,200.
While at first glance these may seem like pretty tough odds, consider that EuroMillions' jackpot odds are 1 in 139,838,160 and SuperEnalotto are 1 in 622,614,630. Meanwhile, the US Powerball odds of winning are 1 in 292,201,338 and the odds of winning Mega Millions are 1 in 302,575,350.
Suddenly, EuroJackpot is looking quite a bit better, wouldn't you agree?
Prizes of lesser value are paid out at each tier, and at each tier the odds of winning a prize greatly improve. The odds of winning are presented in the table below:
# of Matched Numbers
EN = Euro Numbers

Prize (Estimated)

Odds of Winning

5 + 2 EN

Jackpot

1 in 95,344,200

5 + EN

€822,339

1 in 5,959,012

5

€123,061

1 in 3,405,150

4 + 2 EN

€4,276

1 in 423,752

4 + EN

€238

1 in 26,485

4

€111

1 in 15,124

3 + 2 EN

€58

1 in 9,632

3 + EN

€19

1 in 672

2 + 2 EN

€15

1 in 602

3

€19

1 in 344

1 + 2 EN

€8

1 in 128

2 + EN

€10

1 in 42
That being said, the overall odds of winning at least some kind of prize in EuroJackpot are 1 in 26—not bad at all.
EuroJackpot Drawing Time
Every Friday at exactly 9:00 pm Helsinki time (EET) is when the EuroJackpot draw takes place, and the results are immediately available online.
Biggest EuroJackpot Jackpots
The maximum jackpot prize of €90 million was first won by a Czech player in 2015. This incredible windfall has subsequently been paid out once a year and twice in 2018. During 2018, the average win was €41 million.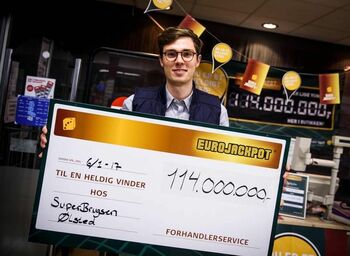 Since its inception, EuroJackpot has paid out the maximum €90-million grand prize five times:
July 6, 2018
February 9, 2018
January 6, 2017
October 14, 2016
May 15, 2015
However, it's worth noting that a total of 67 people have managed to match all five primary and both Euronumbers over the years.
Regardless of the sum of money that any of EuroJackpot's biggest winners walked away with, it's a pretty safe bet that every single one of them had their lives changed forever!
Payout Options
Jackpot winners can opt to take a single lump-sum cash payment or receive annuity payments over an undisclosed number of years.
However, if you're in a country that doesn't tax lottery wins, then there's no reason to not take the full amount up front.
Taxes
Whether or not you'll pay taxes depends on which of the 18 participating countries you're playing from.
Eleven of these countries (Czech Republic, Denmark, Estonia, Finland, Germany, Iceland, Latvia, Lithuania, Norway, Slovakia, and Sweden) do not tax winnings, but the rest do. The tax amount can range from 6% in Italy to 30% in Croatia.
However, the good news for people playing online from non-participating countries is that your winnings will not be taxed at the source. Your own country, however, may still tax you, so check your local tax laws to make sure.
How to Play EuroJackpot Online
EuroJackpot tickets are available both through many physical lottery ticket agents and online.
Although the lottery is officially limited to the 18 participating countries (see full list above), the game can be legally played by practically anyone anywhere through most of the world's best lottery websites.
These sites usually do one of two things. They might buy official physical lottery tickets on your behalf within one of the participating countries and keep them safe for you. Or they have gaming licenses that allow players to bet on the results of lottery draw outcomes.
Either way, they offer an excellent and extremely convenient way to participate right from the comfort of your own home or mobile device.
EuroJackpot – Is It Worth Playing?
There are hundreds of lotteries around the world, but few offer such large prizes and decent odds (relatively speaking, of course) as EuroJackpot does.
Many of the world's biggest lotteries either have much worse odds of winning the jackpot or pay out considerably smaller grand prizes.
Therefore, EuroJackpot is overall a great lottery that's definitely worth checking out. After all, 270 million regular players can't be wrong.
User Reviews and Comments (1)