Play Polish Lotto Online – How to Play and Buy Tickets
When most people think of the best lotteries in the world, Poland Lotto—also known as Lotto Polska—likely isn't the first game they think of.
However, that shouldn't deter them from giving this great game a chance.
Although its jackpots tend to be on the smaller side compared to some more famous games, they are still enough to drastically change your life.
In addition, the odds of winning are much better than most other national lotteries, and the price of a ticket is low.
Read on as we show how you can play Polish Lotto online and learn why it's become so popular among international players.
Polish Lotto History
Poland Lotto was founded by its operator Totalizator Sportowy in 1957 and has undergone several name changes over the years.
Between 1957 and 1974 it was known as Toto Lotek, but its name was changed to Duzy Lotek (in English this means "Big Lotto") in 1975.
This name stuck around for quite a few years—34 to be exact—until it became Lotto Polska in October 2009.
Polish Lotto's reputation grew beyond the nation's borders once Poland joined the EU back in 2004. Nowadays it is even played by people on almost every continent, including North America, Asia, and Australia.
What's more, Totalizator Sportowy is known for giving back to the community, as it donates more than 1 billion złoty (approximately US $266 million) to various charity and developmental initiatives each year.
In particular, it has funded both the development and upgrade of many sport facilities across the nation.
How to Play Polish Lotto
Playing the Polish Lotto is both cheap and about as easy as it gets. For starters, a single official entry ticket purchased within Poland costs about US $0.80.
As for the gameplay, you pick six numbers (or use the QuickPick option to do so for you) from a range of 1 to 49.
If your numbers match all six of the numbers that are drawn, you win the Polish Lotto jackpot.
Honesty, there's really not much more to it than that—no bonus balls or numbers or extras or anything of the sort.
How to Play Polish Lotto Online
If you're worried that you physically need to be in Poland in order to play Polish Lotto, we have good news for you: you don't.
Many of the top online lottery sites allow people from practically anywhere in the world to either buy tickets for Polish Lotto or bet on the results of the Polish Lotto draws.
These sites often charge a small fee yet provide an immensely convenient service that provides access to the world's best lotto games via the browser on your smartphone or desktop.
They also often include many fun and rewarding features, including subscriptions and syndicates, that can significantly improve your chances of winning. These features can also decrease the overall cost of playing the lotto.
Odds of Winning Polish Lotto
Your chances of winning the jackpot in Polish Lotto are 1 in 13,933,816, which is actually quite good when compared to many other national or international lotteries.
Italy SuperEnalotto, for example, is known for having some of the toughest lottery odds of any game in the world: 1 in 622,614,630.
Meanwhile, the Mega Millions odds of winning are 1 in 302,575,350, and the odds of winning the US Powerball are 1 in 292,201,388.
Therefore, the Polish Lotto really offers players a much fairer lottery experience overall.
But if we're going to compare grapes to grapes, Polish Lotto has the exact same odds as Canada Lotto 6/49, which tends to offer even bigger jackpots.
Here is a full breakdown of Polish Lotto's odds and related prizes:
# of Matched Numbers



Prize
(Estimated)

Odds of Winning

6

Jackpot

1 in 13,983,816

5

$1,520

1 in 55,491

4

$46

1 in 1,032

3

$6

1 in 57
Polish Lotto Drawing Time
Unlike many international lotteries, which usually have only two and sometimes even one draw per week, Polish Lotto has three weekly draws. This means another opportunity to win is always around the corner.
The draws take place on Tuesdays, Thursdays, and Saturdays nights in Warsaw at 9:40 pm local time (CET).
Polish Lotto Biggest Jackpots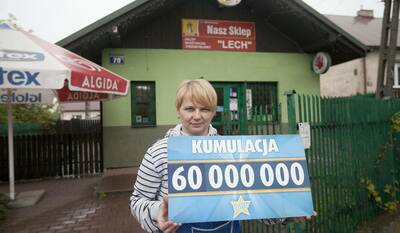 Although Polish Lotto's jackpots and secondary prizes are paid out in Polish złoty rather than dollars, euros, or pounds, this doesn't mean that the amounts are anything to scoff at.
The minimum guaranteed jackpot is 2 million złoty (approximately US $532,000), and because Poland Lotto has no limit on rollovers, its jackpots on numerous occasions have reached some truly incredible amounts.
Here are the three biggest Polish Lotto jackpots ever:
57.8 million złoty (€13.5 million): May 7, 2016
56.2 million złoty (€13.1 million): September 27, 2011
51.33 million złoty (€12 million): November 6, 2012
Since its inception, this popular lottery has turned more than 1,000 people into millionaires.
Payout Options
All winnings, from the smallest one all the way up to the highly coveted grand prize, are paid out as lump sums. There is no annuity option.
Taxes
All lottery wins in Poland above 2,280 złoty are taxed at approximately 10%.
However, if you're playing Polish Lotto from outside of Poland, your own country may or may not tax you as well, which means you'd effectively be double taxed.
Check your national and regional tax laws to see whether this would apply to you.
Polish Lotto – Is It Worth Playing?
With cheap tickets, respectable windfalls, solid odds, and straightforward gameplay mechanics, Polish Lotto is a worthy contender in the international lottery industry.
While its jackpots might not be as impressive as some bigger and more prominent lotteries, the better odds and triweekly draws make Polish Lotto worth giving a shot.
User Reviews and Comments (1)