What Happens to Unclaimed Lottery Prizes?
We can't imagine a worse fate than winning a lotto jackpot and never getting the money. Yet somehow billions of dollars in lottery winnings go unclaimed in the US alone every year, according to lotto expert Brett Jacobson. This astounding news raises serious questions.
First, why are people not collecting their lottery winnings? Second, what happens to unclaimed lottery prizes—where does all that money go? And finally, how can lotteries and lotto players avoid this horrible situation? In this article, we give you all the answers.
WHY ARE LOTTO WINNINGS NOT CLAIMED?
There are many reasons why people don't claim their lottery winnings. Some of the worst losses have occurred when tickets got destroyed or the players lost their tickets, didn't sign them, or simply forgot to check their numbers—and that's just the beginning.
One major reason winners don't pick up their prizes is that they don't realize that they've won secondary prizes by matching some of the winning numbers. And these secondary prizes can be worth millions. In the Mega Millions draw, for example, secondary prizes can range in value from $1 to $1 million or more. In the US, 167 prizes of $1 million or more were not collected in 2017 alone. Those unclaimed prizes added up to a whopping $2.89 billion!
A shocking number of jackpot winners also fail to collect their prizes. The biggest unclaimed American jackpot was an astounding $77 million Powerball ticket in 2011. Meanwhile, the largest unclaimed jackpot in the UK was a mind-boggling £65 million EuroMillions prize in 2012. Canada's biggest unclaimed lotto jackpot (from the popular Lotto 6/49 draw) was a comparatively modest $14.9 million in 2006—although it still hurts to read!
These tragic situations highlight another major reason why lotto winners fail to get rich: their winning lottery tickets expire before they can turn them in. Each lottery has its own rule for how long you can claim a ticket. Tickets commonly expire between 90 days to a year after the draw occurs, and winners must claim their prizes before that time. Those who don't do so are considered to be forfeiting the money—and there are ZERO exceptions.
WHAT HAPPENS TO UNCLAIMED LOTTERY PRIZES/WINNINGS?
Prizes go unclaimed so often that official lotteries always have a plan in place for the lost funds. Often, the money is put toward charitable or social causes.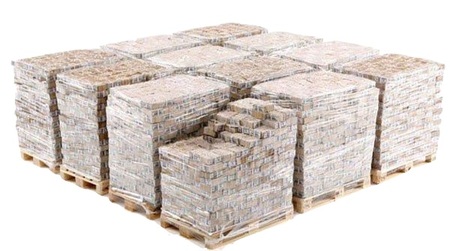 The UK National Lottery turns over unclaimed prizes to the National Lottery Good Causes fund, which has raised more than £40 billion since it was established in 1994. Since then, these funds have been used to subsidize over 565,000 health, educational, environmental, arts, and sports projects around the UK.
In the US, unclaimed lottery winnings are dealt with differently by each state. For example, when a Mega Millions jackpot isn't claimed, the lottery returns the money each state contributed to the prize. Some states put the money toward second-chance prizes, bonuses, and lottery promotions. Many others use the cash to fund educational initiatives or to help struggling residents with tax relief and medical bills.
While Canadians have a great track record of collecting their jackpots, the country still racked up $46 million worth of unclaimed smaller prizes in 2017. On average, about $1 million in unclaimed prize money from national lotteries goes back into the pot for additional prizes and draws. Regional lottery winnings that aren't collected are returned to provinces as revenue to use for local services or to be put into other special prize draws.
HOW TO AVOID LOSING YOUR LOTTERY PRIZE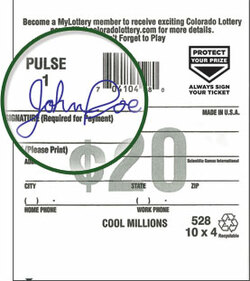 To ensure you always claim your prize, follow these steps to keep your lottery tickets and scratch cards safe and organized:
Always sign your ticket right after you buy it. You can't claim a prize if you didn't sign the ticket!
Check your payslip to make sure it shows the right game, the correct numbers, and the specific draw you wish to enter.
Check your printed ticket to confirm it has the correct information on it and that everything is readable. Lotteries do not always honour illegible tickets.
Ask the retailer to show you that your ticket is a winner. Ask the seller to turn the screen toward you if you can't see it.
Collect and store all your tickets in a secure spot in your home. If you always play the same draw or play frequently, write a note on your calendar or set an alarm on your phone for the same day each week to remind you to check if you won the draw. This will ensure that you always know where your tickets are, they never become lost or damaged, and you'll always remember to check them.
Playing the lottery online is one of the best ways to ensure you never miss collecting your big prize. You can purchase your tickets directly from the lottery's official website or from a reputable online lottery agent that sells tickets to games from around the world and purchases them on your behalf. Whichever online lottery method you choose, you'll know your ticket is secure.
When you buy a ticket online, your purchase is verified and the website stores your numbers in your own password-protected account. If there is a physical ticket, the agent will store it securely until it expires. Most lotto websites also have automated systems that contact you if you win. Finally, when you win, it's easy to collect your prize to an e-wallet. Check out our reviews of the best online lotteries and lotto agents here.
FINAL THOUGHTS ON UNCLAIMED PRIZES
Keeping your tickets organized and in good condition is the best way to ensure you'll be able to claim them, and setting aside a regular time to check your numbers after the draw is equally important. If the worst happens and you do lose a winning ticket, you may still be able to claim your prize—although it won't be easy. For people who have enough other paperwork to keep track of, playing the lottery online is a great way to simplify the process.