Play Viking Lotto Online – How to Play and Buy Tickets
Ever wish that your favourite lottery had a bit more Scandinavian folklore and machismo to it?
If so, then Viking Lotto (often stylized as Vikinglotto) is just what you need.
This Nordic offering is a weekly nine-country transnational game that has been immensely popular among millions of players in Northern Europe for decades.
And as we'll explore below, the game's popularity is totally warranted. Read on as why find out why and show how you can play Viking Lotto online.
Viking Lotto History
Viking Lotto began in 1993 when five countries—Norway, Sweden, Finland, Iceland, and Denmark—decided to combine forces. They figured that increasing their prize pools would get more people excited about playing the lotto, and they were right.
The idea worked so well that by March 2002 Estonia got in on the action, and in February 2011 so did Latvia and Lithuania. Finally, in November 2017 Slovenia became its latest member.
Together, these nine countries comprise Viking Lotto today, but depending on which of these countries you're in, you might hear it referred to by different names.
For example, in Denmark it is often known as "Onsdags Lotto", which just means "Wednesday Lotto", whereas Icelanders like to refer to it as "Víkingalottó" and Lithuanians as "Vikingu Loto."
The game's format has stayed fairly consistent over the years. 2012 was a notable year because that's when the two Lucky Numbers were first introduced. All of the member countries, aside from Sweden, made these a necessary element of winning the ultimate jackpot.
Although Sweden does use these numbers to determine its second-place winners, it doesn't do so for its national grand-prize winners. Therefore, the grand prize in Sweden is generally quite a bit less than it would be in any of the other eight countries.
In May 2017, the Viking number replaced the two Lucky Numbers, and the format of the game has remained the same since.
The same year, two other significant events occurred: the jackpot cap was set at €35 million and the minimum guaranteed jackpot became a very generous €3 million.
How to Play Viking Lotto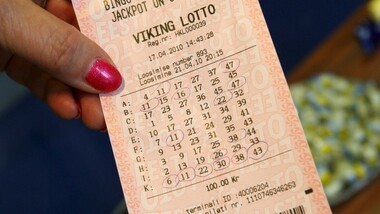 Viking Lotto's gameplay is so easy that even complete novices will be able to quickly wrap their minds around it.
To play, you must choose six main numbers from a range of 1 to 48, as well as one bonus number (the "Viking number") from a range of 1 to 8.
If you match all six numbers plus the Viking number, you win the ultimate jackpot.
Both the primary and secondary prize tiers have €35-million caps. This means that if the prize money reaches these limits, any additional proceeds will roll down and be distributed among the winners of the next tier.
In such instances, Viking Lotto essentially has two jackpots that players can win!
When you considering that official tickets (when purchased within one of the member countries) usually cost less than 1 euro, this lottery offers really good value compared to many other lotteries.
One interesting titbit about Viking Lotto is that even though the jackpot and secondary prizes are shared and therefore common among all of the nine member countries, all of the other prizes are not.
Therefore, the prizes awarded at all of the remaining tiers can vary quite a lot depending on which of the nine countries players purchased their tickets in.
This is quite different from EuroMillions or EuroJackpot, both of which offer all the same prizes regardless of where people are playing from.
In addition, different countries will have a different number of prize tiers. Lithuania, for example, has eight prize tiers, which is the biggest amount, while Sweden only has five, which is the smallest amount.
How to Play Viking Lotto Online
Viking Lotto was officially created for residents of the Scandinavian countries that make up this transnational lottery. Fortunately, that limit no longer applies thanks to the power of the Internet and especially lottery concierge services.
As a result, just about anybody living just about anywhere can now play Viking Lotto online. These types of services give players access to this lottery and many others from around the world. But many of them also offer all sorts of great features that can boost your chances of winning.
Odds of Winning Viking Lotto
With odds of 1 in 98,172,096, your chances of winning the top-tier jackpot are decent. At least when considering the odds of several other popular lotteries and the size that Viking Lotto's jackpots can grow to (see below).
These odds are significantly better than those of EuroMillions (1 in 139,838,160) and even US Powerball (1 in 292,201,338).
However, they are actually a bit tougher than Eurojackpot (1 in 95,344,200) and much tougher than Austria Lotto (1 in 8,415,060).
That being said, since the €35-million cap means the jackpot can roll over into the second tier if nobody wins it, the odds could suddenly get drastically better.
As mentioned earlier, the exact number of tiers will vary depending on which country's version of Viking Lotto you're playing.
Here is a breakdown of the maximum eight tiers that are available:
# of Matched Numbers
(VN = Viking Number)

Prize (Estimated)

Odds of Winning

6 + VN

Jackpot

1 in 98,172,096

6

Secondary Jackpot

1 in 14,024,585

5 + VN

Depends on Country

1 in 389,572

5

Depends on Country

1 in 55,653

4 + VN

Depends on Country

1 in 7,061

4

Depends on Country

1 in 1,086

3 + VN

Depends on Country

1 in 428

3

Depends on Country

1 in 61
Viking Lotto Drawing Time
Unlike many other lotteries, which draw twice per week, Viking Lotto draws take place only once each week on Wednesday evening at 7:00 pm GMT in Hamar, Norway.
Biggest Viking Lotto Jackpots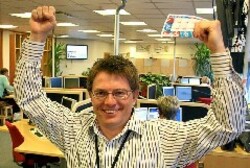 When so many nations combine to make a mega lottery like Viking Lotto and so many people regularly play it, you just know that the prizes are going to be good.
Although the jackpot cap prevents the grand prize from getting too crazy, a windfall of €35 million should be enough to satisfy even the most demanding winners.
Nevertheless, here are the biggest winners in Viking Lotto's history:
€33.2 million: April 11, 2018
€24.5 million: May 15, 2013
€21.3 million: January 18, 2012
Payout Options
All prizes, including the jackpots, are paid out as lump-sum cash amounts.
Winners can take their time claiming their prizes, as Viking Lotto has a 365-day window in which all winnings must be claimed.
Taxes
All winnings are totally tax-free in seven of the nine member countries.
However, in Latvia only winnings below €3,000 are tax-free; but winnings between €3,000 and €55,000 are taxed at 23%, and winnings above this amount are subject to a 31.4% tax.
Meanwhile, in Slovenia, all winnings above €300 are taxed at a flat rate of 15%.

Keep in mind that if you'll be playing Viking Lotto online, then it's a good idea to check your own country's tax laws. You'll want to see whether lottery winnings, including those collected abroad, are taxed.
Viking Lotto – Is It Worth Playing?
"Is Viking Lotto worth playing?" is like asking "were Vikings violent?" because the answer to both questions is the same: very much so.
The game offers excellent prizes and up to eight tiers through which they can be won. Plus, its uncomplicated format means this is a lottery that can easily be played by anyone within the nine member states and even far beyond.
Toss in some decent odds that can get much better if a jackpot rolls down to the secondary tier, and you've got one classic Nordic lottery that's only going to get bigger over time.
User Reviews and Comments (1)