Where to Buy Cheap Lottery Tickets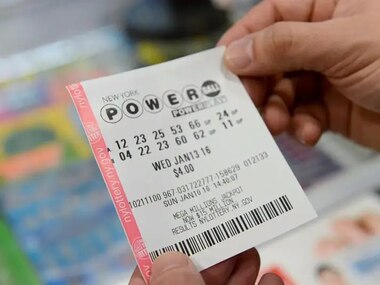 If you love playing the lottery, you have probably invested a good amount of time making sure to get your tickets before each draw. You've probably also invested a decent sum of money in trying to win big.
Sadly, the odds of winning the lottery often make this dream a hard one to achieve. While it is possible to win after buying only one ticket, this hardly ever happens.
This means that you will inevitably ask a simple question at some point during your quest for millions: where can I buy cheap lottery tickets?
In this article, we will look at the different places offline and online you can buy cheap lottery tickets. Specifically, we will look at three places you can get your tickets from. We will also look at the pros and cons of these places and the prices they offer.
Finally, we will look at one of the surest and easiest ways to get cheap lottery tickets and improve your odds of winning at the same time. So, let's dive into it.
Brick-and-Mortar Ticket Retailers
The first and most obvious place to get your lottery fix is from your local store. These retailers are accredited resellers of the lottery games they offer and almost never place any mark-up on tickets.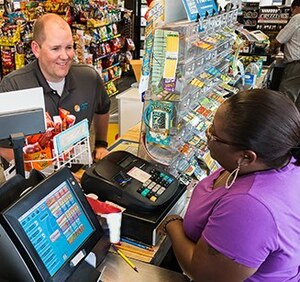 There are three simple reasons for this. The first is that every store that sells lottery tickets generally gets paid a commission based on the number of tickets they sell. This is already a great incentive for stores to want to sell tickets.
The second reason is that if a store sells a jackpot-winning ticket, aside from the winner claiming their prize, the store also gets a prize. These prizes are usually a few thousand dollars, but some can get as much as $1 million. This can really give any local retailer a boost to their bottom line!
The third reason is something less obvious: foot traffic. We have often gone out to buy a lottery ticket and been tempted by something else in the store that we add to our purchase. The foot traffic generated by lottery ticket customers can easily translate into more sales for the store.
As you can imagine, there are some clear pros and cons to getting your ticket from the store down the street. We have summarised these briefly below:
Pros
✅ You can get your tickets quickly and easily.
✅ You get the cheapest price you can possibly get.
✅ You can buy your tickets while you are out shopping for other things.
✅ You get physical tickets that you can keep safe.
Cons
🚫 You are responsible for the safeguarding of your ticket.
🚫 If you are not already headed there, you have to purposefully stop at a local store.
🚫 You won't have a third-party agent to help you claim your prize if you win.
Official Lottery Websites and Apps
You may wonder what we mean. Surely buying a ticket from a local store is purchasing the ticket from the lottery itself?
Yes, that is technically true. However, we mean from the official website of the lotto game you want to play when we say from the lottery itself.
Many lotteries have moved online as the years have passed. Doing this has opened new avenues and made it easier than ever to grab your ticket before a draw.
As such, websites that used to only provide information about the games that a lottery hosts now also allow online sales. This is a convenient way to get your tickets without having to go anywhere.
Sadly, not all lotteries and regions support this.
One of the great things about the lotteries that do offer this is that they generally don't charge any mark-up or additional fees.
The downside is that your ticket will remain a virtual ticket that you will never truly get your hands on, even if you win. If you are somebody that likes the feeling of a paper ticket in your hand, this option might not be for you.
As with brick-and-mortar stores, there are pros and cons to buying from official lottery websites:
Pros
✅ Tickets are generally priced the same as in the store.
✅ You won't have to worry about accidentally losing your ticket or keeping it safe.
✅ You can buy tickets regardless of where you are without rushing to a store.
Cons
🚫 You don't actually get a physical ticket to keep.
🚫 Not all lotteries support the sale of tickets on their official websites.
Online Lottery Websites
If you can't make it to a store but still want a lottery ticket that isn't available on its official website, all is not lost. This is thanks to a massive variety of third-party online lottery websites.
These sites offer the sale of official lottery tickets that are bought physically from local retailers. When you buy your ticket from an online lottery agent, somebody will go out and buy your physical ticket for you.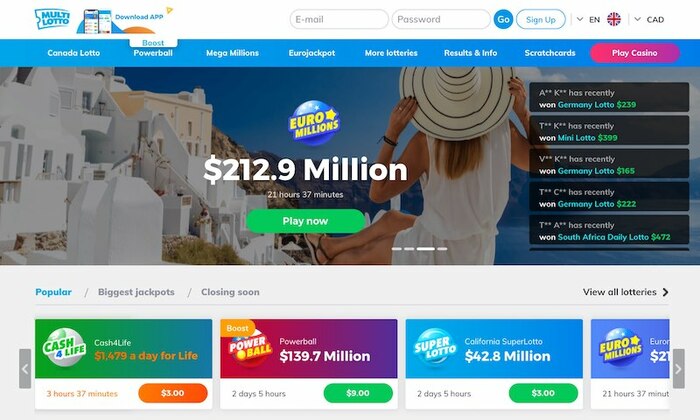 Meanwhile, there are also lottery betting sites that allow you to place bets on the outcomes of all your favourite lotteries. These sites don't buy tickets on your behalf. Instead, any prize that you win from matching your chosen numbers with those drawn are paid by the site or their insurers.
As expected, these types of services are not free of charge. In fact, getting tickets online from such sites could push your price per ticket up more than you expect. We looked at eight of the biggest lottery agent websites. On average, these sites add a mark-up of 154%!
While this may sound ridiculous, there are quite a few sites, such as Multilotto and Jackpot.com, that charge much less. In fact, Multilotto only charges a mark-up of 59%.
These prices may sound a bit high, but it is important to note that most of these sites don't take any commissions if you are a winner and don't charge any additional fees. This mark-up is the only way that they make their money.
There are also many additional advantages—and a few disadvantages—that such sites offer to players, including:
Pros
✅ Lottery agents buy your tickets and make sure that they are safe until the draw takes place.
✅ You can buy tickets wherever you are without having to worry about getting to a retailer.
✅ Online lottery website usually helps you through the entire claims process if you win.
✅ Multiple tickets or subscriptions are typically offered at big discounts.
✅ You can play in almost any lottery anywhere in the world.
✅ These sites often provide great VIP reward programs or promotions that make playing cheaper.
✅ Winning tickets from lottery betting sites generally pay out much quicker than traditional lottery tickets or websites.
✅ Betting websites occasionally offer more lotteries than lottery agent websites.
Cons
🚫 You won't have your own ticket.
🚫 Tickets are more expensive than buying from a retailer or the lottery itself.
🚫 Some online lottery sites are shady, so you need to know what to look out for and avoid them at all costs.
Lottery Syndicates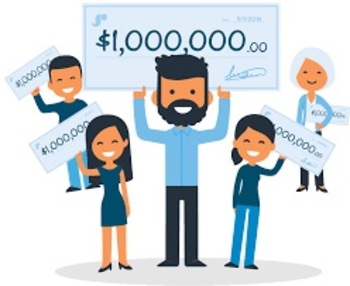 While the above places can definitely sell you a lottery ticket, or let you bet on a lottery, there is one type of ticket that is easily the cheapest of all.
We are, of course, talking about lottery syndicates.
If you are not familiar with lottery syndicates, let us summarise them. Lotto syndicates, or lottery groups or lottery pools, allow you to pool your money with other players to buy a bunch of tickets for an upcoming draw.
Buying tickets in this way makes them much more affordable and means that you can get more tickets for the same amount that you would spend usually.
Another benefit to syndicates is they greatly improves your odds of winning, because you are buying many more tickets than you ever would on your own. In fact, history has shown that syndicates often win large amounts.
The downside to syndicates is that you will need to share your winnings with the players you bought the tickets with. However, this is not close to reason enough to not play in a syndicate.
Conclusion – Where to Buy Cheap Lottery Tickets
Retailers always have been, and probably will be well into the future, the cheapest place to get your lottery tickets.
However, with more and more official lotteries starting to sell their own tickets online, there is now a second official option available. The convenience of online shopping has spread to lottery tickets, and we couldn't be happier that some lotteries support this.
That said, there is another way that makes playing the lottery a true pleasure: online lottery websites. While these cost may cost slightly more than normal, the benefits that come with them are undeniable.
So, if you are looking for cheap lottery tickets, you now know the best places to search for them. You also now know that syndicates offer one of the best ways to buy cheap tickets and improve your odds of winning.