LottoKings Syndicates Review

There are commonly accepted statistics that say that lottery syndicates claim 20% of all lottery winnings. This accounts for a rather large amount of winnings and clearly demonstrates the method behind the madness when it comes to explaining why people should play in syndicates.
In this LottoKings syndicate review, we will look at how this site runs its syndicates and whether or not they are worth joining.
WHAT ARE LOTTOKINGS LOTTERY SYNDICATES?
The syndicates run by LottoKings function in the same way as any other online lottery syndicate that you may encounter. They allow groups of strangers to pool their money together in order to afford a more significant number of lottery tickets.
The site then purchases these tickets on behalf of the group, and everybody hopes that the (greatly) improved odds gained from having multiple tickets will result in a win.
While four different types of lottery syndicate styles are most common amongst lotto sites, LottoKings seems to favour the Additional Numbers Match Guaranteed method—since it uses this method for two of its three available syndicates.
This style of syndicate uses lottery wheeling to ensure that the syndicate is guaranteed to match the minimum of the additional number (e.g. the Powerball) each time that there is a draw.
For its third and final syndicate, the site appears to use the Random Selection method, which means that numbers are chosen entirely at random.
SYNDICATE OPTIONS AVAILABLE
As mentioned above, there are only three different syndicates available through LottoKings.com. This is significantly less than what is available on other online lottery companies' websites.
However, we cannot really complain considering that the three syndicates on offer happen to be for three of the most popular international lotteries available today.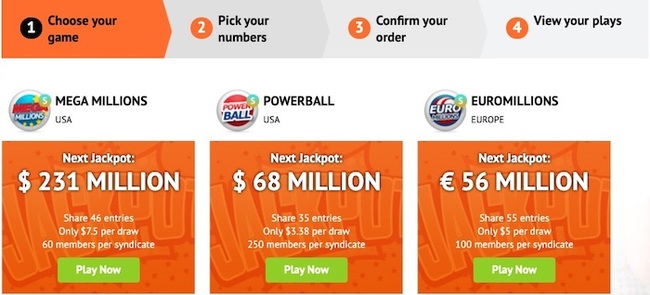 One thing to note about the syndicate offers available on LottoKings.com is that they work slightly differently from syndicates on other sites. This is because none of the syndicates is for a single draw.
Instead, the syndicates allow you to purchase a minimum of two draws for two of the syndicates (Mega Millions and US Powerball), and eight draws for the third syndicate offered (EuroMillions).
In other words, you're not just buying shares to a syndicate—you're also subscribing to multiple consecutive draws. Here are the details:
Mega Millions Syndicate
Regular Jackpot Odds: 1 in 302,575,350 / Biggest Jackpot Ever: $1.537 billion
# of Lines /
# of Draws

Syndicate Type

Number of
Shares*

Cost per
Share*

Odds of
Winning

92 / 2

Additional Numbers Match Guaranteed

60

$15

1 in 6,577,725
As mentioned above, the 92 lines offered by the Mega Millions syndicate are split over two different draws—meaning that you are actually only getting 46 plays per draw.
However, this still improves your odds of winning a $1.537 billion jackpot (like what happened in October 2018) from 1 in 302,575,350 to 1 in 6,577,725—all for only $15!
And, if you happen to win an amount that large, your single share will be worth a staggering $25.62 million. Owning two shares could potentially win you $51.23 million, all for only $30.
US Powerball Syndicate
Regular Jackpot Odds: 1 in 292,201,338 / Biggest Jackpot Ever: $1.586 billion
# of Lines /
# of Draws

Syndicate Type

Number of
Shares*

Cost per
Share*

Odds of
Winning

280 / 8

Random Selection

250

$27

1 in 8,348,610
The US Powerball is easily one of the most popular lotteries on the planet, so being able to change your odds from 1 in 292,201,338 to 1 in 8,348,610 is the kind of stuff that dreams are made of. However, with this syndicate, it is possible.
This is due to the 280 lines that this syndicate gives you to play over the span of eight draws (35 lines of play per draw).
Holding one single share can get you up to $7.93 million in winnings if the jackpot reaches the same $1.586 billion level as it has in the past.
In this scenario, owning just five shares of this syndicate could win you around $39.65 million.
EuroMillions Syndicate
Regular Jackpot Odds: 139,838,160 / Biggest Jackpot Ever: €190 million
# of Lines /
# of Draws

Syndicate Type

Number of
Shares*

Cost per
Share*

Odds of
Winning

110 / 2

Additional Numbers Match Guaranteed

100

$10

1 in 2,542,512
Another favourite among lotto enthusiasts around the world is EuroMillions. Purchasing a single share in this syndicate could lead you to win €1.9 million if the jackpot reaches its record of €190 million again.
This is thanks to the improvement of odds from 1 in 139,838,160 to 1 in 2,542,512 as a result of 110 lines being spread over two draws (55 lines of play per draw).
And, if you are lucky enough to have purchased six shares, you could be €11.4 million richer. So, the more shares you buy, the better.
ABOUT LottoKings.com
LottoKings.com has been around since 2010 and is a provider of lottery tickets for 18 of the world's best lotteries. The site is open to international lottery players and has quickly climbed the ranks to become one of the forerunners in online lottery ticket sales.
For details, read our LottoKings.com review.
LottoKings.com SYNDICATES CONCLUSION
LottoKings.com is most certainly a viable candidate if you are looking for an online lottery website that offers excellent syndicates. It provides generous reduced odds of winning some of the biggest and most popular lotteries on the face of the planet, all at prices that won't make you cry.
However, the part that we love most about the syndicates offered on this site is the limits on the number of shares sold per syndicate.
While there are some sites out there that will undoubtedly offer fewer shares per syndicate, LottoKings.com does a good job of balancing the number of shares sold and the price per share.
This means more money in your pocket if the syndicate wins.
While we definitely do wish the site offered more lotteries than the meagre three options provided, these are three of the biggest lotteries—with the biggest jackpots and the toughest odds—in the world, so it's not a total deal breaker.
In closing, if you are looking for a lottery syndicate to play in, we recommend taking a look at those offered on LottoKings.
A simple $30 investment at the right time could easily lead you to becoming a multi-millionaire.
And, if that is the case, remember to tell others about the wonder of playing in syndicates (after you purchase your next ticket, of course).
Join LottoKings now