How Many People Win the Lottery Every Year?
Everyone dreams of winning the lottery, but with such tough jackpot odds, that dream can often seem incredibly unattainable. However, for every draw, someone has to be the winner—and why shouldn't you be one of them? In all the coverage of the biggest jackpots, one number that is often left out is just how many people win the lottery every year. In this article, we'll let you know how many annual jackpot winners there typically are for some of the biggest lotto games around the world.
How Many People Win the Lottery Every Year?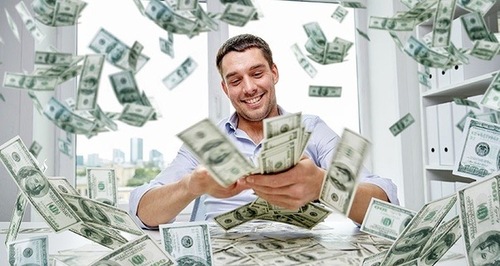 The amount of people who win the lottery every year varies by country, state or region, and by lottery game. One major determining factor in how many people win is just how big the jackpot gets and how many people are buying tickets.
It also depends on who we consider a winner. For example, a "small" jackpot of "just" $40 million for Mega Millions in October 2018 resulted in over 760,000 winning tickets. That total takes into consideration even the smallest winners, who walk away with just about enough of a prize to buy another lottery ticket. However, if you only count the number of people who win life-changing jackpots each year, the number drastically decreases.
For the purposes of this analysis, the number of people winners is based on the number of jackpot-winning tickets that were sold, which includes draws that had multiple top-tier winners. When only counting jackpots, here is how many people win the lottery every year, by the biggest lotteries per region:
United States
The United States is home to some of the biggest lottery games in the world in terms of jackpots and players. One report found that lotto players in the US spent nearly US$72 billion annually on tickets, based on numbers from 2017. Unfortunately, only a small amount of players benefitted by winning big.
Powerball
The US Powerball is one of the most popular lotto games in the world and currently holds the record for biggest lottery jackpot ever awarded at $1.586 billion for a January 2016 draw. From January 2003 to August 2020, there have been a total of 220 Powerball jackpot winners. The most winners in one year occurred in 2013 when 18 lucky players won a jackpot. This includes draws that had multiple jackpot winners split the prize. Prior to an October 2015 format change that saw an increase in numbers in the main ball pool from 59 to 69 and a reduction of the Powerball pool from 35 to 26 balls, there was, on average, 13.9 winners per year. However, since the change, which worsened the jackpot odds to an astronomical 1 in 292,201,338, there have been no more than nine jackpot winners in a single year.
Mega Millions
Mega Millions is another big American lottery that has broken many jackpot records in the past. From January 2002 to August 2020, 216 people have won or shared a Mega Millions jackpot. The year with the most winners in one year in this timeframe was 2009, when there were 18 winners, with four separate draws being won by multiple winners. Before an October 2013 format change which changed the game from a 5/56 + 1/46 format to a 5/75 + 1/15 format that lengthened the jackpot odds to 1 in 302,575,350, yearly winners regularly numbered in the mid-teens. In that timeframe, the average number of yearly winners was 13.8. Since the format change, the average amount of yearly winners is 6.8, not including the partial numbers for 2020.
Canada
While the jackpots of Canada's national lotteries may not be anywhere close to those offered by America's biggest lotteries, they are still fantastic by any measure. They also happen to offer some of the best jackpots around and are 100% tax-free.
Lotto 6/49
Canada's longest-running national lottery, Lotto 6/49 has paid out over $13 billion in prizes since its launch in June 1982. This figure includes 1,394 jackpot wins and 345 guaranteed $1 million prizes—the latter of which is an additional raffle prize that was implemented alongside other changes to the game in September 2013. In terms of averages, Lotto 6/49 has had 36.7 winners since its inception, which is somewhat surprising because its jackpot odds of 1 in 13,983,816 are some of the best in the world for a game with jackpots that go into the dozens of millions. However, the population of Canada is much smaller than all of the other countries mentioned in this list, so that could be a factor.
Lotto Max
With a generous jackpot cap of $70 million, Lotto Max is arguably Canada's most popular lottery. Despite its 1 in 33,294,800 jackpot odds being considerably tougher than those of Lotto 6/49, the game has had __ winners since it first appeared on the Canadian lottery scene in September 2009. Unbelievable enough, the jackpot reached the $70 million peak in two back-to-back months, January and February, at the start of 2020, so the number of annual winners doesn't look like it'll be decreasing any time soon.
Europe
Europe is home to many big lottery games that are played by millions. The continent offers two transnational games, EuroMillions and Eurojackpot, which have awarded their capped jackpot prizes 4 and 11 times, respectively.
EuroMillions
EuroMillions has a jackpot cap of €200 million that is awarded to citizens in the participating countries of the UK, France, Spain, Austria, Belgium, Ireland, Luxembourg, Portugal, and Switzerland. Since the first draw in February 2004 up until September 2020, there have been 354 jackpot prizes awarded to a total of 496 winners. EuroMillions produces many more winners per year than many of the other large lotto games, with the most winners per year occurring in 2008 with 59 winners. In that year, there were many shared jackpots, with the prize at times being split between three or more winners. The year with the least amount of winners was 2004, with 13 winners. Prior to a September 2016 format change which saw the bonus ball pool increasing from 11 numbers to 12, the average amount of winners per year was 32.5, with the average decreasing to 18.3 winners per year after the format change. Considering the EuroMillions jackpot odds are 1 in 139,838,160—less than half of Powerball's odds—it makes sense that so many more people end up winning.
Eurojackpot
Eurojackpot is available in Croatia, Czech Republic, Denmark, Estonia, Finland, Germany, Hungary, Iceland, Italy, Latvia, Lithuania, the Netherlands, Norway, Poland, Slovakia, Slovenia, Spain, and Sweden, and caps its jackpots at €90 million. Since the game's launch in March 2012 to September 2020, there have been a total of 93 jackpot winners. The number of winners per year has varied drastically; the inaugural year only produced three jackpot winners, while 2018, the year with the most annual winners, saw 19. On average, there have been 10.3 winners per year since the game was launched. This is actually somewhat surprising since the odds of winning the jackpot are "only" 1 in 95,344,200—but perhaps more people prefer to play EuroMillions instead because of its bigger jackpots and other prizes.
UK Lotto
UK Lotto was launched in November 1994 and has made thousands of players into jackpot winners. The draw has made headlines before for having a large amount of jackpot winners, with an incredible 133 winners splitting a single jackpot in January 1995. The game has undergone a few changes, with the first significant one occurring in October 2013 when the ticket price doubled. In 2013 and 2014, there were 141 and 128 jackpot winners, respectively. Another format change occurred in October 2015 when the ball pool increased from 49 to 59 and worsened the odds to 1 in 45,057,474. This saw a drastic reduction in the number of jackpot winners, with 76 for 2015 and only 23 for 2016. The number of winners per year has remained low since then. Since 2016, the first full year after the format change, until September 2020, there has been an average of 19.2 jackpot winners per year.
Conclusion
Playing the lottery is always entertaining, and the thrill of being just a few numbers away from winning a life-changing amount of money makes it an exciting hobby. However, the tough odds of winning the jackpot become all the more clear when you take a look at how many—or how few—people actually win big with the lottery every year. While the amount of yearly winners varies drastically by lotto game, the number may help you choose which games you should buy lotto tickets for, and which ones you should skip.