Canada Lotto Max Review
Lotto Max, one of Canada's national lotteries, has been around for almost a decade and paid out incredible prizes to countless lucky winners from coast to coast. With an enticing prize pool that occasionally rivals that of even America's biggest lotteries, fun extra features, and pretty decent odds, Lotto Max reigns supreme across Canada from coast to coast. However, it also holds its own among the world's top lotteries.

Canada Lotto Max History
Lotto Max was first introduced to Canadian residents by the Interprovincial Lottery Corporation back in September 2009 to replace the Lotto Super 7 lottery. The Lotto Max lottery is one of Canada's three national lottery games (alongside Lotto 6/49 and Daily Grand) and a popular choice among millions of citizens. In fact, the lottery quickly secured higher revenue in the first 10 months following its launch than its predecessor ever did in even its best year in the 15 years it was in operation. Many attribute this success to the large size of Lotto Max's total prize pools, as well as the fact that many people feel the MaxMillions system considerably increases their chances of winning and, in turn, the overall excitement they get out of playing.
MaxMillions refers to a feature that is quite unique to Lotto Max that offers players the chance to win one of several $1-million prizes whenever a jackpot reaches $50 million. These prizes are guaranteed payouts that are separate from the primary Lotto Max prizes—meaning that even if you don't win a Lotto Max jackpot or secondary prize, you could still walk away with a cool $1-million windfall. How many other international lotteries offer that? (The answer is none, in case you're actually wondering.)
How to Play Lotto Max
Lotto Max is pretty quick and easy to play. For CA $5 you get to play three sets of numbers. Each set consists of seven numbers that fall between the range of 1 to 49. You need to match all 7 numbers to win a share of 89.25% of the total prize pool. The lottery allows you to select a Quick Pick option, which will have the seven numbers randomly chosen for you. If you're someone who likes to have a bit more control, however, then you can go for the "Selection Slip" option that will let you choose your own numbers. There's also an "Advance Play" option that lets you choose your numbers in advance for up to 26 weeks. Those familiar with the subscription feature that many online lottery sites offer will already be familiar with how this works, but basically it just means you prepay once and then run the same numbers for whatever number of upcoming draws you choose. 
There is a minimum jackpot for Lotto Max, which starts at $10 million and can grow up to a $70-million cap at its max. If the main Lotto Max jackpot is won, any MaxMillions that are not won are automatically added to the next minimum ($10 million) Lotto Max jackpot.
Odds of Winning Lotto Max
The Lotto Max odds for winning the jackpot are 1 in 33,294,800. These odds are approximately 9 times better than the odds of winning the American Mega Millions (odds of 1 in 302,575,350) and Powerball (odds of 1 in 292,201,338) lotteries. However, the odds are almost 2.5X as difficult as the 1 in 13,983,816 odds offered by its older brother, Lotto 6/49, which often features similar jackpots. Despite that, the overall likelihood of winning a prize in Lotto Max is 1 in 7, which is very much in the player's favour. That alone makes giving this lottery a shot worthwhile.
Lotto Max Payout Table
Here are the odds of winning all of Lotto Max's different prize tiers and the prize amounts available at each tier:
| | | |
| --- | --- | --- |
| # of Matched Numbers | Prize | Odds of Winning |
| 7 | Jackpot or 89.25% share of the total pool prize pool | 1 in 33,294,800 |
| 6 + Bonus | 2.5% share of the pool | 1 in 4,756,400 |
| 6 | 2.5% share of the pool | 1 in 113,248 |
| 5 + Bonus | 1.5 % share of the pool | 1 in 37,749 |
| 5 | 3.5% share of the pool | 1 in 1,841 |
| 4 + Bonus | 2.75% share of the pool | 1 in 1,105 |
| 4 | $20 | 1 in 82.9 |
| 3 + Bonus | $20 | 1 in 82.9 |
| 3 | $5 Free Play | 1 in 8.5 |
Canada Lotto Max Drawing Time
Lotto Max draws are held twice per week on Tuesday and Friday nights at a secure location in Toronto, Ontario, shortly after the ticket cutoff time at 7:30 pm PT/8:30 pm MT/9:30 pm CT.
Biggest Lotto Max Jackpots
The three biggest Lotto Max prize pools so far have been the following:
In July 2012, the Lotto Max broke records by reaching $100 million in potential prizes
In January 2017, the prize pool rose again to a never seen before $102 million
In May 2018, that record was broken again when the prize pool reached $110 million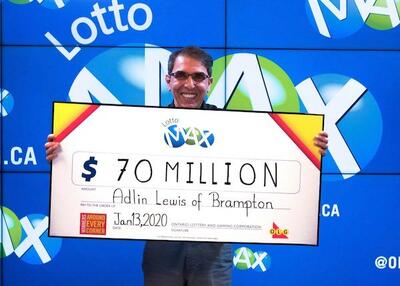 Although the $70-million cap that Lotto Max has in place would prevent anyone from winning the full amounts above, several of the biggest Lotto Max winners also rank among Canada's biggest lottery winners ever. The cap also resulted in many additional MaxMillions prizes becoming available and multiple big jackpots being won consecutively.
As of January 2020, the biggest winner is Adlin Lewis of Brampton, Ontario, who won a $70-million jackpot.
Payout Options
All Lotto Max prizes (including the jackpots) are paid out as a single lump sum. Annuity payments are not possible with this particular lottery.
Taxes
Any lottery prizes won within Canada are tax-free, as neither the federal or provincial governments tax lottery winnings, meaning players can rest assured that they'll take home the full amounts they win. Compared to what happens with Powerball winners and Mega Millions winners in the US, where federal and state taxes can add up to 45% depending on which state the ticket was purchased in, this is an incredible advantage. However, if you'll be playing Lotto Max from another country, check the local tax laws to make sure you won't be taxed by that country's government.
How to Play Lotto Max Online
If you don't live in Canada, you might think that your chances of playing Lotto Max are pretty limited, but luckily that's not the case. Many of the best lottery concierge services offer access to both Lotto Max and Lotto 6/49, meaning you can play Canadian lotteries whenever and wherever you  want to. Since some of these sites offer great welcome offers and extremely useful features like subscriptions and group play that can save you money and increase your chances of winning, they are often even better than buying Lotto Max tickets directly from an official Canadian lottery kiosk or retailer. Plus the convenience they offer is second to none.
Canada Lotto Max – Is It Worth Playing?
With amazing tax-free jackpots, OK odds, and a reputation that's hard to beat, Lotto Max has certainly earned its title as one of the best lotteries in Canada. While there are other lotteries in the world that offer bigger jackpots, their odds are usually drastically tougher, meaning your chances of actually walking away with a jackpot (or even lowest-tier prize) are pretty slim. Besides, $70 million is hardly anything to scoff at. As such, we highly recommend Lotto Max to lotto enthusiasts who are looking for something new and exciting to play.
FAQ - frequently asked questions
Is Lotto Max Canada Wide?

Yes, Lotto Max is one of Canada's three national lottery games, along with Lotto 6/49 and Daily Grand. Although these games are regulated in different regions of the country by different gaming commissions, they are available in all of the country's provinces and territories.

Lotto Max is open to players who are 18 years of age or older. Since the game is open to players from outside of Canada, just about anyone from anywhere in the world can get in on the fun.

How Much Does Lotto Max Cost?

A single entry, also called a board, officially costs CA $5 when purchased within Canada. A board consists of three sets of seven numbers from the 1 to 50 range. Although players can choose their first set of seven numbers, the remaining two sets are randomly "quick picked".

Are Lotto Max Winnings Taxable?

No, Canada is one of the

few countries

in the world that doesn't consider lottery winnings as a form of income and therefore does not tax them as such.

Can Lotto Max Winners Remain Anonymous?

Generally speaking, no. Although anonymity is granted to Canadian lottery winners in rare cases where there is a "real public safety concern", most Lotto Max winners' identities and winnings are widely publicized. The various provincial lottery corporations do this primarily in order to maintain transparency about who the winners are, but it's also a marketing strategy that helps sell more tickets. For more details, read this.

Can I Buy Lotto Max Online?

Yes! Lotto Max tickets can easily be purchased by Canadian citizens through the provincial lottery corporations' official websites, and foreigners can purchase them via most third-party online lottery sites.
User Reviews and Comments (1)