Play Canada Daily Grand Online – How to Play and Buy Tickets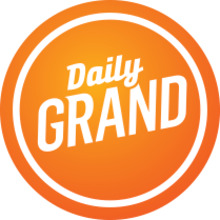 Winning the lottery jackpot would be an exciting event in anybody's life.
The thrill of knowing that you have beaten the odds stacked against you and that you are about to be rewarded by a massive windfall of cash is enough to make anybody jump for joy.
Now, imagine having that feeling each and every day.
Read on as we explore how to play Canada Daily Grand online and learn about a great lottery that offers winners exactly that.
History
Canada Daily Grand lottery is a relatively young lottery that held its first every draw on October 20, 2016. The game is run by the Canadian Interprovincial Lottery Corporation (ILC)—an organization consisting of the five provincial lottery commissions across Canada that also operate Canada's two other national lotteries: Lotto Max and Lotto 6/49. Since it was launched, this lottery has become one of the most popular lotteries available and has already seen numerous jackpot winners.
How to Play Daily Grand
Playing in this lottery is as simple as playing in any other lottery that uses a double-matrix system. To start, you will need to pick five unique numbers from a number pool that ranges from 1 to 49. These will be your main numbers and will be the biggest part of what you need to match.
In addition, you will need to select a single Grand Number (or GN). This Grand Number functions as a bonus ball and will need to be chosen from a number pool comprising numbers 1 to 7. If you would prefer not to select your own numbers, there is a quick pick option available that will leave your number choices to the discretion of a random number generator.
Once you (or the quick pick option) have selected your numbers, you can choose to enable combination play or Encore. Combination play increases the cost of a single ticket from $3 to $21. However, it also increases your chances of winning by giving you a combination of your chosen numbers with each of the seven available Grand Numbers.
Enabling Encore on your ticket will cost you an additional $1 and give you the chance to play in a bonus game that has odds of 1 in 9 for any prize. This game requires you to match the numbers drawn from left to right, right to left, or a combination of both in order to win. It must be noted, however, that Encore is only available in Ontario.
Once you have chosen what extras you would like to enable or ignore, you may purchase your ticket. Then, all that is left is to see if you are a winner of that fantastic jackpot.
How to Play Canada Daily Grand Lottery Online
A few lotto websites support the online purchase of tickets for Canada Daily Grand. However, this ability (and the validity of your ticket) depends on where you are located in Canada. This is because this lottery functions slightly different depending on which area of the Interprovincial Lottery Corporation you fall under. For this reason, we recommend checking your local lottery website to see if you are eligible to purchase tickets in your area.
Odds of Winning
The odds of winning the jackpot are 1 in 13,348,188. Even though you may think us mad, these are actually pretty decent in our opinion—but let us explain. Unlike most lotteries, however, this lottery offers a unique and fantastic jackpot that does not just pay once. Instead, winners will receive $1,000 every single day for the rest of their life. In fact, the lottery is so adamant on paying for the rest of a winner's life, that they have not put any restriction on the total amount that can be paid out to a single winner during their lifetime. In other words, if you win when you're young, let's say 20, and live until the ripe age of 90, you would receive a total of $25,550,000 over the entire period (based on $365,000 per year). That's a lot of pocket change!
To make things even better, the overall odds of winning any prize at all are 1 in 7.
Canada Daily Grand Lottery Payout Chart
| | | |
| --- | --- | --- |
| # Of Matched Numbers | Prize | Odds of Winning |
| 5 of 5 + Grand Number | Jackpot | 1 in 13,348,188 |
| 5 of 5 | $25,000 / year for life | 1 in 2,224,698 |
| 4 of 5 + Grand Number | $1,000 | 1 in 60,674 |
| 4 of 5 | $500 | 1 in 10,112 |
| 3 of 5 + Grand Number | $100 | 1 in 1,411 |
| 3 of 5 | $20 | 1 in 235 |
| 2 of 5 + Grand Number | $10 | 1 in 101 |
| 1 of 5 + Grand Number | $4 | 1 in 20 |
| Grand Number | Free Ticket | 1 in 12 |
Drawing Time
The lottery hosts two draws each week, one on Monday and one on Thursday. Draws take place just after 10:30 PM (EST). The results of each draw are posted on the official lottery website shortly after the draw is complete alongside an animation of the draw taking place.
Biggest Jackpots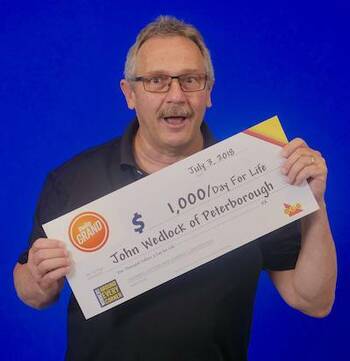 As you may have guessed, it is impossible to say what the most significant jackpot paid out by the lottery is—because it is increasing each time a winner gets paid their next allowance. However, one of the most recent jackpot winners was Peterborough, Ontario, resident John Wedlock (pictured on right). The 59-year-old opted to take the $7 million lump-sum cash prize, which makes sense given his age.
Payout Options
The lottery offers different payout options for winners of both the jackpot and the second prize tier. Winners of the jackpot can opt to receive $1,000 every day for life or a cash lump sum of $7 million. Annuity payments will not occur daily but rather on a schedule decided upon by the lottery.
Second-place winners can also opt to receive their annuity payments of $25,000 per year or a cash lump sum. Annuity payments will be paid annually on the anniversary of the win. The cash lump sum option will entitle the winner to a once-off amount of $500,000.
Taxes
One thing that we love about Daily Grand and all other Canadian lotteries is that all prizes—including jackpots—aren't taxable because the government does not consider them as a source of income. The only time that you may have to encounter tax on your winnings is if you invest them and they start generating additional money. In this instance, we advise that you seek the consultation of a tax practitioner to ensure you pay what is due.
Canada Daily Grand Lottery – Is It Worth Playing?
Any lottery that keeps on paying long after it has been won is a lottery that we think everybody should be playing, and Canada Daily Grand lottery goes further than offering a significant jackpot. It also provides a decent ticket price, decent odds (considering the prize), and fantastic second-tier prizes. If all that sounds as good to you as it does to us, we recommend getting your ticket for the next draw as soon as you can.
FAQ - frequently asked questions
What Time Is the Daily Grand Draw?

The Daily Grand draws take place twice per week on Mondays and Thursdays just after 10:30 pm EST.

How Does Daily Grand Work?

To win, players must choose five numbers from a primary pool consisting of 49 numbers and one bonus "Grand Number" from a pool of 7 numbers. If all six numbers match those that are drawn, the player wins the $1000-per-day jackpot.

How Is Daily Grand Paid Out?

If someone wins the Daily Grand jackpot prize, it pays out either $1000 per day directly to the winner's bank account for the rest of their life OR as a one-time $7-million pay out. The choice is the player's to make.

How Much Is Daily Grand Ticket?

In Canada, the official price for a single board consisting of five main numbers and one secondary number is $3.

When Can I Buy Daily Grand Online?

Tickets are sold online anytime up until 10:30 pm EST the night of a draw. After the draw takes place, sales are reset and available again until the same time of the next draw, and so on.
User Reviews and Comments (1)