Play California SuperLotto Plus Online – How to Play and Buy Tickets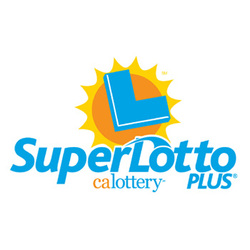 California might be best known for its weather, beaches, and celebrities. But the California SuperLotto Plus lottery gives it something to brag about on the international lotto scene as well.
With jackpots that start at a guaranteed $7 million (€6.22 million) and about 110,000 winners for each of its two weekly draws, SuperLotto Plus is among America's biggest and most popular lotteries.
Read on as we see what makes this lottery so exciting and show you how you can buy California SuperLotto Plus tickets online.
California SuperLotto Plus History
Back in 1986 the residents of California voted on whether or not the state should have its own lottery. Ultimately, 58% of voters voted in support of the idea—both to add some excitement and opportunity to their lives and also to generate considerable money for schools and colleges around the state.
The lottery certainly achieved both of these things. Nowadays, about 95 cents from every dollar earned goes back in one way or another to the community.
In 2017, it generated approximately $1.69 billion in funding for public education initiatives—that's a serious amount of cash!
How to Play California SuperLotto Plus
The format of SuperLotto Plus is fairly similar to games like Mega Millions and US Powerball in that two individual pools of numbers are used.
The first pool requires players to choose five numbers from a range of 1 to 47, while the second pool requires choosing one MEGA number from a range of 1 to 27.
Players can choose the numbers themselves based on their own lucky numbers or random numbers. Or they can use the Quick Pick feature to have the lottery's computers randomly generate a set of numbers for them.
To win the jackpot, you must match all five numbers that are drawn from the first pool and the MEGA number that is drawn from the second pool.
However, even if you don't win the jackpot, you might still walk away a winner, as the game has a generous nine prize tiers in total.
There is also an additional game that costs just $1 extra (when playing within the state) per entry that allows you to win one of five $15,000 prizes in a secondary weekly draw called the SuperLotto Plus 2nd Chance.
To win, the 2nd Chance code that is printed on your SuperLotto Plus ticket must match the numbers that are drawn.
How to Play California SuperLotto Plus Online
Within the state of California, SuperLotto Plus is easy to play because there are more than 23,000 lotto retailers who sell tickets to its draws every single week.
It also has an excellent app for both iOS and Android platforms called CA Lottery Official App. It makes it extremely convenient to find one of these retailers, scan and check tickets, and take advantage of great promos.
However, if you're playing from abroad, the only way to test your luck on this popular game is via the top online lotto sites.
These services make it extremely easy to play not just this lottery but also many other ones from around the world.
They purchase tickets on your behalf and keep them safe for you, and some even scan them for you so that you can see them in your online account. This means you'll never have to worry about losing a ticket or forgetting to check it ever again.
Odds of Winning California SuperLotto Plus
With odds of 1 in 41,416,353, the likelihood that you'll win a SuperLotto Plus jackpot any time soon isn't great.
However, you definitely have a MUCH better chance—about seven times better—of winning here than winning the US Powerball (1 in 292,201,338) or Mega Millions (1 in 302,575,350).
That said, New York Lotto, another popular American state lottery, offers odds that are almost twice as good as SuperLotto Plus's: 1 in 21,846,048.
And if you don't mind playing for somewhat smaller jackpots, there are several great games beyond the USA's borders, including Colombia Baloto (1 in 15,401,568), Canada Lotto 6/49 (1 in 13,983,816), and Irish Lotto (1 in 10,737,573), that are among the world's best lotteries and thus well worth looking into.
That being said, SuperLotto Plus is still a good game all things considered. Especially considering how big its jackpots can swell to and the overall odds of winning a prize being 1 in 23, which is pretty solid.
Here is the prize breakdown and odds of its nine prize tiers:
# of Matched Numbers
(MB = Mega Ball)

Prize
(Estimated)

Odds of Winning

5 + MB

Jackpot

1 in 41,416,353

5

$28,500

1 in 1,592,937

4 + MB

$1,650

1 in 197,221

4

$100

1 in 7,585

3 + MB

$55

1 in 4,810

3

$10

1 in 185

2 + MB

$10

1 in 361

1 + MB

$2

1 in 74

MB

$1

1 in 49
California SuperLotto Plus Drawing Time
The SuperLotto Plus draws are held at the California Lottery headquarters in Sacramento on Wednesday and Saturday evenings at 7:57 pm PST.
Players must claim their prizes within 180 days of the day the draw took place, and those that are not are considered forfeited and are donated to the state's public schools.
Biggest California SuperLotto Plus Jackpots
The biggest jackpots in SuperLotto's history have reached some pretty incredible heights.
Here are the three largest ones so far:
$193 million (€171.6 million): February 16, 2002
$141 million (€125.3 million): June 23, 2001
$118.8 million (€105.6 million): April 17, 1991
Although the average size of the jackpots is approximately $13 million, there is a winner every 2.4 draws—which is a pretty amazing testament to how popular and fair this game is.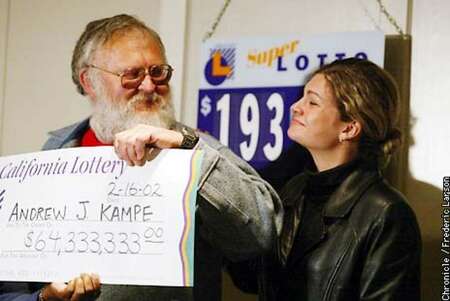 Payout Options
Unlike most lotteries, which pay out their jackpot prizes in lump sums, the default payout method for California SuperLotto Plus is annual payments spread out over 26 years.
These payments are graduated payments that start at 1.51% of the total jackpot the first year and gradually increase until 6.2% in the 26th year.
Therefore, if you won a $100 million prize, you would receive about $1.5 million as your first payment and about $6.2 million as your final one.
For players who would rather receive their winnings in a single lump sum, this can be arranged with the California State Lottery. Such prizes must be claimed within 60 days of the organization's payment approval term.
However, all lump sum payments are reduced quite substantially—winners who opt to get their winnings this way will only receive approximately 45% to 55% of the total jackpot amount that they won.
In other words, if you don't mind waiting all those years, the annuity option is a much smarter route to take.
Taxes
When it comes to taxes on lottery winnings in the state of California, there's good news and bad news.
The good news is that California is one of several American states that doesn't tax lottery winners.
Compared to New York, which levies an 8.82% tax on lottery winnings (and an additional municipal tax on winners based in NYC), that's quite a huge savings.
Nevertheless, anyone who wins a prize of $600 or more must pay the US federal tax of 24%, which increases to 30% for foreign winners.
California SuperLotto Plus – Is It Worth Playing?
California SuperLotto Plus offers up a lot of thrills and ways to win to both residents of California and people living far beyond alike.
While its odds aren't the greatest, they are far from terrible, especially when you consider that this state lottery's jackpots tend to be higher than most countries' national lotteries.
Add to that the fact that the game has nine prize tiers, two weekly draws, and the awesome 2nd Chance game, and you've got yourself a winner.
User Reviews and Comments (1)