Play New York Lotto Online – How to Play and Buy Tickets
One of the biggest American state lotteries is none other than New York Lotto. A biweekly game with jackpots that start at $2 million and grow by $300,000 every time they roll over, the game has a lot going for it.
While the game's odds at first glance don't seem that great, there are a few things about NY Lotto that help make it a pretty fair lottery overall.
Read on as we explore how to play New York Lotto online and take a close look at everything you'd ever want to know about the game.
New York Lotto History
Though the founding of the New York Lottery institution happened way back in 1966, New York Lotto wasn't launched until 12 years later, in November 1978.
At first the game's draws took place only on Saturdays, but in 1983 an additional Wednesday draw was also added to the mix.
In its heyday, NY Lotto was the most popular lottery in the state, with minimum guaranteed jackpots worth $3 million and rollovers that grew by a minimum of $500,000 from draw to draw.
However, once the superior (but much tougher) US Powerball and Mega Millions came onto the scene, NY Lotto's popularity began to wane a bit. That's why its jackpots and rollovers nowadays are smaller than they once were.
There is one thing that stands out about all of New York State's lotteries compared to the majority of lotteries around the world. This is that ALL of the proceeds—aside from the amounts that are set aside for the prize pool—go to support K-12 public education within the state.
In fact, the organization's slogan for a long time was "Your Chance of a Lifetime to Help Education", something which it has been extremely proud of sticking to all these years.
Since its inception, the New York Lottery has provided upwards of $64 billion in educational funding, which is quite an achievement!
How to Play New York Lotto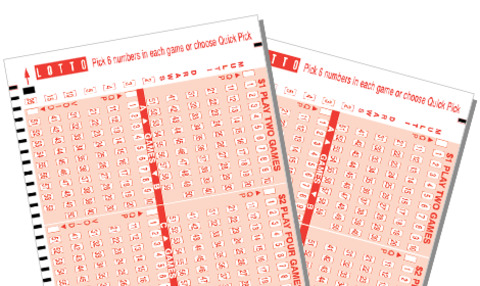 Playing New York Lotto is simple, as all that's needed to win the jackpot is to match six numbers from a range of 1 to 59. Though a bonus ball is also drawn from the same pool, it is only used to determine the second-tier winner.
You can choose your own numbers (called "Natural Selection") or have a set of random numbers generated for you by opting for the "Quick Pick" option that is common to so many other lotteries.
The cost of playing NY Lotto when purchasing an official ticket within the state is just $1, and this includes not just one but two lines—making the game a pretty good value overall.
If no one wins the jackpot, it rolls over to the next draw until eventually there is a winner.
For regular players, it is also possible to subscribe to multiple consecutive draws ranging from two weeks (four draws) to an entire year (about 104 draws).
Moreover, group subscriptions comprising a maximum of 25 members makes it super simple to manage office and other types of lottery pools.
There is also a great official app for both Android and iOS devices simply titled NY Lottery that allows you to see the latest draw results, scan your tickets, generate random numbers, and much more.
While you can't purchase tickets through the app, it's still a great tool to have on your phone if you regularly play New York Lotto or any other of the state's games.
How to Play New York Lotto Online
Although NY Lotto is officially open to players from anywhere in the world, its tickets can only be purchased within the state of New York, and nowhere else. This makes it pretty tough for the rest of the world to directly get in on the fun.
However, some of the best online lotto agents feature it among the many other international lotteries they have on their websites.
With special offers, subscriptions, syndicates, and much more, these types of sites are arguably the best way to play the lottery in the 21st century.
Odds of Winning New York Lotto
Despite the simplicity of New York Lotto's single-matrix format, it's not a game that's easy to win.
Though the odds per line are 1 in 45,057,474, each ticket includes two lines, so the real odds are technically 1 in 22,528,737.
While this is obviously much better and drastically better than the odds of winning US Powerball (1 in 292,201,338) and Mega Millions (1 in 302,575,350), these still aren't the greatest odds.
There are other games such as Canada Lotto 6/49 (1 in 13,983,816) and France Lotto (1 in 19,068,840) that have similar jackpots and better odds.
But the fact that the NY Lotto ticket price is so low does somewhat make up for it. After all, once you buy two tickets for $2—which is what a standard Powerball or Mega Millions ticket costs—the odds drop to 1 in 11,264,368.5, which is pretty respectable.
That being said, the overall odds of winning a prize are 1 in 92 (or 1 in 46 per play), so that's worth keeping in mind as well.
Here is the full breakdown of the game's odds and prizes:
# of Matched
Numbers

Prize

Odds of Winning
Per Line

Odds of Winning
Per Play (2 Lines)

6

Jackpot (75%)

1 in 45,057,474

1 in 22,528,737

5 + Bonus

7.25% of prize pool

1 in 7,509,579

3,754,789.5

5

5.5% of prize pool

1 in 144,415

72,207.5

4

6.25% of prize pool

1 in 2,180

1,090

3

6% of prize pool

1 in 96

24.04
New York Lotto Drawing Time
New York Lotto drawings take place twice per week at 11:21 pm EST on Wednesday and Saturday nights, and ticket sales end at 11 pm EST sharp both nights.
All prizes must be claimed within 365 days of the draw taking place, and those that are not go back into the prize pool.
Biggest NY Lotto Jackpots
All of New York Lotto's biggest jackpots took place back when the game was more popular than it is nowadays.
These are the three largest ones in its long history:
$72.5 million: October 29, 1994
$65 million: June 30, 2007
$58 million: June 28, 2006
However, that doesn't mean that the jackpots today aren't anything to get excited about, as many of the biggest ones still climb into the dozens of millions.
Payout Options
Like several other major US lotteries, NY Lotto offers winners two options for receiving their winnings: a lump sum payment that is paid out via a single cheque or annuity payments that are paid out over 26 years.
Both types of payments are usually made within three days following the mandatory press event that all winners (or their representatives) attend.
Prizes that are $600 or less can be claimed at any authorized New York Lottery retailer or Customer Service Center.
Bigger prizes can only be claimed at a Lottery Customer Service Center or sent via mail.
If for some reason you would prefer to mail in your winning ticket, make sure you use registered mail rather than regular mail. Otherwise, you'll go through a lot of pain and suffering if that ticket ends up getting lost in the mail for whatever reason.
Taxes
In the state of New York, any prizes larger than $5,000 are not just taxable, but also subject to the highest tax rates on lottery winnings in America.
As a matter of fact, they can add up to as much as 36.696% depending on where you live.
That's because 24% of the prize money goes to federal taxes, 8.82% goes to state taxes, and 3.876% goes to the municipal taxes for winners who are residents of NYC.
If, however, you're a non-resident who is playing from another state or country, then you'll "just" need to pay a federal tax. Unfortunately, the 30% rate for non-residents is higher than it is for US citizens.
New York Lotto – Is It Worth Playing?
New York Lotto has seemingly tough odds and fairly high taxes, but the fact that tickets are cheap and offer two lines per play greatly balances things. As a result, it is one of the most popular American lotteries.
Add to this the game's great jackpots, five prize tiers, two weekly draws, and simple format, and you've got a game that's definitely worth playing.
User Reviews and Comments (1)