Biggest Online Lottery Winners
Despite lottery sites continuing to grow in popularity all over the world, some people can't help but wonder has anyone ever won the lottery online. While most companies protect their winners by deliberately not publishing their names or personal details, there are a few stories that made their way into news headlines. Here, then, are some of the biggest online lottery winners that we know about so far.
ANONYMOUS IRAQI WINNER: $6.4 MILLION (THELOTTER)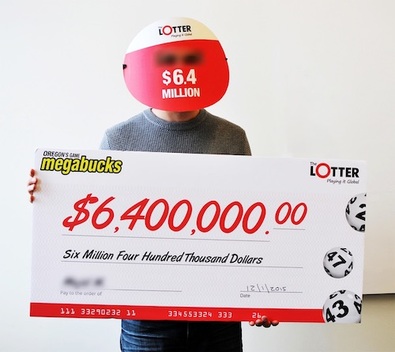 In December 2015, an anonymous Iraqi man—one who was born in Iraq and had never set foot on American soil—made headlines around the world when it was revealed that he was the winner of the $6.4 million Oregon State Megabucks Lottery. The man had bought the winning ticket through theLotter.com, one of the biggest online lottery agents in the world.
Though little is known about the man because he (wisely) decided to stay anonymous, it is known that theLotter agent who purchased the winning ticket did so at a convenience store in Bend, Oregon. It is also known that instead of taking the lump-sum option and running off with a big chunk of change like most winners do, the lucky Iraqi man decided to opt for the annuity option, which will pay out his winnings annually over a period of 20 years. This was definitely a smart move, as he'd have sacrificed almost half of his winnings immediately if he had taken the lump sum. Besides, his first payment was for $256,000, which is nothing to scoff at!
CANADIAN BILL LAHARTY: $21 MILLION (PLAYNOW.COM)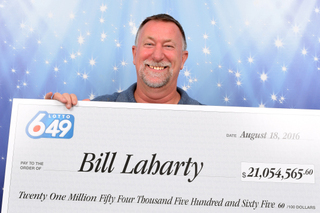 August 13, 2016, was a great day for Bill Laharty of Nanaimo, BC, Canada. Why? Because that's the day he found out he had won a $21 million jackpot in the national Canada Lotto 6/49 draw. Not only did the win change Laharty's life forever, but it also set a new record for being the country's biggest online lottery win.
Laharty had bought his ticket from PlayNow.com, Western Canada's official online lottery site, but like most people didn't expect to actually win anything big—let alone the jackpot. Therefore, when he realized that his numbers were in fact the winning numbers and that he was about to receive an incredible sum of money (which, by the way is not taxed in Canada), only one word came to mind: "awesome." Fair enough!
After purchasing a luxury car for both himself and his best friend, he immediately began planning the other things he always wanted to have but couldn't afford, including a brand-new condominium, a better boat, travelling around the world, and helping out his family and a few select friends. Seems like a solid plan, Bill.
NEW SOUTH WALES RESIDENT: $15 MILLION (THELOTT.COM)
With its decent odds and often incredible jackpots, it's no wonder that one of the most popular lotteries in Australia is Oz Lotto. While the online sales of tickets to the game within the country are limited to official channels such as the government-run theLott.com, that didn't stop one New South Wales player from winning the $15 million jackpot back in April 2018. Little is known about the man since he opted to remain anonymous, but he said that the money would allow him and his wife to comfortably finish renovating his house. Of course, with that kind of money he could purchase a brand-new mansion just about anywhere, so there's a good chance he sold his old house once the news had a chance to fully sink in!
UK RESIDENT JENN BURSTON: £3 MILLION (UK NATIONAL LOTTERY)
Sometimes impulse decisions—even those after a night of partying with friends—can result in incredibly good outcomes. This is exactly what happened to Jenn Burston of Exeter, UK, when she decided to purchase a UK Lotto ticket online, instead of her usual preference EuroMillions, using her smartphone shortly before hitting the sack late in the evening on December 17, 2014. A few days later she looked up what the winning numbers were and was astounded to find out that they seemed to match the randomly generated Lucky Dip numbers she had bought. In a state of disbelief, with her heart racing, the mother of two checked her email and was overcome with emotion as she saw the confirmation email from the UK National Lottery come in: she had won just over £3 million as a result of the jackpot rolling over four times!

An avid player who usually buys lotto tickets online, Burston shared the good news with her husband, who had just as hard of a time believing it as she did. Eventually, they both not only accepted the news but also began planning how they would spend the money, including going on an incredible family holiday and buying a new house.
VALENTIN Z. OF ENFIELD, ENGLAND: $248,000 (JACKPOT.COM)
Back in March of 2017, an Enfield, English, welder known publicly only as Valentin Z. bought a EuroMillions entry on Jackpot.com that no doubt had an incredible impact on his and his family's life. Though the 40-year-old didn't win the jackpot, he still won the secondary prize as a result of matching 6 of the 7 numbers and took home a staggering €248,000. Considering he had signed up with Jackpot.com only a few weeks prior, he's probably counting his blessings—and money—to this day.
AMERICAN KATIE HITCHCOX: $250,000 (WINTRILLIONS)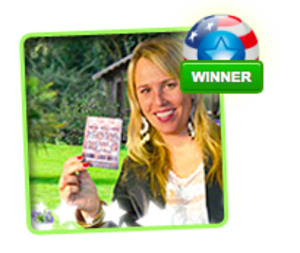 One of the first online lottery winners who made headlines around the world—and generated quite a lot of business for WinTrillions as a result—is none other than 42-year-old Katie Hitchcox. An American who had moved from New York to Lancaster, England, Katie had signed up with WinTrillions in June 2011 because she missed the incredible lotteries that she was used to playing back home, particularly Powerball and Mega Millions. Although for some time after moving to the UK she had asked family and friends to buy tickets for her whenever one of these lotteries' jackpots reached a massive sum, it was a bit of a chore for everyone involved. Luckily, she found out about WinTrillions through a British friend, and the rest of her story is lotto history.
Shortly after signing up with the site, she decided to pay for a three-month Mega Millions subscription because she realized how convenient automating the entire process would be. Imagine the shock she got when just three weeks later she received an email from WinTrillions stating that she had just won the $250,000 second-tier prize! As most people do, she initially thought the call was some sort of scam or prank, but when shortly after she received an early-morning call from the WinTrillions Promotions Manager to confirm the win, she knew it was real. At the time of winning, she was planning on taking her partner for an around-the-world trip and paying off a huge chunk of her mortgage.
ECUADORIAN ENRIQUE RAMEZ: $250,000 (WINTRILLIONS)
What would you do if you were a blue-collar worker working in a factory in Ecuador and finding out one day that you had just won US $250,000—many times your annual salary—as a result of playing the lotto online? This is precisely the story of one Enrique Ramez, who had registered with WinTrillions in the off-chance that maybe, just maybe, he'd win a big prize one day. Though things were looking somewhat bleak for a while since after six months all he had won were just a couple of small prizes, everything changed in December 2011 when he was notified of his amazing Mega Millions win. While little is known about how Enrique spent his winnings, one thing we can almost guarantee is he's no longer working in a factory!
AUSTRALIAN BRENT LOCKE: $25,000 (WINTRILLIONS)
For many years, the idea of an Australian playing the US Powerball—unless he was visiting America, of course—wouldn't have made much sense. Luckily, times have changed, and no one is a better testament to that than Brent Locke of Sydney, Australia. Brent signed up with WinTrillions in 2011 and just over a year later, in January 2013, won US $25,000. Not a bad return on what was probably a small expenditure over all those months!
TORONTO RESIDENT ENI BOLA ABIOLA: $100,000 (PLAYOLG.CA)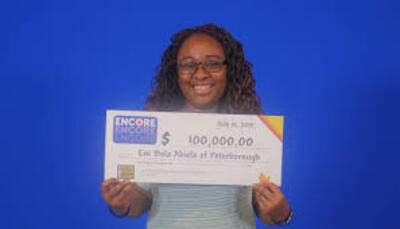 When Eni Bola Abiola was buying lottery tickets online at PlayOLG.ca, Ontario's official lottery and casino website, she decided to spend an extra $1 in order to opt in for the Encore bonus draw that takes place each day. Well, it's safe to say that dollar is probably the best investment she's ever made. Though she didn't win anything in the main Lotto 6/49 draw, she ended up matching 6 out of 7 Encore numbers and thereby winning the secondary $100,000 prize on July 7, 2018, instead.
Her story just goes to show that if you're already spending a few dollars on lottery tickets, adding an extra dollar to play a bonus game can really pay off. Sure, $100,000 probably isn't going to set you up for life the way an enormous jackpot would, but it'll definitely make your life a lot easier.
MALTESE CITIZEN MARIA DOLORES: €97,000 (JACKPOT.COM)
Similar to Katie Hitchcox's story (see above), Maria Dolores got a call one day that she initially had a hard time comprehending. The person on the other end of the line, a man claiming he was a representative of Jackpot.com, was telling her that she had won €97,000 as a result of matching 5 of the 7 numbers in the EuroMillions draw. Her first reaction was that maybe it was only supposed to be €9,700, but when the caller assured her there was definitely an extra zero added on she was floating on cloud nine. After she hung up, she asked her husband to double-check her numbers, which, of course, were valid. Immediately she called up the rest of their family and told them the good news, especially since she intended to share the money with some of them.
Maria had joined Jackpot.com just over six months prior to her big win, and for most of this period she did not miss a single EuroMillions draw because she had signed up for a monthly subscription to it. The site's popular automatic subscription feature was her favourite way to play the lottery since it meant she'd never have to worry about forgetting to buy tickets again, and it certainly paid off—many times what it had actually cost her. Watch her story here:
MICHIGAN RESIDENT DAVID SMITH: $3 MILLION (MICHIGAN LOTTERY)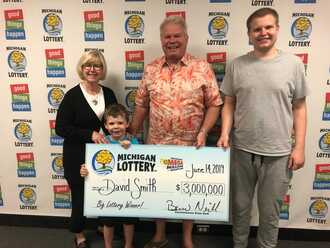 When Lansing, MI, resident David Smith checked his Mega Millions lottery ticket, which he had purchased online through the official Michigan Lottery website, he couldn't believe what he was seeing. He called his wife to tell her the news, but she thought he was either joking or that there must have been some sort of mistake. It was only when he sent her a screenshot of the ticket and she googled the numbers herself that the news finally sank in—David had not only matched all five of the white numbers that were drawn, which would've paid out $1 million. He had actually won$3 million because he opted to take the Megaplier option, which multiplied his winnings by a factor of three!
This amazing windfall was the biggest prize to ever be awarded to an online lottery winner in the state of Michigan. At age 59 and with his and his wife's retirements looming ahead, Smith said they couldn't be happier about the unexpected news.
CONCLUSION
As these winners' stories demonstrate, playing the lottery online can pay off greatly. Not only are lottery sites easy to sign up with and use, but they can open up a world of opportunities, games, and features that you'd never be able to access if you just buy your tickets at a local lottery kiosk. If you'd like to see how far your luck will take you, check out our online lottery site reviews to find a site that's perfect for you.