Play Texas Cash Five Online – How to Play and Buy Tickets
The United States is home to some of the biggest lotteries held anywhere on the planet. Of course, these are also balanced by plenty of smaller lotteries, like the Texas Cash Five.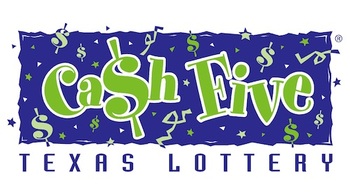 Read on as we look at a lottery that actually gives you a pretty great chance of making your lottery dreams come true.
We will also see how you can play Texas Cash Five online, how the game works, and what it can offer you.
History
Texas Cash Five was first launched in 2002. The game ran for many years in its original single-matrix (5/37) format. However, it changed to its current 5/35 format in September of 2018.
Like all lotteries in Texas, the lottery is organised and operated by the Texas Lottery Commission. This commission is the only company authorised to operate lotteries in Texas and is run by the state.
How to Play Texas Cash Five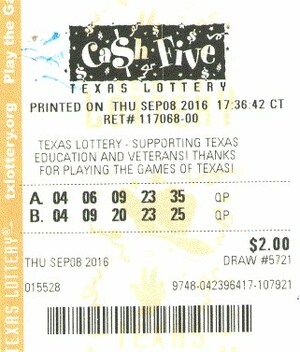 Like all single-matrix lotteries, Texas Cash Five is rather simple to understand and play. In fact, purchasing a ticket takes no time at all.
To play, you will need to select five numbers from a number pool ranging from 1 to 35. You will not need to choose any other numbers or bonus numbers.
If you would like to let a random number generator pick your numbers for you, the game features a quick pick option. Using this will make getting your ticket even easier.
After you have chosen your numbers or selected to use the quick pick option, you can complete the purchase of your ticket for $1.* Then you can relax and wait until the draw to see if you are a winner.
*Please note this is the official price when the ticket is purchased within the state of Texas. Buying through an online lottery site will cost a little more.
How to Play Texas Cash Five Online
Unlike a few years ago, it is now possible to play this great Texan lottery online. This is only thanks to the support for this lottery offered by one of the premier online lottery websites in the entire industry: theLotter.
Odds of Winning
Easily the greatest thing about this lottery is the odds of winning. In fact, they are so good that this game proudly boasts the lottery with the best odds of winning in the entire state of Texas.
These great odds are 1 in 324,632. This is vastly greater than almost any other lottery. There are actually only two international lotteries that beat these jackpot odds: Mexico Chispazo and Japan Mini Loto.
As you've probably guessed, these great odds come with a catch when it comes to the jackpot offered. In reality, these great odds aren't going to change your life dramatically, considering they only represent a jackpot of $25,000.
Texas Cash Five Payout Chart
The $25,000 jackpot is nowhere close to those being offered by lotteries like US Powerball or even the Texas Two Step. However, it is still work trying to get your hands on this great prize, especially with odds that are so much in your favour.
There are three additional prize tiers apart from the jackpot. These tiers are:
| | | |
| --- | --- | --- |
| Balls to Match | Odds of Winning | Estimated Prize |
| 5 of 5 | 1 in 324,632 | $25,000 |
| 4 of 5 | 1 in 2,164 | $350 |
| 3 of 5 | 1 in 75 | $15 |
| 2 of 5 | 1 in 8 | Free Quick Pick Ticket |
It is important to note that the jackpot pool for each draw is capped at $75,000. This doesn't mean that you could ever win this amount—unless you have three winning tickets.
What this means is that, if there are more than three winners, all winners will share the total prize pool of $75,000 equally. An example is if there are five players with a winning ticket. Each player would then only receive $15,000.00 ($75,000.00 / 5).
If there are many winners for a particular draw, you may find your winnings diminished slightly.
Drawing Time
As if the odds of winning weren't good enough, the lottery gives you six chances of winning each week. This is because draws occur every day except for Sundays.
These draws happen at 10:12 pm (CT) each evening, and the results of each draw are posted online shortly after the draw is concluded.
Biggest Jackpots
Like we mentioned above, the largest amount that you can win on this lottery is $25,000. This is the largest the jackpot cap has ever been and was instituted back in 2018 when the game changed its format.
Payout Options
Unless a jackpot in any lottery is a truly significant amount, there is no real need for annuity payments. This is especially true when the jackpot is only $25,000.
For this reason, all jackpot winnings for this game are paid in the form of a cash lump sum.
Taxes
With a jackpot this low, you would think that they are exempt from taxes. Thankfully, this is true in Texas where there is no state tax levied on any winnings.
Unfortunately, any winnings higher than $5,000 are still subject to federal tax. This means that you will be liable to pay 24% in taxes should you be the lucky jackpot winner.
However, this percentage is also only if you are a US citizen. If you are simply living in the country but are not a citizen, you will be liable to pay 30% in tax on your winnings.
Texas Cash Five – Is It Worth Playing?
Many players would take one look at this lottery's jackpot and go spend their money elsewhere. To be honest, we don't blame them. After all, a $25,000 jackpot is not great compared to many other slightly bigger lotteries.
However, if you look closely at this lottery, there is plenty of reasons to want to get your hands on a ticket. From the fantastic odds of winning to the simple way of playing, this lottery is well worth playing.
So, whether you like to play every day of the week and take a break on Sunday or just on odd days, we recommend getting some tickets to this great game.
In the end, $25,000 in winnings is still $25,000 more than you would have if you never bothered to play.
User Reviews and Comments (1)