Goa State Rajshree Lottery Review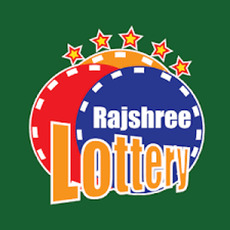 There are endless amounts of lotteries with draws that take place all around the world every single day. Many of these lotteries are run by the government of the nation that they occur in. Easily one of the most complex and yet rewarding lotteries of this wide variety is the Goa State Rajshree Lottery. In this Rajshree Lottery review, we will look at what this lottery is all about and how to play in it.
RAJSHREE LOTTERY HISTORY
Many people are not entirely sure what the Rajshree lottery is. To put it in the simplest terms, the Rajshree Lottery is the state-run lottery that is run from the Goa region of India. The lottery is run by the Directorate of Small Savings and Lotteries. This organising body was founded in 2006 when the National Savings Organisation and the Directorate of State Lotteries (which was founded in 1995) were merged to run as one organisation. Since then, they have successfully operated the Goa Rajshree lottery every day.
WHEN IS THE RAJSHREE LOTTERY DRAWN?
The schedule that this lottery runs on is easily the most interesting thing about how it operates. While most lotteries only hold draws once or twice a week, the Rajshree lottery holds a draw every 15 minutes! This means that you can enter into the lottery multiple times per day, thereby increasing your chances of winning.
HOW DOES IT WORK?
The Rajshree lottery is one of the simplest lotteries around today. To play, players will need to select five numbers between the range of 0 and 99. And that is it. There is no bonus ball or exclusive 'Lotto Plus' option to choose from, and that is why Goa Rajshree is often referred to as a 5D lottery (for five digits). Select five random numbers of your choice and purchase a ticket using those numbers—it is that simple. One single number will be drawn in the draw that occurs every 15 minutes. If this number matches any of your five numbers, then you are a winner. And yes, you did read that correctly—you only need to match one number in order to win in this lottery. The best part is that—because of the fact that matching a single number means that you are a winner—the odds of the Rajshree lottery are 20 to 1.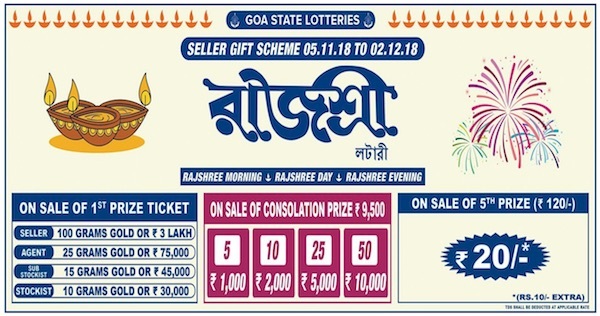 PAY TIERS AND COST TO PLAY
It is challenging to state the exact pay tables that the Rajshree lottery uses. This is due to the fact that the prize amounts vary depending on the amount that you invest in playing. The cheapest five-number ticket available is 10INR (Indian Rupees), which is reasonable considering the generous odds that the lottery operates with. Spending this amount on a ticket will get you a return of between 180INR and 200INR. Again, this is a decent return on your investment considering the generous odds.
The great thing is that there is no limit to the amount that you can invest in a ticket. You can purchase a ticket for as much (or as little) as you would like. Your prize (should you be a winner) will be calculated against what you invested in the ticket. Another example provided by the Rajshree website is if you invest 100INR in a ticket. If you match the draw number, your winnings will be between 1,900INR and 2,000INR.
WHERE TO PLAY
There are multiple Rajshree lottery vendors located all around India (in allowed states and provinces). There have also been a growing number of online lottery websites that have started to support this lottery and allow purchases online.
Unfortunately, playing in this lottery is not allowed in every Indian state (where most players will originate from). At the time of writing, the only states that were allowed* to participate in this lottery are:
Arunachal Pradesh
Assam
Goa
Kerala
Madhya Pradesh
Maharashtra
Manipur
Meghalaya
Mizoram
Nagaland
Punjab
Sikkim
West Bengal
*We assume that the Rajshree lottery is allowable in these states, as all of these states allow lotteries—many holding their own forms of lotteries. All Indian states not on this list have banned the purchasing and selling of lottery tickets.
CONCLUSION
The Goa State Rajshree Lottery most certainly takes on a different method of running a lottery draw. This, considering the fantastic odds of winning, is in no way a bad thing. It is a fresh take on the old tradition of the lottery, and we fully support the methodology that players can determine their own jackpot by choosing the amount that they invest in each ticket that they purchase.
Our only reservation about this lottery is the fact that the draws occur every 15 minutes. Again, while this reservation is not in a negative light, it makes us a little uneasy because it means always having to be near an accredited vendor in order to purchase a ticket for the next draw. After all, the more you enter, the better your chances of winning—which is saying something considering the already high odds that this lottery offers.
All things considered, however, the Rajshree Lottery's payouts and prizes are pretty slim. Luckily, playing international lotteries from India is legal and easy, so if you'd rather try your luck at exponentially bigger prizes, we recommend playing big-name lotteries like US Powerball or Eurojackpot instead.
User Reviews and Comments (1)