Multilotto App Review
There's nothing more exciting to a lotto player than being able to buy a ticket with the click of a button. That's why lotto apps have become so popular in recent years.
However, not all lotto apps are created equal. In this Multilotto app review, we'll tell you about the pros and cons of the official app for this extremely popular lotto website.
Stand-Out Features
The Multilotto app has a couple of stand-out features. First is the wide range of lotto games that users can play through it.
The app supports 32 lotteries from around the world. That's a lot more than the usual 10 to 20 games offered by most other lotto apps.
All of these lottery games are easy to find. Games with upcoming draws are shown on the "Home" screen. From there, users can click the "More 32" button to see a complete list of lotteries.
They can also hit the "Lotteries" tab at the bottom of their screen to see all of the available games.
It is important to note that Multilotto is a lottery betting service and not a lotto agent. This means that when users purchase lines through the app, they are not actually getting a ticket to a draw.
Instead, they are placing a bet on the outcome of the draw. However, all prizes paid out are the same as the official lotteries would pay out—including jackpots.
Beyond that, the app offers a stand-out feature called the Boost Jackpot. The Boost Jackpot feature gives players a chance to win even bigger jackpots than what is offered by the official lottery.
It appears that there are a total of four games at a time that have a Boost Jackpot. At the time of this review, the Boost Jackpot games were Mega Millions, US Powerball, Finland Lotto, and Lotto2020.
The "Boosted" graphic and red highlight makes it easy to see which games are currently featured.
Additional Features
The Multilotto app has even more features that make it stand out from others:
Lottery Results: The app shows the results of supported games going many months back. We don't even know how far back results go because the app goes into infinite scroll. The results truly seem never-ending.
Game Information: When users click on any lottery game, they will see an "About" write-up for the game. This includes information on the game, past results, and odds.
One issue we did find with this is that you can only see this when you go to purchase tickets. For example, you won't be able to find the game information if a draw has just taken place. This is because you can't purchase tickets right after a draw has ended.
Scratch Cards: In addition to the many lottery games the Multilotto app offers, it also has a lot of scratch cards. Users access these through the "Games" tab at the bottom of their screen.
From there, they can choose between "Scratch Cards-1" and "Scratch Cards-2".
Lotto News: This app has a section for lottery-related news and articles. The articles share tips on how to play the lottery more strategically.
Language Selection: Users can choose from 15 different languages. This means the majority of players can browse the app in their preferred language.
Subscriptions: Players can buy tickets for 1 draw or 4 draws, or can choose a 1-month or 12-month subscription. If a player chooses a 12-month subscription, they get 20% off the monthly price.
System Play: System play lets players choose more numbers than are required for a single line. The app will then put those numbers into every combination of lines possible.
Players can have a maximum of 1,584 lines in a system. This style of play helps increase a player's odds of winning. However, it also comes at a much higher price.
Group Play: Group play, also called syndicates, is when players form a group and split the cost of multiple lines. This helps increase the odds of winning by buying more lines, while keeping costs low. If your group wins, you split the winnings according to the way the ticket cost was split.
Location & Lotteries Available
While Multilotto is available to a lot of players, it is not available in all countries.
Players from the United States, France, Belgium, Cuba, Iran, Sudan, Syria, Iran, Afghanistan, Bosnia, Herzegovina, Ethiopia, Iraq, Lao PDR, Uganda, Yemen, Vanuatu, and North Korea cannot use the app.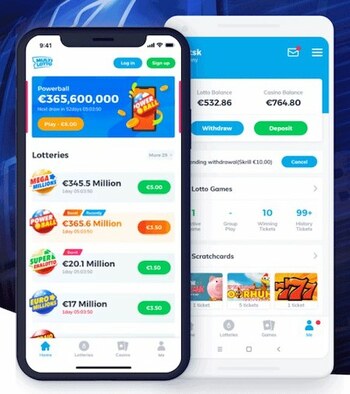 Players who do have access to the app can play the following games:
US Powerball
Mega Millions
EuroMillions
Italy SuperEnalotto
Eurojackpot
Finland Lotto
California SuperLotto
Germany Lotto
Viking Lotto
Saturday Lotto
Swiss Lotto
New York Lotto
El Gordo
Cash4Life
La Primitiva
Mega-Sena
Irish Lotto
Australia Powerball
Canada Lotto
South Africa Powerball
Colombia Baloto
Austria Lotto
Norway Lotto
South Africa Lotto
Chile Lotto
Poland Lotto
South Africa Daily Lotto
Bitcoin Jackpot (Multilotto exclusive)
Bonoloto
Gold Lottery (Multilotto exclusive)
Lotto2020 (Multilotto exclusive)
French Lotto
User Interface & Usability
The Multilotto app is professionally designed and very easy to navigate. The Home page is sharp, without much clutter.
The navigation bar along the bottom shows the "Home," "Lotteries," "Games," and "Me," pages. This makes it easy to hop around the app and get where you want to within seconds.
If users have any issues, they can also easily access customer support. They simply need to click the headset icon at the top of the screen.
Finally, the app is also very easy to download. We followed the download link from the Multilotto website, and the download was completed in seconds.
Ads
One of the best features of this app is that there are no ads!
Multilotto App: Scam or Legit?
Multilotto and the Multilotto app are both legit. The website and app are incorporated in Malta and are regulated by the Malta Gaming Authority. This is considered one of the strictest gaming authorities in the online lottery world.
Multilotto is also a website that has built its reputation over the past decade. It is one of the most credible lotto websites around and is certainly trustworthy. In fact, it's our favourite lotto betting site!
Conclusion – Multilotto App Review
The Multilotto app is one of the best lotto apps we've seen. It is easy to navigate and offers many lotto games and scratch cards. Its unique features make it an exciting alternative to other apps with fewer capabilities.
Add to that the app is widely available across many countries and offers multiple language preferences to users. In sum, there is really little to complain about and lot to like with this awesome lotto app.
Join now