Young Mega Millions Winner Sandeep Singh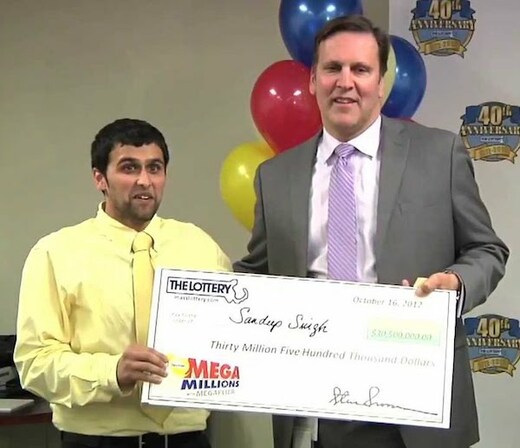 When experiencing a big change in our lives, like the end of a long relationship, many of us wait for good luck to come our way. For most, this would mean a raise at our jobs or a box of puppies showing up on our doorsteps. In the case of young Mega Millions winner Sandeep Singh, his good luck came in the form of a $30.5 million jackpot.
The Big Win
2012 was the year that everything changed for Hyannis, Massachusetts, resident Sandeep "Sunny" Singh. The 22-year-old's girlfriend had just broken up with him, and he was working two jobs to help his mother pay the bills. Things weren't exactly perfect for Sandeep that October. But that was all about to change.
While Singh was on his way to work, he asked his sister to stop at their local convenience store and buy lottery tickets for him. Playing the lottery was a routine that he had only started that past year, as the winner had never done so before he turned 21. His expectations were limited and he had no lucky numbers to play; in fact, he'd given his sister his $4 winnings from one of his old scratch-off cards to buy four quick pick Mega Millions tickets. When he checked the Massachusetts' Mega Millions website on October 16th, 2012, he had no idea that he had the winning numbers for the $30.5 million jackpot.
Despite his big win, Singh was still a committed employee at both of his jobs. He indicated that he would give two weeks' notice to Best Buy and stay at his job with Citizens Bank until the end of the fiscal quarter, proving that the large sum of money definitelydidn't interfere with priorities. This is certainly not something that can be said of all big lottery winners.
How Sandeep Singh Spent His Winnings
After choosing the $23 million lump-sum payment, about $16.1 million after taxes, Sandeep already had plans for spending his winnings. Like many young lottery winners before him, the winner was devoted to helping his family. His plans included paying off his mother's mortgage, helping other family members, and contributing to his community in a positive way. Beyond that, the money was a great opportunity for Singh to pursue his bachelor's degree in business—which he was still intent on doing despite his newfound financial security.
Where Is Sandeep Singh Now?
When he won the lottery in 2012, Singh became big news in his community. After all, winning $30.5 million is a pretty rare and pleasantly shocking event—many would be curious about how Singh got so lucky. However, the initial publicity expired rapidly, allowing Singh to maintain a low profile in the years since.
Although Reddit users requested that Singh do an "Ask Me Anything" (AMA) on more than one occasion, those requests were left unanswered and Singh's absence from the public eye has left many pondering where is now. One thing is for certain: Singh's doing just fine keeping quiet about his millions! Generally, no news about a winner is good news.
Conclusion
For normal people, winning the lottery doesn't seem like a possibility. It often doesn't feel like luck is on our side when it comes to lottery games like Mega Millions or US Powerball, especially when considering the randomness of the winning numbers. However, Sandeep Singh is a perfect example of just how lucky one can get when playing the lottery. The winner went from working two jobs and helping to support his family to stumbling into winning numbers worth $30.5 million that changed his life forever. If nothing else, this is an important lesson in just how lucky the rest of us could be.