Play Lotto India Online – How to Play and Buy Tickets
India's lottery industry is valued at over ₹60,000 crore (approximately €7.7 billion) per year. However, lottery games are only available in 13 of the country's provinces. Furthermore, no official Indian lotteries are available to play online at all.
However, that hasn't stopped companies from stepping up and attempting to fill this void.
Read on as we explain how you can play Lotto India online, how it works, and if it is even worth playing.
LOTTO INDIA HISTORY
Lotto India is a lottery that is still in its infancy. The lottery was only launched in 2019, with its first draw taking place on 14 June 2019.
This lottery is one of the first lotteries in India that has been fully accessible online since the day that it was launched.
This proves that there is a general movement to embrace technology to help sell tickets more quickly and effortlessly in the lottery industry.
Not run by the state like all other Indian lotteries, it appears the game is run by two independent lottery websites.
HOW TO PLAY LOTTO INDIA
Purchasing a ticket for Lotto India is as simple as buying a ticket for any other international lottery.
Due to the double matrix system used by the lottery, you will need to make two selections to buy a ticket.
The first selection you will need to make is six numbers from a number pool ranging from 1 to 50.
In addition to these six numbers, you will need to select a 'Joker' number. This 'Joker' number will need to be chosen from a pool ranging from one to five.
To win the jackpot, you will need to match all six numbers as well as the 'Joker' number. A single ticket will cost ₹39 (the equivalent of around €0.50). This makes the Lotto India one of the cheapest lotteries around.
HOW TO PLAY LOTTO INDIA ONLINE
Lotto India tickets seem to be exclusively sold at Jackpot.com and its sister site Lottery World. However, tickets for the lottery can be purchased anywhere in the world from this website. The upside to this is that you can buy tickets from the comfort of your own home.
ODDS OF WINNING LOTTO INDIA
The odds of winning the jackpot on this lottery are 1 in 79,453,500.
These odds are substantially better than the likes of the US Powerball (1 in 292,201,338). However, they are not nearly as good as lotteries like Canada Lotto 6/49 (1 in 13,983,816) and Italy MillionDAY (1 in 3,478,761). Both of which also happen to pay out bigger prizes.
However, considering the cost of a single ticket, we are definitely not about to start complaining about the odds.
Furthermore, the odds of winning any prize at all are only 1 in 3.
LOTTO INDIA PAYOUT CHART
While most lotteries offer pretty decent second- and even third-tier prizes, unfortunately, that is not the case with Lotto India.
Aside from a very modest grand prize, all of the other prizes are complete rubbish—the equivalent of €0.50.
The official source states that the vast difference between the prizes of these tiers is to ensure that a larger jackpot can be paid—despite the cheap cost of a ticket.
But to us that's still a very bitter pill to swallow if you happen to match five or six numbers yet take practically nothing home.
The 12 payout tiers are:
| | | | |
| --- | --- | --- | --- |
| Prize Tier | Required Match | Prize Amount | Odds of Winning |
| 1 | 6 + Joker | 3.9 core (500,000) | 1 in 79,453,500 |
| 2 | 6 | 39 (0.50) | 1 in 19,863,375 |
| 3 | 5 + Joker | 39 (0.50) + Free Bet Bonus | 1 in 300,960 |
| 4 | 5 | 39 (0.50) | 1 in 75,240 |
| 5 | 4 + Joker | 39 (0.50) + Free Bet Bonus | 1 in 5,599 |
| 6 | 4 | 39 (0.50) | 1 in 1,399 |
| 7 | 3 + Joker | 39 (0.50) + Free Bet Bonus | 1 in 299 |
| 8 | 3 | 39 (0.50) | 1 in 74 |
| 9 | 2 + Joker | 39 (0.50) + Free Bet Bonus | 1 in 39 |
| 10 | 2 | 39 (0.50) | 1 in 10 |
| 11 | 1 + Joker | Free Bet Bonus | 1 in 12 |
| 12 | 0 + Joker | 39 (0.50) | 1 in 11 |
The free bet bonus entitles the player to one free ticket in any upcoming Lotto India draw.
*Estimated Euro equivalent
LOTTO INDIA DRAWING TIME
Two draws take place each week on Tuesdays and Fridays. Draws are held at 17:00 IST.
In addition, there are other bumper draws that take place throughout the year. These draw dates are announced well in advance of the draw.
BIGGEST JACKPOTS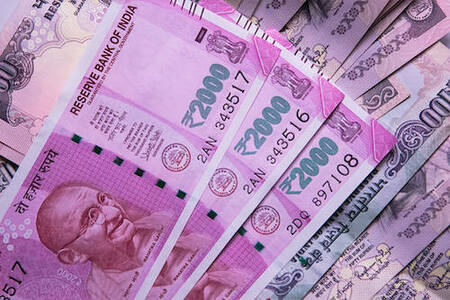 The biggest jackpot ever recorded for Lotto India is around ₹3.6 crore (or about US$5 million).
Unfortunately, this only occurred on a bumper draw where the jackpots tend to be much higher than usual.
In reality, the jackpot for each regular draw is capped at around ₹3.6 crore (approximately US$500,000). This jackpot does not roll over and is limited to this amount.
Therefore, since since it's legal to play international lotteries from India, we recommend checking out the many other lotteries that exist instead.
PAYOUT OPTIONS
If you are lucky enough to be the jackpot winner, your winnings will be paid into your bank account via wire transfer in a cash lump sum.
This will happen after a verification process (used to authenticate you are the legitimate winner) has been completed.
TAXES
While you may be happy to be a Lotto India jackpot winner, you will not unhappy when you see how much of your winnings you are going to have to pay to the taxman. That's because all lottery winnings in India are subjected to a flat rate of 30%.
LOTTO INDIA—IS IT WORTH PLAYING?
Lotto India has one of the best-priced tickets that we have seen in a while.
However, this does not make up for the fact that the odds of this lottery are excessive when you consider the relatively small jackpot on offer.
Furthermore, paying out the tiniest prizes we have ever encountered for every tier aside from the jackpot one is inexcusable.
To sum things up, you would be much better off playing a game with drastically better odds, such as Polish Mini Lotto or Hungary Hatoslotto.
Playing smart is ultimately the best way to increase your chances of winning, and there are definitely many smarter ways to play the lottery online from India.
User Reviews and Comments (1)