Play Latvia Latloto 5/35 Online – How to Play and Buy Tickets
Latvia Latloto 5/35, also known as Latvijas Loto and Latloto 5 no 35, is a bi-weekly lottery with a straightforward format.
However, it also has inexpensive tickets and several other pluses to its name.
Although it is certainly one of Latvia's most popular games of chance, how does it compare to the great lotteries from around the world?
Keep reading as we answer that question and show how you can play Latvia Latloto 5/35 online.
Latvia Latloto 5/35 History
The first official lotteries in Latvia were introduced by the Sojuzsportloto Republican Administration in 1972.
Latloto 5/35 started quite a bit later, on January 10, 1993, when the first Latloto draw was held.
This was just three years after Latvia regained its independence, so it was an exciting time in the country with many positive changes arising in people's day-to-day lives.
An undeniable feeling of freedom and change was in the air, and Latloto was but just one example of this.
The game is operated by Latvijas Loto, which is a member of the European Lottery Association that regulates and monitors a wide range of lotteries around the continent.
As such, Latloto supports various initiatives within Latvia related to social wellbeing, health, and economic prosperity.
How to Play Latvia Latloto 5/35
The primary Latloto 5/35 gameplay is pretty easy to grasp: players must choose five numbers from a range of 1 to 35.
However, winning the jackpot involves more than matching just these five numbers, as there is an additional number that is also drawn.
Unfortunately, this number is not up to players to choose because it is simply the last digit of your official lottery ticket number. This means it's completely out of your control.
If you're fine with that, then you might be happy to let your five primary numbers be chosen for you as well. This you can do by using the Quick Pick feature.
Latloto is a rollover lottery, meaning if someone doesn't win the jackpot, it'll roll over and grow in size until a winner finally steps forward.
In addition to the jackpot, there are three secondary prize tiers, which isn't many.
Fortunately, the game does only cost €0.75 to play (at least within Latvia).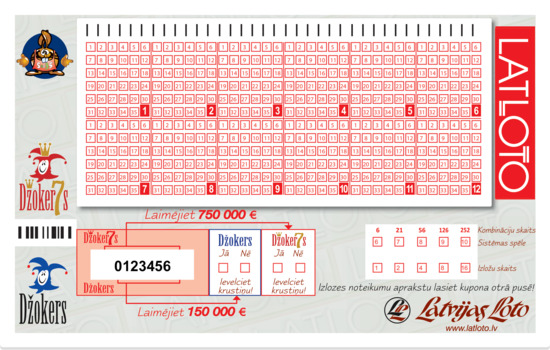 If you want to increase your chances of winning great prizes at an additional cost (€1.50 per game), you can enter either or both of the Dzoker (Joker) games.
While these games offer bigger prizes than Latloto does, their odds are much tougher. This is because in addition to matching the numbers that are drawn, the order of the numbers (from back to front) is also critical.
For instance, if the Dzoker 7 number series that is drawn is 1-3-6-5-7-4-2 and your numbers were 2-4-5-5-7-4-2, then you'd win the fourth-prize tier for matching the last four numbers.
How to Play Latloto 5/35 Online
Normally, Latloto is open only to Latvian lottery players purchasing tickets in person or online via the official Latvijas Loto website. In fact, all players must register with their Latvian identification to get in on the action.
Fortunately, the best lottery ticket agents provide a way for players who live abroad to play Latloto online, as well as dozens of great lotteries from around the world. Plus, with great welcome offers, syndicates, subscriptions, and more on offer, there is no easier or funner way to play the lottery.
Odds of Winning Latloto 5/35
The 1 in 3,246,320 odds of winning a Latloto jackpot are quite good compared to many other international lotteries.
These include Viking Lotto (1 in 98,172,096), EuroJackpot (1 in 95,344,200), and Austria Lotto 6 (1 in 8,145,060).
However, when you factor in that the prizes are also a fraction of the size of most other lotteries' jackpots, suddenly the odds don't seem so great.
Therefore, you'd be better off playing a game like Chile Clasico Loto (1 in 4,496,388), Italy MillionDAY (1 in 3,478,761), or Mexico Melate Retro (1 in 3,262,623). That's because all of these games offer much bigger jackpots.
Or, if you don't mind playing for smaller jackpots, then the daily Polish Mini Lotto and its 1 in 850,668 odds would still be a wiser choice.
Nevertheless, here's the full prize breakdown of Latloto 5/35 and its four prize tiers:
# of Matched Numbers

Prize
(Estimated)

Odds of Winning

5 + Bonus

Jackpot

1 in 3,246,320

5

€32,000

1 in 360,702

4

€150

1 in 2,164

3

€7

1 in 75
Latloto 5/35 Drawing Time
The Latloto 5/35 draws take place twice each week at 6 pm EEST on Wednesday and Saturday evenings in the capital city of Riga.
All prizes must be claimed within just 30 days of when the draw took place. This is very little time compared to the best international lotteries, many of which give people up to a full year to claim their winnings.
So, if you're in Latvia and planning on travelling abroad longer than 30 days, make sure you check the lottery results from abroad and ask someone you trust to claim your winnings for you!
Biggest Latloto 5/35 Jackpots
Winning a Latloto 5/35 jackpot might not let you retire at 20, but it could definitely help you pay off your mortgage and other debts.
Here are the two biggest jackpots in its history so far:
€175,942: May 2014
€157,202: January 2010

Payout Options
All Latloto prizes are paid out as a single lump sum. If you're playing Latloto within Latvia, you can claim any winnings between €150 and €720 from an authorized Latvijas Loto dealer.
Prizes bigger than this must be claimed from their headquarters in the country's capital city, Riga.
Taxes
For many years, Latvia's government didn't consider lottery winnings as a form of income, so it never levied any taxes on winners.
However, this changed drastically in 2012 when a 25% tax was introduced, the same amount that is still deducted today.
If your country's government also taxes lottery winnings, then you might be double-taxed once you import your prize money back into your domestic bank account.
Latvia Latloto 5/35 – Is It Worth Playing?
Latloto 5/35 has quite a few things going for it, including decent prizes and odds, a cheap entry price, and a simple single-matrix format.
Unfortunately, those reasons aren't enough to justify why anyone other Latvians should play it. In our opinion, the odds-to-prize ratio is far too imbalanced, the taxes are too high, and the four prize tiers are too few.
While the optional Dzoker/Joker games do add more value, we ultimately feel there are many other lottery games out there that would be better worth your time and money.
User Reviews and Comments (1)