Joseph Cobbs III and Kendra Batts: Almost Lost a $640K Ticket
Each year, billions of dollars in lotto winnings go unclaimed because players misplace their tickets or don't take home their prizes before the collection deadline. A pair of American lottery winners from North Carolina nearly became part of this sad group when they misplaced a jackpot-winning lottery ticket in 2014.
This is the story of Carolina Cash 5 Winners Joseph Cobbs III and Kendra Batts and how they managed to avoid what would've been a devastating lotto loss.
How Did Joseph Cobbs III and Kendra Batts Win the Lottery?
In 2014, Joseph Cobbs III was working as a furniture deliveryman while his fiancé, Kendra Batts, was employed as a certified nursing assistant. Cobbs regularly bought lotto tickets at the New York Mini Mart near their home in Wilmington, North Carolina.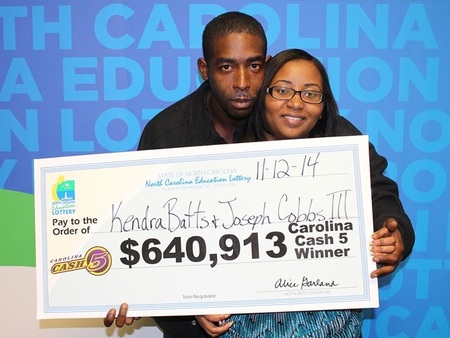 He liked playing the Carolina Cash 5 lotto game, which is drawn every night from Monday to Sunday. Every day, $100,000 is added to the jackpot, and the prize keeps growing until someone wins it. Tickets cost just $1 to play, so it's an easy game to play regularly.
By November 9, 2014, the Cash 5 jackpot had swelled to a respectable $640,913 prize, and the couple decided they wanted in. They chose their lottery numbers based on family members' and friends' birthdays, and Cobbs went to buy the ticket.
The next day, Cobbs heard that someone had won the jackpot, and that the winning ticket came from his local New York Mini Mart. He immediately called home and asked Batts to verify the numbers on their ticket—but the ticket was nowhere to be found.
How They Avoided Tragedy
The only thing worse than not winning the lottery is losing a winning ticket. Cobbs was determined to find his lost ticket and find out the truth.
As soon as he got home, he launched into a top-to-bottom search of the couple's home. Cobbs was disappointed; he wasn't able to find the ticket in the house. Then he discovered that Batts had cleaned and swept the house earlier that day.
On a hunch, Cobbs looked in the garbage can—and sure enough, the ticket was there, right on top of the pile!
He checked the numbers and couldn't believe his eyes: the couple had matched all five balls in the draw, beating odds of 1 in 575,757 to win the jackpot.
How Joseph Cobbs and Kendra Batts Spent Their Money
Since both Cobbs and Batts had a few debts to settle, the lucky winners decided to split their massive $640,913 prize. They each took home $221,756 after state and federal taxes.
In a press release, the couple laid out their plans.
"We are going to buy our first home," Batts explained proudly. "We hope to find one in the next month so we can spend Christmas there with our kids."
"It's a great feeling to know that we can do that," Cobbs added. "I never in a million years thought I'd win a prize this big. This money will really help us relax and be happier."
A Lesson to Remember
For this family, a $1 investment in a lotto ticket turned into a life-changing jackpot prize. However, this story could have turned out very differently if Cobbs had not found the winning ticket.
Millions of people play the lottery every day, but many fall victim to the ultimate disappointment: a misplaced winning lottery ticket. Losing a big lottery prize doesn't just ruin your day; as Martyn Tott found out after misplacing his winning ticket for £3 million, it can ruin your life.
The too-close-for-comfort story of Joseph Cobbs III and Kendra Batts highlights the importance of keeping lottery tickets safe and organized. While it may be possible to claim a prize without a ticket, success is extremely rare.
To ensure that your tickets and winnings are absolutely safe, always
Sign your lottery tickets and scratch cards right after purchasing them.
Make sure your payslip is printed with the right game, numbers, and draw you wanted to enter.
Make sure that all the information on your ticket is correct and that the numbers, date, store address, and purchase time are clearly readable. Lotteries have been known to refuse to pay out prizes for illegible tickets.
Ask the retailer to physically show you that your ticket is a winner on his or her computer screen.
Designate a special space at home where you store all your lotto tickets and scratch cards, so you'll never be caught with a lost ticket.
Conclusion
Like Mega Millions winner Joemel Panisa, Joseph Cobbs III and Kendra Batts got incredibly lucky twice over: first, when they won the jackpot and again when they found their lost ticket against all hope. However, beating the odds even once is extremely hard to do. To have the best chance of collecting your own jackpot prize, your best bet is keeping your tickets organized and always knowing where they are. Alternatively, you can play your favourite draws from around the world using one of many online lottery sites that will buy, scan, and securely store your tickets for you.