Play Irish Daily Million Online – How to Play and Buy Tickets
With daily draws and a decent jackpot, Irish Daily Million is a popular national lotto game that is quickly building a reputation with lottery players around the world.
This game is not only easy to understand, but also offers players many chances to become a millionaire every week.
Read on as we explore how to play Irish Daily Million online, what makes this game different, and whether you should give it a go.
Irish Daily Million History
Irish Daily Million is a relatively new lotto game, with the first draw taking place in September 2012. It is run by the National Lottery, the state-run organisation in the Republic of Ireland. Daily Million was created to replace two existing games previously offered by National Lottery: Monday Million and All or Nothing.
How to Play Irish Daily Million
Irish Daily Million follows a 6/39 format, which means players choose six numbers from a main pool of numbers 1 to 39. Compared to some of the bigger lottery games offered in Europe, like EuroMillions and Eurojackpot, Irish Daily Million has a much smaller ball pool, which makes the odds of winning the jackpot much more favourable. During the draw, six numbers and one bonus number are drawn. One line for Irish Daily Million costs €1 when purchased in Ireland. Players who purchase tickets online from a third-party website may have to pay an additional fee.
Players can also choose to play the add-on game Daily Million Plus. Daily Million Plus costs an additional €0.50 per line and uses the same numbers as the Irish Daily Million ticket. The Daily Million Plus draw has a top prize of €500,000 and has a total of seven prize tiers. Daily Million Plus can only be played as an add-on game and cannot be sold as a standalone ticket.
How to Play Irish Daily Million Online
Players within Ireland can play Irish Daily Million online through the National Lottery website. If players purchase tickets online and win, their winnings will automatically be transferred into their account and they will be notified of their win. Players living outside of Ireland can purchase tickets online through a variety of third-party online lotto vendors.
Prizes and Odds of Winning Irish Daily Million
Irish Daily Million has a fixed jackpot prize of €1 million. The jackpot does not roll over if there is no winner. To win the jackpot, players must match all six main numbers. The bonus number only applies to the sixth, fourth, and second-tier prizes. There are seven prize tiers in total, and an additional seven tiers if a player adds a Daily Million Plus line. The prizes for Daily Million Plus are halved compared to the Daily Million counterparts except for the lowest prize tier, where a €2 scratch card is awarded instead of a cash prize. Each tier for both draws has a fixed prize amount. If there are multiple jackpot winners, the prize is split evenly between them.
The odds of winning the Irish Daily Million jackpot are an impressive 1 in 3,262,623. These are incredibly favourable compared to other games in the area, like EuroMillions (1 in 139,838,160), Irish Lotto (1 in 10,737,573), and even one of our our all-time favourites, Italy MillionDAY (1 in 3,478,761). However, the fixed jackpot means that Irish Daily Million will never create the kind of big winners as its biggest competitors do. The odds breakdown for Daily Million Plus is the same as Irish Daily Millions, with each game also having overall odds of 1 in 28. When both games are played together, the overall odds of winning improve to 1 in 14.
In rare circumstances, the prize fund may not be sufficient to payout all of the prizes as advertised. In such scenarios, the prizes will be lowered accordingly.
The prize and odds breakdown for each tier in Irish Daily Million is as follows:
| | | |
| --- | --- | --- |
| Numbers Matched | Odds of Winning | Winnings |
| 6 | 1 in 3,262,623 | €1,000,000 |
| 5 + Bonus | 1 in 543,771 | €10,000 |
| 5 | 1 in 16,993 | €500 |
| 4 + Bonus | 1 in 6,797 | €100 |
| 4 | 1 in 439 | €25 |
| 3 + Bonus | 1 in 329 | €10 |
| 3 | 1 in 33 | €3 |
Irish Daily Million Drawing Time
As the name implies, Irish Daily Millions is a daily draw, with two sessions taking place every day at 2 PM and 9 PM IST. Two draws take place each session—the draw for Irish Daily Millions and a separate draw for Daily Million Plus—because even though tickets use the same numbers for each game, two separate sets of numbers are randomly selected as the winning combinations. Draws take place seven days a week, including bank holidays.
Biggest Irish Daily Million Jackpots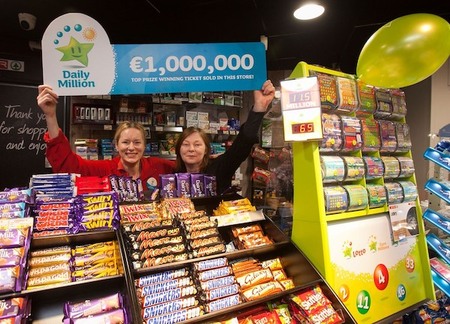 As the jackpot does not roll over, the biggest prize ever awarded for Irish Daily Million is the fixed top prize of €1 million. With two top prizes of €1 million up for grabs every day, there have been dozens of jackpot winners since the game first began.
Payout Options
All prizes for Irish Daily Millions and all other National Lottery games are awarded as lump-sum payments. Prizes must be claimed within 90 days of the draw date, otherwise they will be forfeit and re-absorbed into the Irish Daily Million prize fund. Prizes of €100 and less can be claimed in store, while prizes up to €15,000 can be claimed by post or at An Post Claim Centres across the country. Prizes of €15,000 and more must be claimed at the National Lottery headquarters, which are located in Dublin.
Taxes
All lottery prizes in Ireland are tax-free, so lucky winners take home the actual amount advertised. International players who purchased tickets online from a third-party retailer will not have to pay any taxes to the government of Ireland, but may be subject to the tax laws of their own countries.
Irish Daily Million—Is It Worth Playing?
While Irish Daily Million might not offer the biggest prizes when compared to some of the most popular lotteries, it gives players multiple opportunities a day to become a millionaire. With great odds, multiple daily games, and a fun add-on game to increase odds of winning, Irish Daily Million is a great lotto game that gives players plenty of chances to win big. If you're looking to try something new, this game could be the one for you.
User Reviews and Comments (1)