Play US Cash4Life Online – How to Play and Buy Tickets

Wouldn't it be nice to wake up every day to an extra $1,000 sitting in your bank account?
That's the premise of Cash4Life, a multi-state American biweekly lottery that has been freeing people from their financial woes since 2014.
Read on as we explore how to play Cash4Life online and take a close look at how this popular game works and compares to the best lotteries in the world.
Cash4Life History
Cash4Life originally started in New York and New Jersey, with tickets for the first draw that took place on June 16, 2014, going on sale just three days earlier.
Pennsylvania, Virginia, and Tennessee joined in 2015, followed by Maryland, Georgia, and Indiana in 2016 and Florida in 2017.
Offering significantly better odds than US Powerball and Mega Millions, it didn't take long for Cash4Life to become immensely popular within these nine participating states.
Soon after, people started playing it all around the country and, thanks to online lottery sites (more about this later), even far beyond.
How to Play Cash4Life
Winning Cash4Life involves matching primary five numbers from a range of 1 to 60 and one secondary "Cash Ball" number from a range of 1 to 4.
The former numbers are drawn from a Magnum II machine, while the latter numbers are drawn from a smaller "Messenger Single Digit" machine.
As with most lotteries, players can choose whatever numbers they feel might be the lucky ones themselves or opt for the "Quick Pick" option (known as "Quick Pic" in Georgia and "Easy Pick" in Virginia).
If you're a frequent player, Cash4Life offers a subscription feature that allows you to subscribe to multiple consecutive draws in a row.
It also has a "Play it Again" feature that allows you to play the set same numbers by simply showing a previously purchased ticket to a retailer within 30 days of purchase.
How to Play Cash4Life Online
Playing Cash4Life from another country is easy, as the best online lottery sites tend to feature it among their options.
The top sites will purchase the tickets on your behalf, keep them secure in a safe, and even scan them for you. This gives you undeniable proof within your user account that you are the legitimate owner of the ticket.
As a result, the small extra fee that such websites add on for offering this concierge-type level of convenience is well worth it.
Odds of Winning Cash4Life
The likelihood of winning one of the jackpots in Cash4Life is not terrible, but it's not that great either: 1 in 21,846,048.
Considering you're really playing for what adds up to $7,000,000 in total, there are other international lottery games that feature bigger jackpots at much better odds.
A few of these include Canada Lotto 6/49 (1 in 13,983,816), Ireland Lotto (1 in 10,737,573), and Austria Lotto (1 in 8,145,060).
However, Cash4Life's overall odds of winning are 1 in 8, and its life-time payout method is fairly unique, as very few other lotteries offer that.
Here is the full breakdown of its nine prize tiers:
# of Matched Numbers
(CB = Cash Ball)

Prize
(Estimated)

Odds of Winning

5 + CB

$1,000 per day
for life

1 in 21,846,048

5

$1,000 per week
for life

1 in 7,282,016

4 + CB

$2,500

1 in 79,440

4

$500

1 in 26,480

3 + CB

$100

1 in 1,471

3

$25

1 in 490

2 + CB

$10

1 in 83

2

$4

1 in 28

1 + CB

$2

1 in 13
Cash4Life Drawing Time
The Cash4Life draws take place on Mondays and Thursdays at 9 pm EST at Studio B (also known as the Cash4Life Studio) at the headquarters of the New Jersey Lottery.
They are televised live and hosted by Lauren Berman. All ticket sales end 15 minutes before the draws take place.
Biggest Cash4Life Jackpots
All of the Cash4Life jackpots have been exactly the same: $1,000 per day for life or a $7,000,000 lump sum paid up front as an equivalent.
However, the honour of being the first winner of a Cash4Life jackpot on July 14, 2014, was a retired transit police officer living in Queens named Edna Aguayo. How's that for a retirement plan?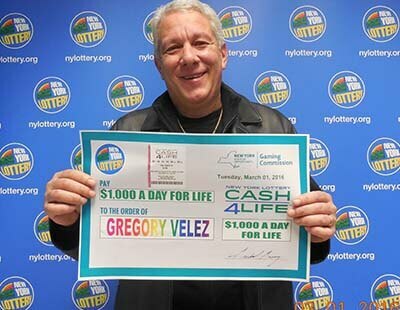 Payout Options
Depending on which prize you win, you'll either have two options for how to receive your winnings or just one.
The true "cash for life" grand prizes and secondary prizes can be collected as $1,000 per day and $1,000 per week respectively, or as lump sums ($7,000,000 for the former and $1,000,000 for the latter).
Some people prefer to get all their winnings and run with them far, far away. Others are happy to be paid out over 20 years or so and—theoretically—never have to worry about money again.
However, if there are multiple winners of the primary or secondary prize, something called "split-prize liability" comes into effect. This basically means that the winners might need to share whatever daily, weekly, or lump-sum prizes they won with the other winners.
Also, it's worth noting that different states have slightly different rules for how people can collect their winnings.
In New Jersey, for example, winners have to decide at the time they purchase their ticket whether they'd like to receive annuity payments or a lump sum. Other states allow winners to make this decision when they are claiming their prizes.
Taxes
Like most other US lotteries, if you win a prize that's in excess of $5,000, you'll be liable to pay a special lottery tax on your winnings.
However, the amount you will need to pay varies depending on which of the participating states you purchased your ticket in.
While all winners are required to pay the 24% federal tax, winners in New York State must also pay an 8.82% state tax, and winners in NYC must pay an additional 3.876% municipal tax on top of that! In contrast, winners in Florida must pay the federal tax but nothing else.
If you're playing from abroad, you'll need to pay a higher federal tax rate of 30%, but you won't need to pay any state or municipal taxes.
However, if you live in a country whose government also taxes lottery prizes, then you might be required to pay an additional tax once you transfer your winnings back home. For details, check your local tax laws.
Cash4Life – Is It Worth Playing?
Cash4Life's "life-time" jackpot only adds up to about $7,000,000 in total and the odds of winning it really aren't that great.
Nevertheless, we still feel that Cash4Life is worth playing overall because of its unique format and payout method.
We've all heard stories of lottery winners going bankrupt, and usually that's because they find themselves with way too much money far too quickly. As a result, they just don't know what to do with it.
In contrast, getting prize money in daily instalments (or weekly ones if you win the second prize) could significantly help you control your spending before it spirals out of hand.
Moreover, Cash4Life has nine prize tiers and is ultimately just a really fun game to play, so we have no qualms about recommending it.
User Reviews and Comments (1)