Keep Your Identity Safe in These Anonymous Lottery States
Lawyers who specialize in advising lottery winners overwhelmingly recommend that their lucky clients stay anonymous about their good fortune. This is because winners who go public have famously been targeted by scams, blackmail, kidnapping—and worse.
For years, US lottery winners could only stay anonymous in six states; but today, more states are beginning to adjust their rules to protect winners. Here are the states that allow lottery winners to remain anonymous—and a few that are moving in that direction.
STATES WHERE LOTTERY WINNERS CAN STAY ANONYMOUS
Delaware
Delaware was one of the first states to change its rules regarding winners' anonymity back in 1988. The state updated its policies after a resident who won a major prize and had his name released to the public filed a complaint that people were harassing him. Since then, local winners mostly choose to protect their privacy by remaining anonymous.
Texas
Normally, the Texas Public Information Act compels the Texas Lottery Commission to publicly announce the names of lottery prize winners, the city they live in, and the value of their prize. However, in 2017, House Bill 59 decreed that lottery winners who take home prizes of $1 million and higher have the option to remain anonymous. Winners of smaller prizes may be able to stay anonymous by collecting their prizes through a trust and with the assistance of a lawyer.
Georgia
In 2017, Georgia passed a new law that winners of jackpots valued at $250,000 and up could choose to be anonymous. In the first year that the law was in place, 74 people won prizes that big—and all of them chose to keep their identities a secret.
Kansas
Upon request, the Kansas Lottery will keep winners' identities secret in its press briefings. For example, when a resident was one of three winners to share a massive $656 million Mega Millions draw, Kansas Lottery authorities presented a big cheque for $218 million to a human-shaped cardboard figure with a smiley face for a head and the words "anonymous jackpot winner" emblazoned across its chest. This is in a similar vein to what lottery winners in China do when they show up to claim their prizes in costumes.
Maryland
According to the state's official lottery authority, winners of Maryland Lottery draw games or scratch tickets can remain anonymous. The lottery only releases winners' names and photos with express written consent. It's important to note that the anonymity rule doesn't apply to second-chance and Points for Drawings contests.
North Dakota
North Dakota lets lottery winners remain anonymous, no matter how large or small their prizes are. Residents of other states who want to stay anonymous can take advantage of this rule by buying big draw tickets in North Dakota and claiming their prizes in the state.
New Jersey
In January 2020, New Jersey's legislature passed a bill giving lottery winners the option to keep their identities under wraps. The law's sponsors expressly stated that they wanted to protect residents from the "lottery curse" —the harassment, threats, and other issues that often target big jackpot winners. The regulations aren't on paper yet, but the law is already in effect. And considering that New Jersey is one of America's luckiest lottery states, at least in terms of highest number of Mega Millions winners, that's probably a very good thing.
Ohio
The state of Ohio allows lottery winners to collect their prizes through lottery trusts in order to keep their identities private. When prizes are collected by a trust, only the lawyer's name and the name of the trust are released publicly. The largest draw picked up by a trust was a $142 million Mega Millions prize in May 2018, and it was collected by the very vaguely named ABC XYZ Trust.
South Carolina
Lottery winners can remain anonymous in South Carolina, regardless of how much money they win. This was very fortunate for the winner of the October 2018 Mega Millions jackpot, who took home the largest payout to a single person in US history: a one-time payment of nearly $878 million. The winner chose to keep her identity a secret and did not claim her prize for almost six months while she made arrangements to hide her identity and manage her massive windfall.
STATES THAT ALLOW ANONYMITY IN SOME CASES
Although most lottery operators and the jurisdictions in which they operate have their reasons for wanting to publicize lottery winners, Colorado, Vermont, Connecticut, and Massachusetts allow lottery winners to keep their identities a secret by collecting their money through a trust. The trust then controls the prize, and the winner can spend, invest, and donate their money by removing it from the trust.
In Arizona, legislators have tried passing laws for years to allow winners to stay anonymous, but they have not yet succeeded. However, in 2015, the state decided that lotto winners who collect prizes of $600 or more can remain nameless for 90 days. After this time, their names are released to the public record. Meanwhile, in Michigan, winners can choose to keep their identities private—unless they win Mega Millions or Powerball prizes.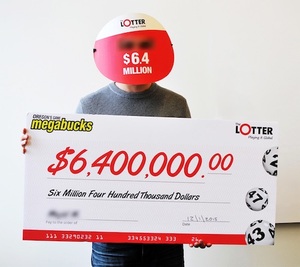 States including Illinois and Oregon have occasionally made exceptions and allowed some winners to remain anonymous. This usually occurs in cases where the winners demonstrate that they would be at a high risk of harm if their identities were disclosed publicly.
In 2019, a man from Baghdad, Iraq, bought a ticket to the Oregon Lottery's Megabucks draw on an international website. He won $6.4 million and was able to convince lotto authorities to keep his name under wraps to ensure his family's safety. Although his identity stayed anonymous, his story became one of the most famous online lottery wins in the world.
Another major winner won the right to privacy in 2018. In January 2018, a New Hampshire resident won the $560 million Powerball jackpot. Following the rules on the state lottery's website, she signed her ticket to claim her prize—but she did not realize that the lottery would reveal her identity publicly. She hired lawyers to convince the New Hampshire Lottery Commission to remove her name from their records and replace it with the name of a lottery trust. In March 2018, she won the case—and promptly made anonymous donations totalling $216,000 to four charities in her state.
CONCLUSION
Today, some US lawmakers and lottery authorities continue to support publicly releasing lottery winners' names in the interest of transparency. However, in an intensely connected world where news travels like wildfire and lottery winners are at risk of harassment, threats, and even murder, many people are acknowledging the right of winners to retain their privacy. Stay tuned to see how this story develops—and how lottery rules continue to evolve in the digital age.