Young Powerball Winner Jonathan Vargas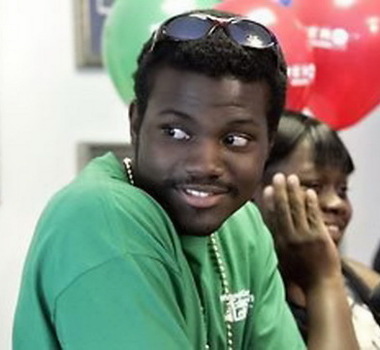 Out of the many young lottery winners that have appeared over the years, only a few seem to have sensible plans for the fortunes that they are lucky enough to win. Unfortunately, for the rest of them, their winnings quickly seem to disappear, and the young winners are left with nothing to show for their stroke of luck. In this story about 19-year-old lottery winner Jonathan Vargas, we will look at how a teen who seemed to be unbelievably mature in his post-win plans lost it all through a series of misplaced decisions.
LIFE BEFORE THE WIN
Jonathan Vargas was only 19 years of age and fresh out of school when he began working as a construction worker. He still lived at home with his mother, two sisters, and two brothers. Jonathan never specified whether he was planning on studying further at this stage of his life or whether he had started working simply to help support his mother and siblings. One thing we do know, however, is that due to sheer luck, the reasons behind him working in construction soon became immaterial.
BUYING THE WINNING TICKET
While at work one day, Jonathan was drinking a bottle of juice when he saw that the expiry date on his juice happened to be the same date as his birthdate. Jonathan admits that a voice in his head told him that his family would bring him success and fortune. Jonathan immediately started writing down the ages of his four siblings (12, 14, 15, 21) followed by his mother's age (43) on a napkin he had with him. He says to gain a sixth number he just guessed 30. Jonathan called his mother and asked her to write the numbers down for him as well in case he lost his napkin. As soon as he left work, Jonathan purchased a lottery ticket using the numbers he had written down.
A TRIUMPH FOR A YOUNG MAN
On May 17, 2008, Jonathan watched the live lottery drawings alongside the countless other lottery players hoping to see their numbers drawn. Holding the napkin in his hands as he watched, Jonathan said that by the time he had matched the third number drawn, he already knew that he had won and started crying. Sure enough, Jonathan became the sole winner of the $35.3 million US Powerball jackpot.
FUTURE PLANNING
Jonathan decided to claim his win as a lump sum and received around $17.3 million in total after taxes. Showing foresight that nobody expected from a 19-year-old, Jonathan announced that the first things that he wanted to do were to buy his mother a house, quit his job, and set up trust funds for his younger siblings. He went on to say that he had already acquired an accountant (who happened to be his aunt) and that he would be looking to retain a lawyer and financial consultant to ensure that his fortune would last him a long time. Clearly, he had big plans to join the ranks of lottery winners who spent their money wisely.
JONATHAN'S LIFESTYLE CHANGE
While the world was still digesting the news that someone so young would willingly act so responsibly with his new fortune, the sad reality of the situation was far from what Jonathan had hinted at. After purchasing himself a mansion, Jonathan invested his money in countless investment schemes that never seemed even to retain his original investment—let alone increase his wealth. However, the final straw for Jonathan's financial stability arrived in the form of a television show that Jonathan had a desire to launch.
WRESTLICIOUS TAKEDOWN
Jonathan decided to launch an all-female wrestling show that combined woman wrestling in tight clothing with some dry humour. Teaming up with Johnny Cafarella and Jimmy Hart, Jonathan launched his show 'Wrestlicious Takedown' in March of 2010. The show was met with incredibly bad reviews and after only 13 episodes was taken off the air. While there were rumours that there would be a second season shot in 2011, it never materialised and the show faded into nothing—taking almost all of Jonathan's money with it and earning him a spot on our list of the craziest things lottery winners have spent their winnings on.
WHERE IS JONATHAN NOW?
After the spectacular failure of his wrestling show, Jonathan has stayed entirely out of the media, and nobody is entirely sure where he is or what he is doing nowadays. The only shred of information that did come out after the cancellation of the show was that all of Jonathan's other investments had crashed as severely as his television show and that the once multi-millionaire was utterly bankrupt. At the very least, we hope that he bought his poor mother the house he had promised her.
It really is a sad tale whenever young lottery winners show maturity and promise when receiving their winnings, only to let the money get the best of them. Jonathan is the prime example of splurging on bad ideas and investing your money on things you shouldn't. All of this eventually led him to the same place as many other jackpot winners who lost it all—and struggled to understand what went wrong.