Young Lottery Winner Callie Rogers and Her Troubled Life Since Winning Millions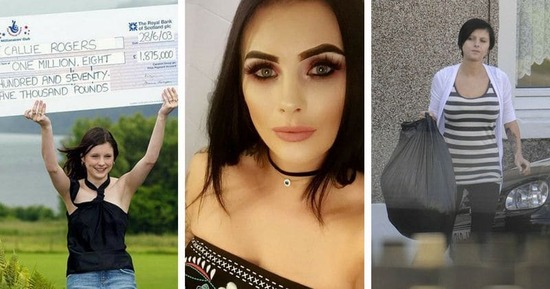 Have you ever wondered how different your life would be if you'd had a million dollars before the age of 20? While you might think having that amount of money at a young age would give you unlimited opportunities, unlimited possibilities aren't always a good thing. In the case of young lottery winner Callie Rogers, winning the jackpot brought nothing but trouble.
WHO IS CALLIE ROGERS?
Callie Rogers was thrust into public life when she became the youngest lottery winner in the UK. Only 16 years old when she won the National Lottery in 2003, Callie was living at the time in Cockermouth, Cumbria, with foster parents. She worked as a checkout girl at a Co-op and was making just £3.60 an hour. Unfortunately, the young woman didn't waste time spending her winnings and living a completely different lifestyle than what she'd been used to.
Within weeks of her win, Callie met Nicky Lawson, with whom she eventually had two children. She bought a £180,000 bungalow and, through her relationship with Lawson, says she spent a total of about £250,000 on cocaine, though she has denied this claim in more recent years. She also reconnected with her biological parents, who she started giving luxurious gifts. Callie estimates she spent around £500,000 on gifts for friends and family alone. Unfortunately, many of the friends she made in the years following her win did not stick around for long, as she later realized many of them were taking advantage of her and her money.
HOW MUCH DID CALLIE ROGERS WIN?
Callie Rogers won an incredible £1,875,000 at the age of 16. Like other young lottery winners in the UK, including Jane Park, Rogers now thinks that she was much too young to have been allowed to participate in the lottery. Her experiences have made her an advocate for raising the minimum age for playing the lottery up to 18. She says that winning such a large sum of money forced her to change from a child to an adult overnight, and she was not equipped for that change.
In response to Callie's comments about the minimum age limit to play the lottery, Camelot, the company that runs the UK lottery, stated that they provided Callie with extensive support over many years. Unfortunately, Callie did not take advantage of the financial and legal advice Camelot offered, and she has suffered greatly for it.
Now age 31, Callie says she still has anxiety when it comes to meeting new people, as her experiences making friends when she was young and a minor celebrity has made her distrustful. Callie had such a difficult time in the years following her win that she attempted to commit suicide in 2008 after her relationship with Nicky Lawson ended. She was struggling so much at that point that her children were even temporarily taken away.
DOES CALLIE ROGERS STILL HAVE HER LOTTERY FORTUNE?
Unfortunately, Callie Rogers was not able to hold onto her winnings or re-invest them for a financially secure future. In addition to buying a home and spending money on family and friends, Callie made many big purchases on items for herself. She guesses that she's spent around £300,000 on designer clothes, and she also dropped a total of £18,000 on three separate boob jobs. One of these operations was performed when Callie's children had been taken away, as she hoped the surgery would help boost her self confidence.
Though Callie no longer has access to a life-changing amount of money, she says she is happier now than she was back then. After her relationship with Lawson ended, Callie eventually met a fireman named Paul Penny, with whom she now has a child. Their son Blake has cerebral palsy, and Callie says that she only wishes she held onto her fortune so that she could provide Blake with everything he could ever want.
WHERE IS CALLIE ROGERS NOW?
Once Callie's life had settled down after her win, Callie went to school to study social care. Now a single mother of three, Callie is working as a caretaker and making £12,000 a year and renting a £400-a-month house in Workington, Cumbria. Though she insists she's happier than ever, she did make headlines once again 2018 for an unfortunate reason—assault. During a night out, Callie left two of her friends at her place to watch her dogs. Upon returning home, a dispute occurred for unknown reasons and the two women beat Callie up so severely that she needed to go to the hospital. The perpetrators, then 26-year-old Jade Quayle and 27-year-old Marie Hinde, admitted to the assault and faced jail time.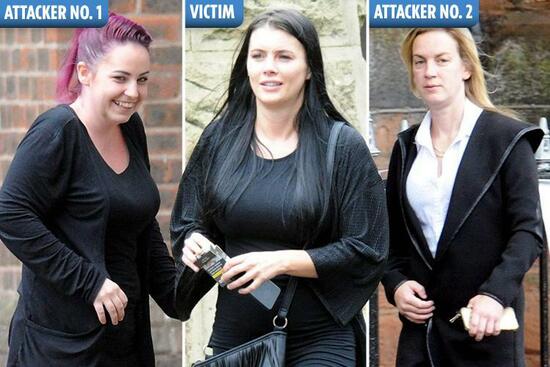 Despite her past, Callie now appears to be living a relatively normal life. She says she is doing fine financially. She can provide her children with everything they need, but if they want to go on holiday or have a few extra treats at the end of the month, she has to save for it just like most other working-class people. She says she is expected to inherit her grandparents' house, which she will use to help secure a trust fund for her children.
CONCLUSION
Winning a fortune opens up a world of possibilities. Unfortunately, some lottery winners—particularly young ones—can't handle the sudden wealth and lifestyle changes that come with the title. Callie Rogers is just one example of why having a strong support system and legal and financial advisors in place when coming into a large windfall is crucial.