Wisconsin Megabucks Review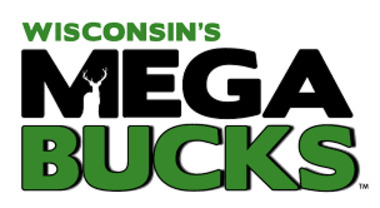 With the wide variety of lotteries available to players online and at physical retailers, lotteries are having to work harder than they ever have to make sure that they offer a unique gaming experience. They do this by offering great odds, high jackpots, and, occasionally, fun extras. In this Wisconsin Megabucks review, we will look at a lottery that tries to check all these boxes and see well how it does.
History
The Wisconsin Lottery organization officially launched in September 1988 when it released its first set of lottery games. Since then, the lottery has grown tremendously—both in terms of the games that it offers and in popularity. This popularity was spearheaded with the launch of the most popular lottery draw by far—the Wisconsin Megabucks Lottery.
The Megabucks Lottery was first launched on June 18, 1992. It was the first draw held by the Wisconsin Lottery that held two draws per week and was catapulted to fame by its reasonable price, high jackpots, and a new approach to the lottery.
How to Play Wisconsin Megabucks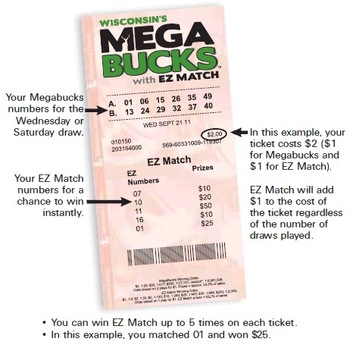 Because the lottery uses a simple single-matrix 6/49 format, it is relatively easy to start playing in no time at all. To begin, you will need to select six unique numbers from a number pool ranging between 1 and 49. However, unlike other lotteries where one unique sequence is usually enough, to play in the Wisconsin Megabucks you will need to select two number sequences.
Once you have decided on the two sets of numbers that you would like to play (or used the quick pick option to allow the computer to choose for you), you only have one more decision to make before purchasing your ticket. This decision is whether or not to play EZ Match when you buy your ticket.
EZ Match is a fun add-on run by the Megabucks Lottery that prints five unique EZ Match numbers on your ticket at the time of purchase. These numbers are entirely random and change every time a new ticket is purchased. If any of the numbers that you have chosen to play match any of the EZ Match numbers printed, then you win an instant cash prize—the value of which can be found on the pay table printed on the ticket underneath the EZ Match numbers. This great add-on comes at the cost of $1 extra that is added to your total ticket price.
Once you have decided if you would like to play EZ Match, you can simply purchase your ticket and continue living your life until the time of the draw. As with all lotteries, to win the jackpot, you will need to match all six numbers that appear at the time of the draw.
Odds of Winning
The odds of winning the jackpot are not the greatest. However, they are most certainly not the worst that we have seen either. At 1 in 6,991,908, they are just a bit tougher than the Oregon Megabucks (1 in 6,135,756) but still much better than popular lotteries such as California SuperLotto Plus (1 in 41,416,353) and Canada Lotto 6/49 (1 in 13,983,816, which is exactly double Megabucks' odds).
These odds are really not bad when considering the fact that for only $1 (excluding EZ Match) you will receive two lines of numbers that have the potential of winning you the jackpot. Other prizes are spread over three additional payment tiers, which are outlined below.
Wisconsin Megabucks Payout Chart
# of Matched Numbers

Prize
(Estimated)

Odds of Winning

6 of 6

Jackpot

1 in 6,991,908

5 of 6

$500

1 in 27,101

4 of 6

$30

1 in 517

3 of 6

$2

1 in 29
The jackpot amount is estimated each draw and rolls over indefinitely until it is won. The good news is that the jackpot is set at a minimum of $1 million. This is great because even if the jackpot has not rolled over recently, the jackpot is still a reasonably life-changing amount.
Drawing Time
As mentioned above, this lottery was the first that occurred twice per week at its launch. Nothing has changed, and the lottery is still drawn every Wednesday and Saturday evening at approximately 9:00 PM (CST).
Biggest Jackpots
A former high school teacher won the largest jackpot ever offered by the game in May 2015. Though he won the fantastic jackpot of $22.2 million, he chose the cash lump sum option of $15.7 million instead.
Payout Options
As you may have figured out from the winning teacher above, there are two payout options available to winners. The first option—which will result in you winning the full estimated jackpot amount—is a 25-year annuity option. This option results in the entire jackpot amount being paid equally in annual payments over 25 years. The second option is a cash lump sum option. As with most lotteries that offer such an option, this option heavily penalises the winner and drastically reduces the amount of money paid out.
Taxes
Sadly, the taxes on lottery winnings in Wisconsin are not something to be happy about. For all winnings over $2,000, a state tax of 7.65% is deducted. If winnings are over $5,000, a further 24% is taken off the final payout to cover federal taxes. This means that if you are the lucky winner of the jackpot, you will be unlucky enough to have to pay 31.65% of your winnings to the taxman.
How to Play Wisconsin Megabucks Online
Amazingly, even in the times that we are living in at the moment, it is not possible to purchase Wisconsin Megabucks tickets online. Plenty of other lotteries are readily available on a variety of online lottery sites, so the fact that this lottery is not is somewhat astounding. Personally, we feel that this is a significant oversight on behalf of the Wisconsin Lottery and something that we hope they are working on fixing.
Wisconsin Megabucks Lottery – Is It Worth Playing?
For the price of only $1, getting the chance—we mean two chances—to win a minimum of $1 million is almost a no-brainer. So, yes, this lottery is undoubtedly worth playing. It has a great add-on in the form of the EZ Match, offers acceptable odds (even if not the greatest), and has proven that it can pay out generous amounts if the jackpot rolls over enough times. Because of all this, we recommend getting out there and getting a ticket from your nearest authorised, physical dealer.
User Reviews and Comments (1)