States Without Lotteries—Why Don't They Have Them?
The Powerball and Mega Millions lottery draws are world famous for their history-making billion-dollar top prizes. However, not all Americans have access to tickets for these huge jackpots. In fact, several states don't allow any lotteries to run at all.
In this article, we break down which states still don't have lotteries—and why.
Which States Don't Have Lotteries?
Around the world, national lotteries bring in billions of dollars in extra funding each year for the governments running them. For example, the UK's National Lottery has raised £41 billion (US$54.45 billion) for good causes and community projects since it launched in 1994.
However, there is no national lottery organization in America. Instead, each state has its own rules for which—if any—lotteries are allowed to operate within their borders. At the time of writing, 45 states and 3 territories operate lotteries, and most of them run local games. These states also pool money from ticket sales to create the massive Powerball and Mega Millions jackpots.
Mississippi launched its own state lottery for the first time in November 2019 and allowed Powerball and Mega Millions tickets to go on sale in early 2020. However, five states still don't have lotteries: Alabama, Utah, Alaska, Nevada, and Hawaii.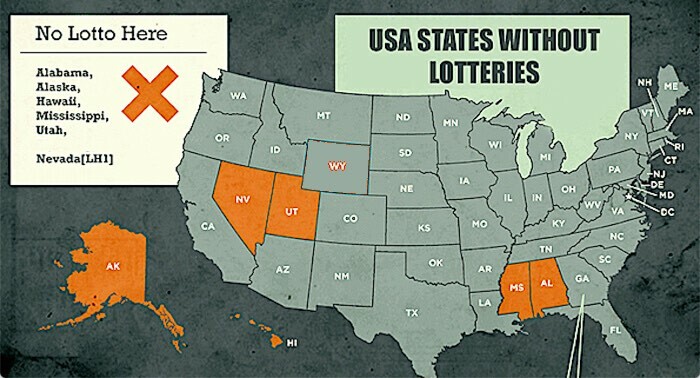 Why Alabama Doesn't Have a Lottery
In 1999, there was a failed attempt to amend Alabama's constitution to allow a state lottery. At the time, Alabamans voted against a lottery—although it's worth noting that only an estimated 50% of eligible residents voted at all.
However, in April 2019, the Alabama Senate passed a bill to allow voters to have their say on launching a state lottery… again. The question will be put to voters in the 2020 presidential election, 20 years after the last failed lottery vote. With Mississippi's recently launched lottery showing every indication of success, Alabama legislators hope that locals will follow the neighboring state's example and vote in favor of a state lottery.
Why Utah Doesn't Have a Lottery
Utah's constitution strictly forbids lotteries and gambling of any kind. Playing lotteries or gambling within Utah's borders, including online, is punishable by up to 6 months in jail and a $1,000 fine. Running an online gambling site in Utah can get you up to 364 days in jail and a whopping $2,500 fine. However, this doesn't actually stop people from playing the lotto.
Utah residents simply drive to neighboring states like Idaho or Wyoming to buy their lottery tickets. This means that Utah is missing out on potential lottery dollars, which some local politicians say could be used to inject badly needed funding into things like education. However, opponents of a state lottery in Utah say it's a slippery slope from allowing a single lottery to casinos and other forms of gambling. As such, there does not appear to be movement toward starting a state lottery anytime soon.
Why Alaska Doesn't Have a Lottery
Alaska has a strong nonprofit gaming industry that runs popular games like bingo, salmon fishing competitions, and the Nenana Ice Classic, a popular annual bet to guess the exact time the Tanana River ice will break in the spring. While there's currently no state lottery competing with these games, a lottery may be just around the corner.
In early 2020, two lottery proposals were brought forward to try and bridge the state's $1.5 billion budget deficit. One suggested a draw-style lottery that could raise between $8 million and $10 million per year. The other recommends participating in the Powerball as well as allowing scratch-off tickets, keno, video lottery, and sports betting in the state. With so many decisions to make, it's not clear how long it will take lawmakers to organize lotteries in Alaska, but it certainly looks possible in the next few years.
Why Nevada Doesn't Have a Lottery
Of all the no-lottery states, Nevada might be the most surprising. The home of Las Vegas is known as a global gambling hotspot—and this might be the very reason why there is no lottery.
The massive casino industry in Nevada brings in serious cash for its owners and the state. The concern is that if people spend their money on lotteries, they won't spend as much at casinos. As a result, the state legislature keeps rejecting proposals for a state lottery. However, in reality, Nevada residents simply cross the border to neighboring states like California to buy Powerball tickets.
Why Hawaii Doesn't Have a Lottery
Currently, gambling of any kind is illegal in Hawaii, including online gambling and ticket purchases. However, unlike residents of other no-lottery states, Hawaiians can't simply drive next door and pick up a ticket in another state.
Every year, legislation is brought forward to try and establish a state lottery in Hawaii—and every year it's rejected. Supporters of a state lottery say it would bring much-needed funding to schools, health care issues, and to combat the local problem of homelessness. Opponents claim that establishing a lottery would be costly, unnecessary, and would raise complicated questions about casinos and other forms of gambling. After decades of wrangling, it doesn't look like Hawaii will get a lottery any time soon.
Can Residents Just Buy Lottery Tickets Elsewhere?
As some residents of no-lottery states have already discovered, it's easy—depending on how far from a state border they live, of course—to go to a neighboring state and buy lottery tickets or gamble. This means that any American can play the much-loved Mega Millions or Powerball lotteries, as long as they can buy a ticket at a retailer in person.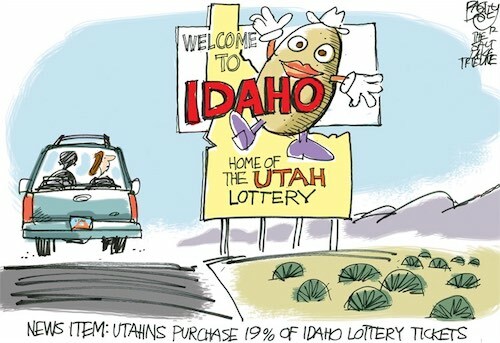 At the same time, it's impossible to ignore the immense popularity and convenience of online lottery ticket sales and casinos. Currently, Americans can legally buy tickets to the Powerball and other lotteries online, no matter where they live. However, since 2011, there have been multiple reviews of the Wire Act of 1961, which prohibits sending lottery tickets and information electronically.
On the surface, this Act could pose a threat to online ticket sales and gambling, even for established lotteries like the Powerball, which already sells tickets online to players all over America. However, as of June 2020, the opinion is that this Act only applies to sports betting. The influence of this Act on electronic ticket sales across state lines is still evolving and will continue to be adjusted in the coming years.
Conclusion
At the moment, five US states still do not allow lotteries. However, as lotto ticket sales continue to grow each year, more and more states have recently opened their doors to allow this profitable industry to enter. And with both Powerball and Mega Millions jackpots now growing beyond $1 billion, it wouldn't be fair to exclude anyone from playing. The good news is that thanks to the Internet, residents of no-lotto states can easily buy tickets to major draws online and get in on the big-money action.