Brad Duke: The Big Lottery Winner With Big Ambitions
Many people dream about winning the lottery because they know that they'll be set for life. For as many sad tales as there are of lottery winners squandering their fortune, every now and again you hear of a story like Brad Duke's. Instead of spending his jackpot prize on frivolous luxury items or remaining content to live off of his prize money for the rest of his life, Brad Duke made a commitment to growing his fortune. In this article, we'll explain how he has managed to do that.
WHO IS BRAD DUKE?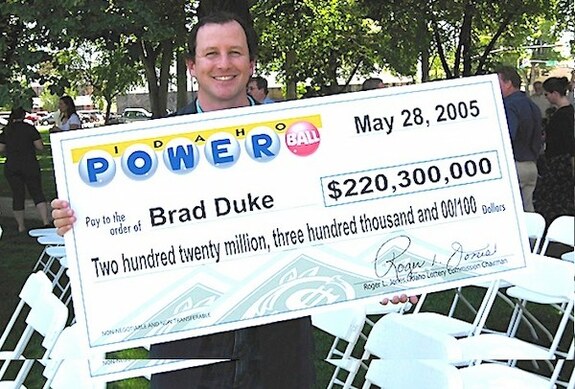 In 2005, Brad Duke was a 33-year-old fitness instructor working in Star, Idaho. He was also the lucky winner of a $220-million USA Powerball jackpot. An avid lottery player, Duke had tucked his ticket away in the visor of his rental car when he had to stop for gas. He figured it would be the perfect time to check his ticket, but he was so surprised by the clerk's enthusiastic reaction when she saw the results that he grabbed his ticket and left the store before learning how much he'd won.
He says he spent the next few days fantasizing about what he'd do with a ten or twenty-thousand-dollar prize before finding out the truth about his win. Even after he found out he was the big winner, Duke didn't tell anyone about his new fortune. He continued going to work and acting like nothing had changed. Finally, he called his father to share the news. Over the following few weeks, Duke and his father discussed what he wanted to do with the money and started making plans.
THE BILLION-DOLLAR GOAL
Right away, Brad knew that he didn't want to be another one of those sad lottery winners who burn through their fortune and end up worse off than when they started. Instead, he wanted to leave a legacy behind, so he came up with the goal of growing his money to $1 billion within 15 years.
He knew that in order to accomplish his goals, he'd need to have the right people around him. After claiming his prize and receiving the one-time lump-sum payment—which turned out to be $74 million after taxes—he assembled a team of advisors. This included a tax attorney, a corporate business attorney, a publicist, and a banker. As of 2013, Duke had the same team in place to help him manage his growing finances.
HOW DID BRAD DUKE INVEST HIS MONEY?
Brad knew if he wanted to attain his goals, then he wouldn't be able to spend his winnings on frivolous items. However, that didn't stop him from enjoying his newfound fortune. He splurged on a trip to Tahiti with 17 of his friends, which cost around $63,000. The cycling enthusiast also spent around $65,000 on new bicycles, one of which was a $12,000 BMC road bike. By 2013, he said he owned about 10 bikes. The rest of his big purchases were practical. He paid off $18,000 of student loan debt and the rest of his mortgage, which totalled $125,000. He also purchased a used car, a black VW Jetta, for $14,500, which he drove for a few years after his win.
Brad spent a large sum of his prize money on investments and charity. He used $1.3 million to set up a family foundation trust and then split further investments into two categories. He spent around $35 million on aggressive investment in the gas, oil, and real estate industries, and a larger sum of $45 million on safer investments, including municipal bonds. Unfortunately, some of Duke's more aggressive investments did not fare well during the 2008 financial crisis, which severely affected the housing market. Brad also set up the Duke Foundation, a charity organization that has raised around $1 million for residents of Idaho.
Even with all of his money, investments, TV appearances, and playing a charity golf game with former president George Bush (see pic below), Duke stayed grounded. He didn't quit his job for many years, continuing to teach spin classes at the gym he had worked at. He says the reason he eventually quit was due to his notoriety—he felt that the attention he was receiving was disrupting day-to-day operations.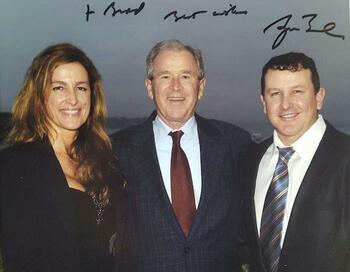 IS BRAD DUKE A BILLIONAIRE?
Reflecting back on his initial goal of growing his fortune to $1 billion in 15 years, Duke acknowledges that it was always going to be a challenge. The hit of the recession certainly set him back, but he has come to the realization that it might take a lifetime for him to achieve his goals. However, he doesn't mind. He realizes that part of the fun is the journey in getting there. These days, it seems he is more concerned with providing for his family and future generations, and with leaving a legacy he can be proud of through his Duke Foundation, than with any number. As of 2016, Duke estimates that he had accumulated approximately $100 million. It may not be $1 billion, but it's certainly nothing to sneeze at!
CONCLUSION
With so many tragic stories about lottery winners whose lives were destroyed by the lottery, stories like Brad Duke's, as well as Tom Crist's and Lerynne West's, are an inspiration. Instead of burning through his money, Duke has been able to remain grounded and focused on personal goals. In the process, he has been able to help not only himself, but also his friends, family, and community. Way to go, Brad!