Tom Crist: The Lottery Winner Who Gave Away His Fortune
When people imagine what they might do with a fortune—should they ever be lucky enough to have one—many say they'd give a little to charity. Well, one lucky lottery winner made headlines when he announced he'd be giving all of his lotto fortune away. In this article, we'll tell you all about Canada Lotto Max winner Tom Crist and what he did with his jackpot prize.
WHO IS TOM CRIST?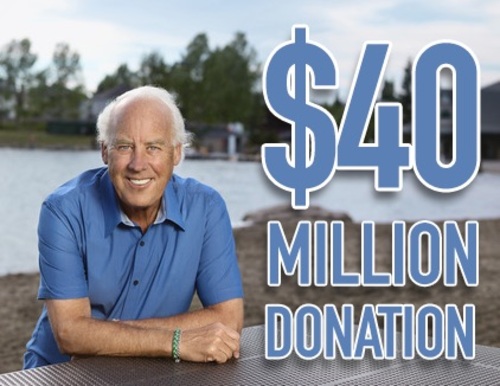 Tom Crist is a retiree from Calgary, Alberta, Canada. He worked at EECOL Electric for 44 years, eventually retiring from his position as CEO in September 2013. Crist was golfing in Palm Springs in May 2013 when he received a call from the Western Canada Lottery, who told him that he'd just won a $40 million Lotto Max jackpot!
Crist later said that he didn't even know which lottery draw he'd won, or which numbers were the winners. He was a subscriber to two national lotteries, Lotto Max and Lotto 6/49, and never paid much attention to the draws. As part of the subscription service, Crist's numbers were checked for him. Typically, Crist would receive an automatic payment for any winnings, but because the prize was worth more than $10,000, he received a special phone call.
However, Crist did not react as one might expect of a person who just won $40 million. He calmly finished the phone call and then returned to his day as though nothing had happened. He had lunch, kept golfing, and didn't tell anyone—not even his kids—about the win for months.
Crist said he knew right away what he wanted to do with the money and wished he could've gone about it quietly. However, the rules of the lottery organization required him to pose for a picture so that they could put out an announcement. Crist posed for the photo but tried to keep a low profile and conceal his identity with a pair of sunglasses and a baseball hat.
However, Crist's announcement of what he intended to do with his winnings made headlines, ensuring the people of Calgary would know his name—even if they couldn't recognize his face.
THE ANNOUNCEMENT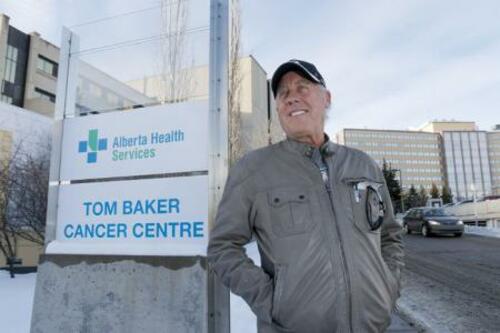 Crist finally decided to reveal his good fortune in December 2013, telling his children and the public what he intended to do with his $40 million. With the full support of his children, he announced that he would be giving all of it to charity! Of all the selfless lottery winners we've ever heard of, it's pretty safe to say that Tom might be the most generous.
Tom says he was inspired to give the money away in his wife's memory. Tragically, Tom's wife of 33 years had passed away in February 2012 after a six-year battle with cancer. She was only 57 when she died.
Tom put all of his winnings—the largest lotto prize ever awarded to a Calgarian—into a family trust fund. The money from the trust has since been awarded to charities selected by Crist and his children. Charities include the Canadian Cancer Society, Big Brothers and Big Sisters, Ronald McDonald House, and Calgary's Tom Baker Cancer Centre. Crist and his generosity made headlines again in February 2019 when he anonymously pledged to match all donations in a Calgary radio station's charity event using money from his charity trust fund. The Caring For Kids Radiothon, which attracted one other anonymous donor to commit to matching donations, ended up raising a record $6.6 million for Alberta Children's Hospital.
THE TOM CRIST EMAIL SCAM
While Tom Crist's generous plan for his lottery winnings made positive waves in local media, some people have taken advantage of Crist's actions. It didn't take long after Crist's name and story were public that lottery scams using his identity started circulating.
Though there are many variations of the email that was circulated, it typically started by explaining who Tom is and how much money he won. It goes on to give a lie about how the email sender got the recipient's email and claims that the recipient is eligible to receive a considerable sum of money as a donation from Tom. It then asks for the recipient's personal information, such as their full name, phone number, and address.
The emails function as an advanced fee scam. Once the scammer collects the email recipient's personal details, they will respond and explain how the recipient must pay a small fee in order to receive their donation. The scammer will likely explain away the costs, saying they will either go toward taxes or that the payment will be reimbursed. However, the people who fall for the scam will never see their money again, nor will they ever receive any money from Tom Crist or anyone associated with his charitable trust.
CONCLUSION
Stories like Tom Crist's, as well as those of Brad Duke, Lerynne West, and Roy Cockrum, help remind us that there are some terrific people in the world who want to give back to their communities. As a result, his story might encourage other lottery winners to give away some of their winnings to help those who are less fortunate.
However, it also reveals a darker side to humanity, as it didn't take long for some scammers to take advantage of Tom's good name and fortune. If you ever encounter a lottery scam like the Tom Crist email scam, remember to never give away any of your personal or financial information to anyone other than a trusted source you've dealt with before.