Multiple Lottery Winners Calvin and Zatera Spencer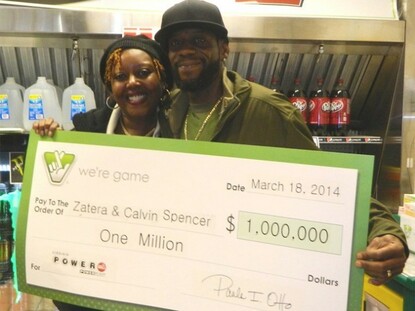 Winning the lottery once is more than most people can ever expect in one lifetime, and yet some lucky players win multiple times. Any story about a multi-lotto winner is extraordinary, and yet the following story will have you calling the Spencers the luckiest couple in the world. In fact, the tale about multiple lottery winners Calvin and Zatera Spencer will likely leave you wanting to try out your own luck with the lotto. At least that's what it did to us.
WHO ARE CALVIN AND ZATERA SPENCER?
Calvin and Zatera Spencer are a couple from Portsmouth, Virginia, who have become well known to lottery enthusiasts for their incredible luck with the game. In March 2014, the lucky couple won not once, not twice, but an astonishing three times between the two of them.
Not much is known about Calvin and Zatera Spencer, aside from their apparent skill at winning. As blessed as the couple felt to find they were lottery winners three times over in the span of just a few weeks, lottery officials were equally as surprised. When Virginia lottery spokesman John Hagerty saw the couple walk into the office to pick up their third prize, he couldn't believe he was seeing them again. He said that in his 12 years of working for the state lottery, he had never seen anything like it. Perhaps the most surprising part of this story is that the Spencers returned a few years later to collect again!
HOW MANY TIMES DID CALVIN AND ZATERA SPENCER WIN THE LOTTO?
So far, Calvin and Zatera Spencer have won large lottery prizes a total of four times—and there might be more to come, based on their track record. The winning streak began on March 12, 2014, when they won on a US Powerball ticket. The next win came on March 26 when Calvin bought 10 tickets for the Virginia Pick 4 game. Every ticket had the same numbers: 6-6-6-6. That turned out to be the winning combination.
The third win came the day after the couple had picked up their prize for the Pick 4 win. Calvin had just dropped Zatera off somewhere when he decided to stop at a convenience store and purchase a $100 Million Cash Extravaganza scratch ticket. After picking up their prize for their third win, the Spencers told the media they weren't finished with winning the lottery yet, and they were right.
While the first three wins happened in quick succession, the Spencers had to wait a bit for their fourth prize. Their final win (so far) occurred in February 2017 when Calvin purchased a Cash 5 ticket and matched all five numbers. For this ticket, he used a combination of birthdays to choose the winning numbers.
HOW MUCH MONEY DID THEY WIN?
Thanks to their luck with the lottery, Calvin and Zatera Spencer are now multi-millionaires. Their first win back in March 2014 was a $1 million prize for matching five numbers in the Powerball draw. The odds of winning that prize are about 1 in 11,688,053.
The second win for the Pick 4 draw made the Spencers $50,000 richer, and the scratch ticket win was worth another $1 million. The Spencer's fourth win in February 2017 saw them winning the top prize—$100,000—by matching all five numbers. Altogether, that totals $2.15 million in lottery winnings!
WHAT ARE CALVIN AND ZATERA SPENCER DOING NOW?
Calvin and Zatera Spencer have kept a very low-profile since their lottery wins. The only thing they've made headlines for since their incredible winning streak was winning again in 2017. The Spencers never disclosed to the media what they planned to do with their new fortune, but one thing that's known is the couple chose to continue working after their wins in 2014.
WHAT WAS CALVIN AND ZATERA SPENCER'S SECRET?
As much as we wish we could tell you that the Spencers had cracked some secret code to winning the lottery, the truth is they are simply very lucky. Calvin won with at least two different sets of numbers, one chosen for personal reasons, and the other seemingly at random.
When claiming their fourth prize in 2017, Calvin told the couple that they felt that their fortune was a blessing from God. He also joked around, saying that he felt like he was good at playing the lottery. It certainly does seem that he has a knack for choosing lottery lucky numbers. That or he discovered and exploited lottery loopholes that allowed them to win—just like Jerry Selbee, Joan Ginther, and Stefan Mandel.
The only real secret to joining the highly coveted list of multi-lotto winners is that you have to keep playing even after you win. Everything else is up to chance.
CONCLUSION
The story of Calvin and Zatera Spencer's multiple lottery wins is almost too incredible to believe, as they were able to beat the odds to become lottery winners not once but four times. The Spencers are certainly proof that anything can happen when you play the lottery—so long as you keep on playing.