Multilotto Syndicates Review
Most people agree that lottery syndicates are one of the best ways to make sure that you get a return on your lottery investment. This is purely because of the way in which they work and because they spread the risk of playing the lottery over a much greater area. In this Multilotto syndicate review, we will look at the syndicate options available on one of the more popular online lottery websites around today.
WHAT ARE MULTILOTTO LOTTERY SYNDICATES?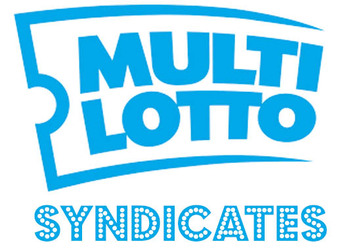 The first answer to this question is that Multilotto.com does not offer syndicate play. That does not, however, mean that you cannot play in a group. It is only because Multilotto has rebranded syndicates as Group Play. In essence, it is the exact same thing as lottery syndicates, except that it has a new name and works a bit differently than you might be used to seeing on other sites.
As with all best lottery syndicates, Multilotto allows you to pool your money together with others to purchase more lottery tickets than you would probably ever dream of being able to afford on your own. The advantages of this, as you may well know, is that—because you have so many more tickets—you stand a much higher chance of winning something from the next lottery draw. The disadvantage is that these winnings will need to be shared by everybody who has invested in the syndicate.
Unfortunately, unlike some other online lotto websites, Multilotto does not provide any pre-formed group plays (or syndicates) that users can join into. Instead, the site allows players to create their own group plays. The site will then handle the purchasing of the tickets, the claiming of winnings (where applicable), and the distribution of the winnings to players based on the number of shares that they hold.
The advantage of this is that players can completely customise the syndicate to their own preferences and not have to worry about any of the logistics involved in running a syndicate. The disadvantage to this is that players will not be able just to easily join a lottery syndicate and will instead have to work to invite others to join one instead.
SYNDICATE OPTIONS AVAILABLE
Because the website does not offer any pre-existing syndicates to choose from, there are no visible statistics that we can quote. What we can tell you is that you can create your own group play with most of the lotteries available on the site.
Creating your own syndicate will allow you to select the following configurable options:
Quick Pick Numbers
Here, you will need to select how many numbers you would like to play with. The higher the amount of numbers you choose, the higher the number of combinations you get. This vastly increases your chances of winning—and your price per share in the syndicate.
An example of the effect of this is if you are opening a group play for the US Powerball. As a standard, the lottery's odds of winning the jackpot are 1 in 292,201,338. If you are creating a group play and choose to play with 12 numbers, you will receive 792 possible combinations (or lines). This improves your odds from 1 in 292,201,338 to 1 in 368,941—a vast improvement by any means.
Quick Pick Bonus Number
With this option, you will need to decide if you would like to play with one quick pick bonus number or two. Choosing one will leave you with 792 playable lines (if you choose 12 numbers to play with above). Selecting two will give you 1,584 active lines to play with. This further increases your odds of winning from 1 in 292,201,338 to 1 in 184,471.
Name of Your Game
After selecting the essential things in your game (the plays), you can give your group play a unique name.
Amount of Players/Shares
This is one of the most critical parts of setting up your group play. Choosing the number of shares you will allow for the syndicate dictates how many other players you will have to share winnings with if your group wins. If we continue with the example of the US Powerball above, a single line will cost $3.50. That means that to play the full 1,584 lines chosen above, it will cost $1,108.80 per player even if there are five available shares.
Increasing the number of available shares helps decrease this price. For instance, if you choose to allow 200 shares in the above example, then a single share will only cost $27.72. Considering that the US Powerball has reached jackpots of $1.58 billion in the past, even having one share would still mean taking home $7.9 million. Buying $138.60 worth of shares (or five shares) will gain you $39.5 million if your group wins.
Once you have configured all the available options for your group play, your syndicate will be loaded on the Multilotto website, and you will be given a unique link with which to access it. You will need to use this link to invite your friends, family, neighbours, pets, and anybody else that you know to play in your group with you.
ABOUT Multilotto.com
If you are a lottery fan, then you have probably heard about Multilotto.com before. Launched in 2011, the site is home to more than 50 of the world's best international lotteries. It also has a stellar reputation that it has gained from providing users with a quality service that does not try and crook them out of money. For more info on the site, read our full Multilotto.com review.
Multilotto.com SYNDICATES CONCLUSION
Multilotto.com offers a unique and fantastic way to start your own lottery syndicate. It allows you to set the syndicate up in the exact way that you would like to and then simply invite people to play while the company handles all the logistics of actually running the syndicate.
That being said, we are slightly disappointed. Many people look to online lottery syndicates because they do not want to have to invite people that they know to play with them. These syndicates have the advantage of being able to play with a complete bunch of strangers and with little effort (or none at all). Unfortunately, this cannot be done with Multilotto.com.
All in all, we do still think the way that Multilotto.com presents syndicates and that the tools they offer players wanting to start their own syndicates are amazing. We just hope that in the future the site will start running their own syndicates in conjunction with the great option they already offer.
Join MultiLotto now