Mike Weirsky: The Mega Millions Winner Who Lost His Winning Ticket
It's not every day that one buys winning lottery tickets and mistakenly leaves them on the counter of the store in which they bought them. For some, that would be a really bad day, especially if they never saw those tickets again. Luckily for Mega Millions winner Mike Weirsky, that wasn't the case when he left his tickets behind at a local QuickChek convenience store.
Mike Weirsky's Monumental Win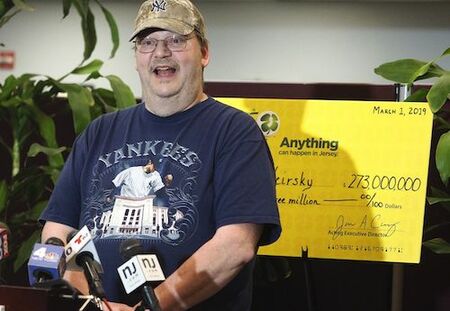 In March 2019, Alpha, New Jersey, resident Mike Weirsky was beside himself when he couldn't find his lottery tickets. He searched high and low, eventually realising that he'd lost the tickets. The next day, he called the QuickChek he purchased them from and asked a clerk if anyone had seen his tickets. When he was told that someone had in fact turned them in after finding them abandoned at the store, he was relieved and thankful. He had a routine of buying quick-pick tickets weekly, so though it may have not seemed like a big deal at the time, there was a reason Mike was insistent on finding them. He just didn't know what that reason was yet.
Two days after the lottery drawing, Mike's mother had received a call from a friend who was certain someone they knew had won the jackpot. It was a man who'd bought his ticket from the same QuickChek store on the exact same day that Mike Weirsky did. When he confirmed he hadn't won the lottery, Mike became curious about just who did. He opened up the lottery app on his phone to scan his ticket—just in case—and it indicated that he was the winner of the $273 million jackpot!
Of course, Mike had his doubts. Technology has its flaws and he couldn't be sure the lottery app was accurate. Despite the snowstorm outside, Mike travelled to a nearby store to have them scan his ticket. They confirmed that he was the winner after all. His streak of bad luck was over—he was now a millionaire.
When interviewed about his winnings, Mike expressed relief that his life was finally going to change for the better. After more than a decade of unemployment and an upsetting divorce, the winner was finally able to slow down his search for work and consider what he really wanted to do. He figured he could start a business, or even work part-time helping his handyman friend. Relaxed, Mike Weirsky stated he was "going to sit back and enjoy it," now able to appreciate a life of comfort and security that wasn't available to him before.
How Did Mike Weirsky Spend His Winnings?
Mike Weirsky accepted his winnings as a lump sum, which was roughly $162.5 million after taxes. It was a large sum of money that would make it simple to do nearly anything he wanted to. However, Mike remained a modest attitude about his new millionaire status. While he admitted that he was eager to buy a new pickup truck for himself, he was insistent on maintaining financial responsibility. He sought out a lawyer and other help to aid him in appropriately managing his money, but he was hopeful they'd still give him permission to "go a little crazy" with his money—at the very least, he wanted to plan a big vacation and bring his whole family with him.
Beyond that, Mike hoped he'd find the person who returned his ticket to the checkout desk at QuickChek. He wanted to thank the person and even reward them with some of his winnings, though he said that transaction would remain between the two of them.
Where is Mike Weirsky Now?
Since his 2019 win, Mike has flown mostly under the radar. There has been no recent news about what the winner is doing now—which is generally a good thing when it comes to big lottery winners.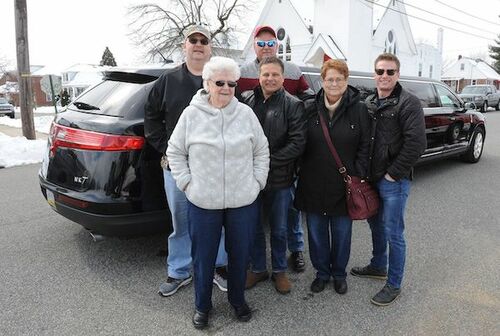 Mike Weirsky Lottery Scams
Like many other winners before him, Mike Weirsky became another face for scammers to use to steal people's information. Not long after his big win, several impersonation accounts appeared on Twitter that claimed to be giving away some of his winnings. Unfortunately, with lottery scams being common, there are many people who are vulnerable to being manipulated by scammers.
It's important to remember to never share your personal information with people claiming to be lottery winners, even if they seem trustworthy at first. Your name, address, bank account information, and so forth are vulnerable pieces of information that can expose you to all sorts of illegal activities that scammers thrive on. Likewise, never send money to such accounts. In some situations, scammers tell their victims that they have to pay fees in order to receive their "donation." In the extremely unlikely event that a real lottery winner is actually giving away money, they wouldn't ask you to pay them, especially when they're already millionaires.
Conclusion
Winning the lottery is never promised nor guaranteed; it's all a matter of luck. Mike Weirsky proved to be one of the luckiest winners of all when he both lost and found his winning tickets—just like EuroMillions winner Andrew Clark. Considering that some winners, like Martyn Tott, lose their tickets and never find them again, the ending to Mike's lottery story couldn't be any better. Despite the troubles he faced before hitting the $273 million jackpot, he is now able to live exactly as he always wanted to. So, remember: keep playing the lottery and waiting for your luck to kick in. And don't forget your ticket at the store counter.