Mega Millions Winners Jim and Carolyn McCullar
Watching a lottery draw and realising that each number being drawn matches the ones on the ticket in your hand would get anyone's heart racing. With each new number drawn and matched, your heart may beat faster and faster as you double-check your ticket to make sure that you are not seeing things. By the time you have won and are celebrating, your heart is most likely going crazy as it tries to process your overwhelming happiness.
This is generally never a bad thing, as it allows you to feel all the emotions of the win and allows your body to react accordingly. However, sometimes your heart getting too excited may not be particularly good. In this article, we will look at Mega Millions winners Jim and Carolyn McCullar and see how Jim's heart let him know that he had won.
Who Are Jim and Carolyn McMullar?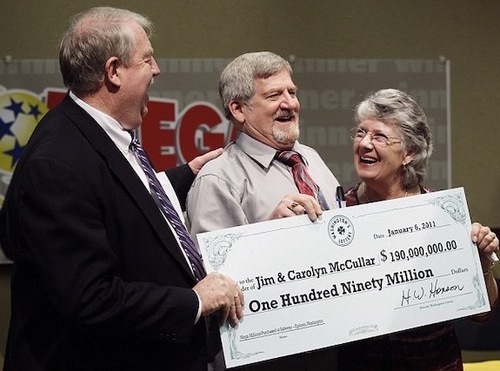 At the time of their win in 2011, Jim and Carolyn had been married an astonishing 41 years. The couple was living in Ephrata, Washington, where Jim was working as a real estate agent after having left his work of 20 years as a manager at Boeing. The couple was blessed to have six beautiful children and an incredible 23 grandchildren.
Jim often played in the lottery and had previously won some pocket change for his efforts. After winning $10,000 on the Oregon State Lottery, Jim went on to win $18,650 on Keno. These wins spurred on his love for lottery and encouraged him to keep playing. Unfortunately, life had slightly different plans.
Before his big win, Jim suffered three heart attacks and was pronounced dead three separate times before being revived. In addition to this, he had received 12 medical stents. It is no wonder then why Jim always played family birthdays on his lottery tickets—because birthdays must have meant a lot to him considering how many he could have potentially missed.
The Big Mega Millions Win
As was the norm for him, Jim purchased a ticket for the Mega Millions draw that was scheduled to take place on Thursday, June 30, 2011. When Carolyn went to bed, Jim decided to stay up to watch the draw live. After all, the draw was offering the largest jackpot in history at the time—a staggering $380 million! To his disbelief, Jim watched as each of his numbers was drawn one after the other. The winning numbers ended up matching his exactly—4, 8, 15, 25, 27, and 42.
The excitement proved too much for Jim, and he recounts having to take his heart medication to calm himself down. We don't blame him; we are sure we would be slightly worked up as well. Sweating and white with excitement, Jim ran to wake Carolyn to tell her the good news. Upon seeing him, however, Carolyn thought that he was again having a heart attack and was asking for help. Thankfully, she soon understood why her husband was so overcome with joy and celebrated with him. The couple soon shared the news with their kids—who insisted on photographic evidence of their parent's tickets before they would believe that they had won.
Needless to say, they were indeed winners, but unfortunately they weren't the only ones—another winner from Idaho also had chosen the winning numbers. Nonetheless, the couple opted for the cash lump sum of their winnings and received a cheque for a grand $190 million. When being handed the giant cheque at the lottery ceremony, Jim immediately handed the cheque to his wife and was quoted saying that he knew how it works after 41 years of marriage. You can see the moment (and also how incredibly humble the couple is) in this CBS clip of their press conference:
A Caring Couple
At 68 years of age, we would not blame Jim for wanting to take Carolyn and going on a much deserved (and, with so many grandchildren, a probably needed) vacation. However, the couple had other plans. Rather than spending their money on travelling the world and seeing all the sights in the lap of luxury, the couple decided that they would use their money to ensure that their children and grandchildren would never have to worry about finances. In addition to this, the couple openly stated their wish to "pay it forward" by helping those in need and giving to charitable causes.
Conclusion
Life can sometimes be a weird and wonderful thing. From having procedures performed to install stents in his heart, to suffering three major heart attacks and dying not just once but three times, to becoming one of the biggest jackpot winners of all time, Jim really did have the adventure of a lifetime—and he shared it all with his beloved Carolyn at his side. However, even after becoming multi-millionaires, the couple is just as down to earth as any other couple who work honestly to carve out their lives over the course of 41 happily married years.
Like fellow Mega Millions winners John and Linda Kutey, what sets Jim and Carolyn apart from other lottery winners is not the amount that they won, but what they chose to do with their winnings in the end. Rather than spending their money frivolously and wasting it on temporary pleasures, the couple thought ahead to ensure that their giant family was well taken care of. And then, they went even further to ensure that they could help even more people—whether they knew them or not. Jim and Carolyn really are the examples to look up to. Not just in perseverance, but in caring for others and using your advantages and blessings to help those in need.