Mega Millions Winners John and Linda Kutey: Giving Back to Their Community
If you've ever dreamed about winning the lottery, then one of your biggest fantasies is probably about the first purchase you'd make with your new windfall. Would you buy a new house? Spend money on your friends and family? Set up a charity fund? There are so many options, and so often we hear of lotto winners who spend their fortunes on living a luxury lifestyle, leading to less than happy endings. There's a reason some people think that winning the lottery can actually be a curse. However, the story of Mega Millions winners John and Linda Kutey is one example of how lottery winners can use their money to give back to the community. This is their story.
Who Are John and Linda Kutey?
John and Linda Kutey are a married couple who lived in Green Island, New York. In March 2011, John was working at the New York State Homes and Community Renewal, the state's affordable housing agency, in Albany, New York. While an employee there, John made the brilliant decision to buy a Mega Millions ticket with seven of his co-workers. The Kutey's and John's co-workers were all shocked and overjoyed to learn that they had won the $319 million jackpot on March 25, 2011. The jackpot was one of the biggest Mega Millions prizes awarded that year.
How Much Money Did John Kutey Win?
John Kutey and his seven co-workers won a huge $319 million Mega Millions jackpot. John and Linda's share of the prize after splitting it with his fellow lotto winners was $28.7 million. After taxes, the Kutey's ended up taking home $19 million. Though it's not quite the same as taking home $319 million, it's still undoubtedly a life-changing amount of money that anyone would be overjoyed to receive.
What Did John and Linda Kutey Do With Their Winnings?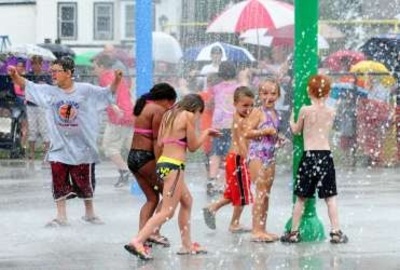 When John and Linda Kutey won the lottery, they knew they wanted to do two things: give back to the community and find a way to honour their parents. To accomplish their goals, the couple went to village hall in their hometown, Green Island, New York. They asked the mayor and other city leaders how they could contribute to the town, and officials came back with a unique answer: a water park.
With an answer from city leaders, John and Linda Kutey donated $200,000 to build a spray park, which would be available to children and families in the town and give them a place to cool down in the summer. The spray park cost a total of $250,000, with two local businesses—Albany Engineering Corp and Grimm Building Materials—donating their services to build the structure. The new spray pad replaced an old wading pool, which was demolished before building could start. The park was entirely built through donations so there was no cost to the taxpayers.
To fulfill the Kutey's second desire to do something for their parents, the park was built in honour of Edmund Ostrowski and his late wife, Gertrude Ostrowski, and Joseph and Mercedes Kutey Sr. The park took some time to build but finally opened to the public in July 2013—just in time for summer.
Where Are John and Linda Kutey Now?
John and Linda Kutey have kept a pretty low profile since winning the lottery in 2011. Aside from their hometown contribution, the couple have not made any public, newsworthy donations or purchases. However, the Albany Times Union did report that the lucky winners spent some of their prize money on a new home in Florida. After quitting his job where he made the important decision to split a lottery ticket with his co-workers, John and his wife moved to their new home. That means that by the time the spray park was built, the couple no longer lived in Green Island. However, they did return to their hometown to witness and take part in the dedication of the park.
Conclusion
There's no doubt that winning the lottery is a life-changing event. Though many winners get overwhelmed with the glitz and the glamour that comes with such a large lifestyle change, other lucky winners take the chance to rise to the occasion and share their good fortune with their community. Such was the case with John and Linda Kutey, whose number one priority when they collected their windfall was to do whatever their town needed, while also setting up a legacy for their parents that would last long after they were gone. Thanks to the generosity of John and Linda Kutey, the people of the small town of Green Island, New York, are one water park richer.
Their story is certainly a heartwarming one, and it reminds us of Canadians Allen and Violet Large, who went even further with their generosity when they decided to give away an astonishing 98% of their winnings.