Mega Millions Winner Americo Lopes (a.k.a. the Greedy Liar)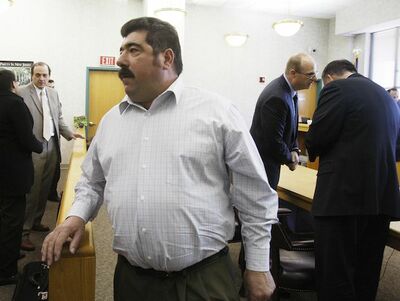 Joining a lottery pool is a great way to increase your odds of winning a life-changing jackpot. With more people pitching in funds to buy tickets, you get more bites at the apple. This is exactly how an eleven-person office pool shared a mind-boggling $543 million Mega Millions prize in July 2018!
But sharing a jackpot with others can create serious problems if the players and payments are not documented properly. Lottery winner Americo Lopes certainly created quite a mess when he refused to share his $38.5 million jackpot with the rest of his lottery pool.
Here's how Lopes tried to hide the win—and how the rest of the lottery pool fought to get their money back.
WHO IS AMERICO LOPES?
Americo Lopes, a Portuguese-American construction worker living in New Jersey, had been buying lottery tickets with his fellow workers at Berto Construction Inc. for years. Starting in 2007, members of his workplace lottery pool put up the money for lotto tickets and entrusted Lopes to buy the tickets on their behalf.
Lopes and his highway construction crew worked together every day and considered each other to be close friends. One crew member, Candido Silva Sr., helped Lopes renovate his home, and Lopes attended the christening of another crewmember's daughter.
However, when Lopes realized he held the group's winning Mega Millions lottery ticket in November 2009, he decided not to tell his coworkers. Instead of sharing this tremendous news with the rest of the lottery pool, Lopes collected the money on his own and didn't tell a soul.
HOW DID AMERICO LOPES HIDE THE LOTTERY WIN?
Six coworkers, including Lopes, each contributed $2 toward the lottery pool's regular Mega Millions ticket purchase. Since the construction crew were all friends and trusted each other, they didn't keep track of their payments or chosen numbers in writing. The other players assumed Lopes would tell them if they won. This assumption proved to be a serious mistake.
Lopes bought the tickets for the group as usual. Then, on November 10, 2009, he realized that the group had matched the winning numbers. Another player from San Francisco also matched the winning numbers, so the massive $77 million Mega Millions jackpot would be split into two $38.5 million prizes. The win must have gone straight to his head, because Lopes immediately decided that he would not tell his coworkers.
Soon after the draw, Lopes told his employer that he would need to take some time off for a foot surgery. His boss and coworkers didn't question his need for surgery or his absence from work.
Next, he went to collect the prize from the New Jersey Lottery. He told lottery officials that he had bought the ticket on his own and that he was the sole winner of the jackpot. Officials believed Lopes and let him cash the winning ticket. Lopes opted to receive the winnings in a lump sum payment, which lowered the payout to $24 million. After taxes were deducted, he took home a hefty $17,433,966 prize.
HOW AMERICO LOPES SPENT HIS MONEY
Lopes told his boss that he wouldn't return to work after his "foot surgery." Determined to pretend that everything was normal, he filed for unemployment benefits, like any other out-of-work American would do.
Next, Lopes began spending his winnings. First, he spent roughly $378,000 to pay off the mortgage on his home. Next, he upgraded his ride to a shiny new $35,500 Chevrolet Colorado truck and took a trip to Portugal. He gave almost $250,000 in gifts and cash to his family members and made a $5,500 early payment on his 2010 income taxes—and still, no one realized that he'd won the lottery.
Soon, Lopes was ready to upgrade his home, so he made a $145,000 down payment on a $1.5 million dream mansion in New Jersey. The 5000-square-foot estate sat on a beautiful 5.24-acre property. It had four bedrooms, six bathrooms, and a huge circular driveway ready to be filled with luxury cars. Although Lopes signed the contract, the sale was not finalized.
HOW AMERICO LOPES WAS CAUGHT
In 2010, after pretending for months that nothing in his life had changed, Lopes couldn't resist telling one of his former coworkers that he had won the lottery one week after he'd quit his job. The news soon traveled to his former lottery pool mates, and the other construction workers got suspicious about Lopes' conveniently timed win. It was too close to the last time they had played the lottery together.
A quick web search immediately revealed Lopes' betrayal. According to the New Jersey Lottery's website, Americo Lopes had apparently won a $38.5 million jackpot all by himself on November 10, 2009—weeks before he'd quit his job.
As soon as the lottery pool realized that Lopes had claimed their money for himself, they took him to court. The coworkers testified that they had played the lottery together for years, and that they had given Lopes the money to buy lottery tickets the day he won. A sixth colleague, who had not played the lottery on the winning week, also testified to the existence of the lottery pool. This last testimony was essential to supporting the construction team's case because they had no written documentation proving that they'd paid for the winning ticket.
Despite the fact that somehow $5 million of the prize money had gone missing and could not be located, the jury unanimously decided that Lopes had to share the jackpot with his five coworkers. Because he had chosen the lump sum option that reduced the prize money to $24 million, he owed $4 million (before taxes) to each member of the lottery pool.
CONCLUSION
While the New Jersey construction crew got lucky with their court win, the story of Americo Lopes highlights the risk of not documenting players and payments in a lottery pool and the need to be careful when splitting lottery winnings.
To protect everyone's interests while playing as a group, it's recommended that you document and track all participants by name and note how much each person pays towards the lottery pool each week. We recommend creating a lottery pool spreadsheet and a lottery pool contract that everyone must sign. If you prefer to track players and payments digitally, you can use a lottery pool app like the aptly named Lottery Pools.
Playing the lottery with friends and coworkers can be fun—but it always pays to be organized since some people can change drastically once they become lottery winners with a mountain of cash at their fingertips.
FURTHER READING
Now that you've seen how NOT to treat other people when lottery winnings are involved, reading about Thomas Cook should be extremely refreshing. Cook won a $22 million Powerball jackpot and decided, without a moment of hesitation, to stick to the verbal promise he had made with a friend 28 years prior to share the winnings with him. He might just be the most perfect example of honesty and integrity we've ever heard of!