Mater Prize Home Lottery Review
Lotteries that help people in need while still offering great prizes to those who choose to play them have become increasingly popular in recent years.
These charity lotteries allow players to try their luck while knowing that they are giving something back to others.
In this Mater Prize Home Lottery review, we will look at one such Australian lottery to see how it operates. We'll also explain how you play in it to help people and get a chance to change your own life through a massive win.
History and Cause
The Mater Lottery was established in 1954 when the Mater Foundation (which runs a variety of medical research labs and care homes across Australia) decided to try a new way to raise funds for their cause.
The founders of the lottery agreed that the best chance to gain the funds that they needed to continue their medical research and still give away a decent prize would be to offer property as a prize to the lottery winner.
Fast-forward many years, and the Mater Prize Home Lottery has become an Australian favourite that now holds six draws a year and has evolved into giving away homes, cars, money in the form of gold, and many other great prizes.
In addition to this, all profits from the lottery go towards medical clinics, education, and research. In fact, in 2018 alone, the Mater Prize Home Lottery managed to raise over AU$13 million for medical research.
How to Play Mater Prize Home Lottery
It is almost effortless to play in the Mater Prize Home Lottery thanks to the fact that there is no need to choose any numbers. The reason for this is because this lottery, just like the Endeavour Prize Home Lottery, runs more as a raffle than an actual lottery.
Therefore, all that you need to do is purchase a ticket and you stand a chance to win. Remember, however, that the more tickets you purchase, the higher your chances of winning.
A ticket for their popular lottery draws will cost you around AU$2. If you choose to purchase more than one ticket, you will get a small discount for each additional discount. And if you are really feeling lucky and decide to buy 100 tickets or more, the tickets will be half price.
After purchasing your ticket (or tickets), you can relax and wait until the time of the draw to see if you have won. If you have, you will be contacted by the lottery to help you claim your prize.
Odds of Winning
Because the lottery operates as a raffle, there are no specified odds of winning. This is mainly since each draw has its own maximum amount of tickets that can be sold.
For example, the current draw at the time of this review (draw no. 293) has a ticket allocation of 6,005,000 tickets available. This means that if you purchase one ticket, your odds of winning will be 1 in 6,005,000.
However, as mentioned earlier, the more tickets you buy the better your chances of winning and the greater your odds will be. For example, if you buy 100 tickets, your odds will be 1 in 60,050—which are fantastic odds.
Thankfully, there is also the chance of your odds increasing in cases where the lottery does not sell all the tickets available for a particular draw. The reason for this is that only ticket numbers that have been sold are entered into the draw.
So, if only 500,000 tickets are sold, only 500,000 ticket numbers will be entered into the draw—meaning your odds will be 1 in 500,000 if you purchase one ticket.
Endeavour Prize Home Lottery Drawing Time
There are six draws throughout the course of each year. However, it does not seem that these draws follow any specific schedule. Details of the next available draw are listed on the organization's official website.
Therefore, we recommend that you log on to check when the next draw is taking place.
Biggest Jackpots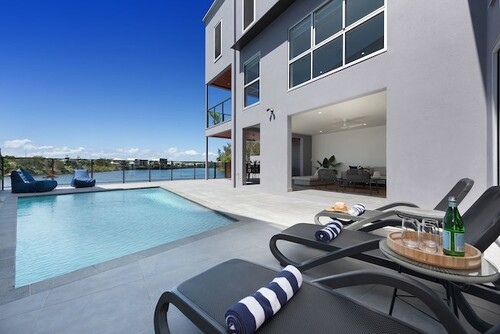 Because of the nature of the prizes, there is no set figure that acts as the biggest jackpot ever won by a player. However, when viewing previous draws and their prizes, we did see that some homes that were offered as prizes were valued at upwards of AU$2 million.
While there were few houses that we saw that were worth this much, the average value of properties available as prizes ranges between AU$1.3 million and AU$1.8 million.
Payout Options
All winners will have the property that they have won immediately transferred into their name. In addition to this, most jackpots also award winners a certain amount of gold or cash.
Although none of these prizes can be substituted for cash, they can be sold by the winner once they have been officially transferred over.
Taxes
Unfortunately, there is no mention of what taxes may apply to winning the jackpot. We do, however, assume that there will be some implication for winners, at least in the form of property tax.
Luckily, winners should be able to cover the costs of these implications using the gold or cash that they win alongside their new property.
How to Play Mater Prize Home Lottery Online
Tickets can be purchased from the official Mater Lottery website from anybody in the world—regardless of whether or not they are Australian citizens. In fact, the only limitation to playing in this lottery is that you will need to be 18 years of age or older.
The checkout process on the official lottery website is quick and easy and only requires that you register an account with your necessary information. There do also seem to be a few online lottery websites that sell tickets to the Mater Prize Home Lottery.
Mater Prize Home Lottery—Is It Worth Playing?
This is a fantastic lottery—there is little doubt about that. It offers excellent prizes at a relatively low price to lottery enthusiasts around the globe.
However, the thing that we love most about this lottery is that every ticket that is purchased goes towards helping medical research and those in need.
For us, that is already worth more than any fancy cottage or scenic beach-front apartment—not that those hurt either!
User Reviews and Comments (1)