Lucky for Life Review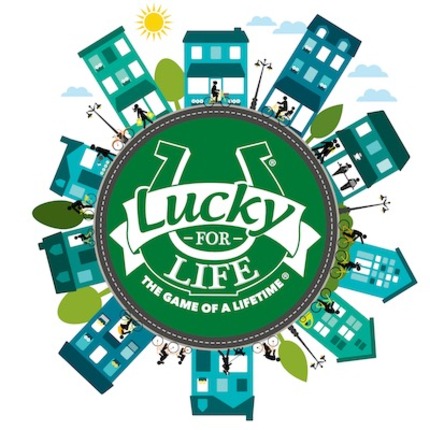 Winning the lottery can be an exhilarating experience that is sure to leave you wanting the taste of success even more. However, the chances of hitting the jackpot amount of your favourite lottery more than once are probably not very good. In fact, even winning the lower tier prizes more than a few times can be difficult. That all changed when one lottery was launched. In this Lucky for Life Lottery review, we will look at the multi-state lottery that allows you to feel the excitement of winning over and over again.
LUCKY FOR LIFE LOTTERY HISTORY
Launched in Connecticut as Lucky-4-Life, Lucky for Life first came onto the scene in 2009. The game originally started as a double-matrix 5/48 + 1/18 game but changed almost every time that a new state joined the ranks of places where the game can be played. As of February 2015, however, the game has stayed as it is and has quickly become one of the most popular lotteries available.
It is currently sold in the following 26 states: Arkansas, Colorado, Connecticut, Delaware, District of Columbia, Idaho, Iowa, Kansas, Kentucky, Maine, Massachusetts, Michigan, Minnesota, Missouri, Montana, Nebraska, New Hampshire, North Carolina, North Dakota, Ohio, Oklahoma, Rhode Island, South Carolina, South Dakota, Vermont, and Wyoming.
HOW TO PLAY LUCKY FOR LIFE LOTTERY
Playing the game is simple because there are no special additions or features you need to worry about. The only thing that you will need to do to play is to choose your numbers. And, if you do not even want to do this, then there is always the quick pick option that will do this for you.
As mentioned above, the game uses a double-matrix system. This means that you will need to choose two sets of numbers. For the first set, you will need to choose five numbers from a number pool ranging from 1 to 48. Once you have completed that, you will need to select a single bonus number from a number pool ranging from 1 to 18. In order to win the jackpot prize, you will need to match all five numbers and the bonus with the numbers drawn.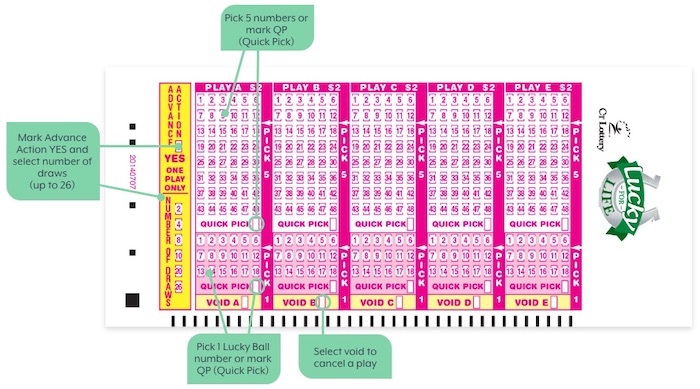 Due to the number of states that have come on board to support and play Lucky for Life, tickets can be purchased almost anywhere in participating states, including gas stations and convenience stores, and only cost $2 each. The official website also has a handy map that shows all locations where lottery tickets are available.
ODDS OF WINNING
The jackpot for winning Lucky for Life is a fantastic thing. Winners of the jackpot will receive $1,000 every day for the rest of their lives (guaranteed for a minimum of 20 years)! While this jackpot—which adds up to $365,000 annually in case you're wondering—may sound too good to be true, there is one drawback: the odds of winning this daily prize are 1 in 30,821,472. These odds are quite high and do put a slight damper on the chances of winning the great jackpot available.
Another game that has the same $1,000 per day jackpot is New York Cash4Life, but its odds are considerably better at 1 in 21,846,048. And if you'd rather win bigger cash prizes upfront as opposed to daily, weekly, monthly, or annual payouts, then there are quite a few amazing lottery games that offer considerably better odds.
Among these are Canada Lotto 6/49 (1 in 13,983,816), Chile Clasico Loto (1 in 4,496,388), and Brazil Lotofacil (1 in 3,268,760).
Luckily, even if you do not win the jackpot, there are nine additional prize tiers available, as well as a second for life prize. These prizes and their odds are detailed below:
| | | | |
| --- | --- | --- | --- |
| Prize Tier | Win Requirement | Prize | Odds of Winning |
| 1 | 5 + Bonus | $1,000 per day FOR LIFE | 1 in 30,821,472 |
| 2 | 5 | $25,000 per year FOR LIFE | 1 in 1,813,028 |
| 3 | 4 + Bonus | $5,000 | 1 in 143,356 |
| 4 | 4 | $200 | 1 in 8,433 |
| 5 | 3 + Bonus | $150 | 1 in 3,413 |
| 6 | 3 | $20 | 1 in 201 |
| 7 | 2 + Bonus | $25 | 1 in 250 |
| 8 | 2 | $3 | 1 in 15 |
| 9 | 1 + Bonus | $6 | 1 in 50 |
| 10 | Bonus | $4 | 1 in 32 |
LUCKY FOR LIFE LOTTERY DRAWING TIME
There are two draws held each week on Mondays and Thursdays at 10:35 PM (EST). These draws are shown live via the lottery's YouTube account and can be watched online. Results of the draws are also posted online soon after the draw is concluded. Here's an example:
BIGGEST JACKPOTS
Because the jackpot amount is not something that changes, there is no biggest jackpot. The only way to calculate what the biggest jackpot could be is to see who the youngest winner is that lived the longest. Unfortunately, the game has only been around just over ten years, so even doing that is tricky.
PAYOUT OPTIONS
For all prizes in Tier #3 and onwards, payments are done in cash payments and are made quickly. However, with the first two prize tiers, players have the option to take the annuity payment or to take a cash lump sum.
If you are one of the lucky lottery winners who scored the $1,000 a day jackpot, you will be able to choose between receiving $7,000 paid out weekly for the rest of your life, $365,000 paid out annually for the rest of your life, or a cash lump sum of $5.75 million. If you are a winner of the $25,000 a year for life second-place prize, you may choose between being paid $25,000 annually for the rest of your life or a one-time cash payout of $390,000.
TAXES
The tax that you are required to pay on lottery winnings from Lucky for Life depends wholly on what state you are playing from. It does, however, seem as if there is a flat 24% federal tax that applies to all American lottery winnings.
If the state also does charge taxes, then this percentage will be added on top of the federal tax. For international players, there is just a flat federal tax of 30%.
HOW TO PLAY LUCKY FOR LIFE LOTTERY ONLINE
Various online lottery websites sell Lucky for Life lottery tickets. As with almost all lotteries, however, we do wish that more websites supported sales of the tickets. Aside from online, players can visit any authorised dealer to purchase tickets—of which there are many located around the participating states.
LUCKY FOR LIFE LOTTERY—IS IT WORTH PLAYING?
This is a very loaded question. Yes, we would absolutely encourage people to play a lottery that will reward them for winning each day for the rest of their life. There is only one thing that gives us pause—the odds of winning that great jackpot for what ultimately amounts to $3.65 million every 10 years.
Since there are other lotteries out there that offer much bigger upfront prizes (sometimes tax free!) and much better odds of winning, that's definitely something to consider. However, the price of a Lucky for Life ticket, the fact that it's sold in 26 states, and the interesting way that the jackpot is paid out still makes this draw one that's worth playing.
User Reviews and Comments (1)