Play Lotto Texas Online – How to Play and Buy Tickets
When the world thinks of Texas, the first things that often spring to mind are a big love of guns and even larger trucks. However, there is something even bigger than both of these things.
We are, of course, talking about the lottery. The lottery is so big in Texas that in 2020 the lottery saw sales of over $6.7 billion!
Read on as we look at how to play Lotto Texas online, how this popular lottery began, how the game works, and more.
History
Lotto Texas was launched in 1992 and was the first-ever draw offered by the Texas Lottery. Due to its great prizes, the lottery quickly grew and soon moved from one draw per week to two.
Apart from adding an additional draw, the lottery also changed their prize structure. The lottery decided to move from an annuity-only option to allow a cash option for winners as well.
The lottery is operated by the Texas Lottery Commission. The commission is operated by the government and is the sole operator of the many lotteries hosted in the state.
How to Play Lotto Texas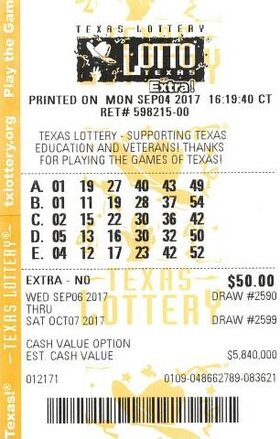 Lotto Texas is incredibly simple to play thanks to its single-matrix format. To play, you will need to select six numbers from a pool ranging from 1 to 54.
If you are not in the mood to select your own numbers, you can opt to play using a quick pick. This will allow a random number generator to choose your numbers for you.
The next step after selecting your numbers is choosing whether or not you would like to play the Extra! feature. This optional extra allows you to add up to $10,000 to your lower-tier prizes.
The Extra! option takes the form of an additional number automatically generated. This number must match the number drawn during the draw to activate Extra! on your ticket.
After you have chosen if you are playing with Extra! you will need to select your prize payment option. The options are a 30-year annuity or a cash lump sum. This option cannot be changed after you have bought your ticket.
Once you have marked your payment option, simply pay your $1 ($2 if playing with Extra!) and then wait until the draw to see if you've won.
How to Play Lotto Texas Online
Until very recently, it was not possible to play Lotto Texas online. However, thankfully this has changed.
As of this review, Lotto Texas is only available on one online lottery website. It is no surprise that this website is the well-known theLotter.
The site allows you to play in Lotto Texas and many other popular Texan and international lotteries.
Odds of Winning
The odds of winning the Lotto Texas jackpot are 1 in 25,827,165. This is a massive improvement on the odds of other lotteries like the US Powerball (1 in 292,201,338) and UK Lotto (1 in 45,057,474).
Your overall chance of winning a prize is 1 in 71.1, which isn't great but forgivable considering the cost of the ticket. Playing with the Extra! option will give you much better odds of 1 in 7.9.
Lotto Texas Payout Chart
The Lotto Texas jackpot starts at a minimum of $5 million. This jackpot rolls over until it is claimed. As you can imagine, this leads to some really impressive jackpots.
There are four different prize tiers when playing without Extra!. Playing with this option means that there are six available tiers. These are:
| | | | |
| --- | --- | --- | --- |
| Balls to Match | Odds of Winning | Estimated Prize | Estimated Prize with Extra! |
| 6 of 6 | 1 in 25,827,165 | Jackpot | N/A |
| 5 of 6 | 1 in 89,678 | $2,000 | $2,000 + $10,000 |
| 4 of 6 | 1 in 1,526 | $50 | $50 + $100 |
| 3 of 6 | 1 in 75 | $3 | $3 + $10 |
| 2 of 6 | Not Stated | N/A | $2 |
Drawing Time
There are two weekly draws held on Wednesdays and Saturdays. The draws take place at 10:12 pm (CT).
Biggest Jackpots
The largest ever jackpot offered by the lottery was for the draw held on June 19, 2004. After rolling over numerous times, the jackpot hit a staggering $145 million.
Due to the rush of players, the lottery sold a ridiculous number of tickets. The prize was ultimately claimed by an entity called VOM Enterprises.
Payout Options
As mentioned, the lottery offers the choice between a 30-year annuity and a cash lump sum. It is important to note that the cash lump sum is offered at its current value.
This means that the once-off cash prize will be worth significantly less than the 30-year annuity.
Taxes
Luckily, Texas is one of the few states that do not tax lottery winnings.
However, any winnings will still be subject to a 24% federal tax. If you are not an American citizen, this percentage is increased to 30%.
This means that if you win $28.6 million, you will be paying out a massive $6.86 million just in taxes. And that's if you are an American citizen. If you aren't, you will need to pay $8.58 million.
Lotto Texas – Is It Worth Playing?
Lotto Texas is absolutely worth playing! It has been around for plenty of years, and it is no wonder why. From the great minimum jackpot to the Extra! feature, this lottery has everything you need.
Add to this the decent odds of winning and the cheap ticket price, and this lottery is hard to resist.
So, we recommend you visit theLotter or finding your nearest retailer and purchasing your ticket today. You may just be the next big winner.
User Reviews and Comments (1)