Lottery Winners Who Dreamed Their Numbers
It's no secret that we all dream about winning the lottery, but unfortunately, most of us aren't lucky enough to turn such dreams into reality. However, that doesn't mean it's not possible. For these lottery winners who dreamt they would win, their luck might just be enough to inspire the rest of us.
National Lottery Winner Deana Sampson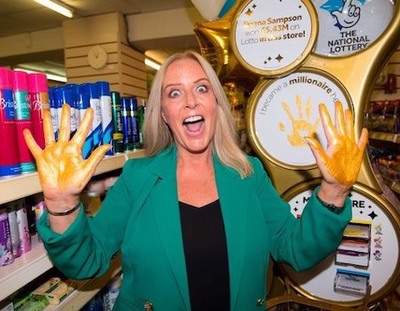 Life for Sheffield resident Deana Sampson wasn't exactly smooth sailing in 1996. As a hairdresser, she never seemed to have enough money—in fact, at one point, she had less than £10 to her name. On top of that, her brother's passing left her in a deep depression. On yet another night when it seemed like things weren't going to get better, she dreamt of her late brother, who told her she'd win the jackpot. Luckily, she didn't ignore the foreshadowing in her dream. As someone who played the lottery religiously, she typically chose the same numbers each time she purchased a ticket. When she went to her local post office to buy a ticket this time around, she used the numbers her brother gave her in her dream. And they worked.
The following Saturday, Deana was relaxing in her brother's old chair at her parents' house when the winning numbers were read on TV. Suddenly, it became clear that her dream was truly a premonition. Deana was holding a National Lottery winning ticket worth £5.43 million. Of course, this was a big surprise to her; after all, how often does someone dream up winning numbers? All she could say for certain after her win was that her brother was certainly smiling down on her.
Over 20 years later, Deana admits to having a happy and full life with her family since her big win. She used her winnings to buy multiple properties and take her loved ones on lavish vacations. She also expresses gratitude that she was able to take care of and spoil her parents before they passed away, as they'd struggled all their lives. Deana was fairly smart about how she spent money; she even started a property business with her son, Ryan. Still, she's excited by the possibility of winning the lottery again and still buys tickets regularly.
Lotto 6/49 Winner Olga Beno
In 1989, Nova Scotia resident Olga Beno dreamed about winning lottery numbers. From that point on, she played the numbers each time she purchased a ticket for any Canada Lotto 6/49 draw. Her persistence went on for years, as she was certain she was destined to win at some point. Nearly three decades later, on December 28th, 2016, Olga's lucky numbers were drawn. Her golden ticket was worth $5.3 million, which she claimed in January 2017.
Years before her big Lotto 6/49 win, Olga had been diagnosed with stage 4 cancer. With the medical bills piling up, she had to sell her home to keep up. After claiming her millions, she made plans to build a ranch-style house and take her family to Disney World. Despite the years of suffering, she was finally able to enjoy and live her life without any financial stress. Her dreams had finally—and quite literally—come true.
Lotto 6/49 Winner Mary Wollens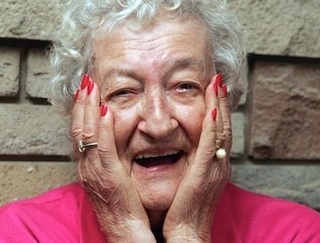 It seems that Canadians might have a knack for dreaming up winning lottery numbers because when Mary Wollens, an 85-year-old Toronto woman, had a dream about a large cheque, she followed her gut and bought a second Lotto 6/49 ticket with the same numbers as her first for the draw on September 30th, 2016. She couldn't be certain she'd win, but it was the smart decision to follow her instincts. The draw revealed her to be the winner of $16 million of a $24 million. Had she stuck with the one ticket, she would have won $12 million—still, the extra few million was definitely exciting.
When asked how she planned to spend her winnings, she said she was excited to take a trip to Las Vegas to gamble some of her winnings. She also made plans to buy a new home. For a former house cleaner, this was a big chunk of change, so of course, she wanted to enjoy it as much as possible. She also had every intention of sharing her winnings with her son and grandchild.
Mega Millions Winners Emaley and Alex Escalera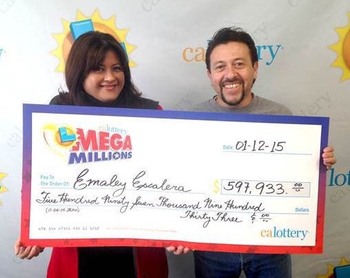 For Emaley and Alex Escalera, residents of Stockton, California, buying lottery tickets was a regular part of their lives. Their strategy usually involved playing one line that symbolized special dates and another line made up of completely random numbers. However, a few days prior to the November 4, 2014, Mega Millions draw, a set of numbers came to Alex in a dream, so as soon as he woke up he wrote them down and told Emaley he'd play them the next day.
Despite the seemingly lucky dream, Emaley put the ticket into their nightstand with a bunch of other lotto tickets and, for the time being, forgot all about it. Two months later Alex took the tickets to the store and learned that the dream numbers matched five out of the six numbers that were drawn, meaning he had won $597,933! He was so excited that he started shaking all over and continued to do so all the way home to share the good news with his wife. They planned to use the money to pay off all their debts, including their mortgage, and help their children pay their college tuitions. Sounds like a solid plan!
Conclusion
It's not often that our dreams come true, but when they do, it's always a great surprise. Most lottery winners are just insanely lucky, but for these three dreamers, they were able to dream millions into reality. It's enough to make the rest of us want to close our eyes and hope for winning dreams to come our way.