Lottery Winner and Murder Victim Urooj Khan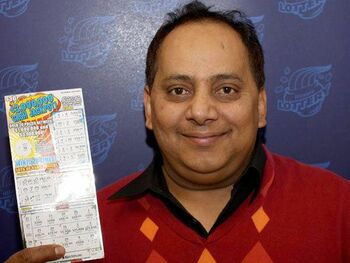 As many lottery winners will tell you, winning a large sum of money is all the more exciting when you realise you can finally pay off your bills and take care of your family. This rang true for lottery winner Urooj Khan, who had the luck of purchasing a scratch-off ticket that turned out to be worth $1 million. Unfortunately, the opportunity of revelling in his winnings was taken from him when Khan died after being poisoned.
Murdered After His Lottery Win
When Illinois resident Urooj Khan won $1 million on a scratch-off ticket on July 19, 2012, he was more than grateful. In an interview shortly after, he indicated that winning meant "everything to [him]," as he'd be able to fund his dry-cleaning business even further as well as donate money to St. Jude Children's Research Center. He planned to take home the $425,000 taxed lump sum.
Unfortunately, Khan died just the next day after awaking from his sleep in pain before collapsing. Though the immediate cause of death was listed as natural causes, his family and friends didn't buy it. He was a healthy guy, after all—how could anyone believe he'd died of natural causes a day after winning hundreds of thousands of dollars? When they insisted authorities ran more tests, it was found that Khan had a large amount of cyanide in his system.
Though the Chicago Police Department believed it to be a homicide, the case remained unsolved. No suspects were ever named in the case, and Urooj became yet another winner who, alongside Jeffrey Dampier, Ibi Roncaioli, and Michael Gebru, seems to have been tragically murdered.
What Happened to His Winnings?
Given the suspicious circumstances of Khan's death, his winnings were not immediately released. Instead, they landed in Cook County's probate court during the initial phases of the investigation.
A year and a half later, the matter of his money was solved despite no answers coming to light regarding his murder. The court decided that Urooj Khan's widow, Shabana Ansari, would receive one-third of the $425,000 winnings. Likewise, the agreement left the remainder of the money to his daughter.
Per Illinois law, if a winner dies before their full prize is released, their winnings will be paid to their estate. However, the payment amount may vary depending on state laws.
Background
Before he fell victim to the lottery curse, Urooj Khan was just as much as a family man as he was a businessman. After immigrating to the US from India, he opened three dry-cleaning businesses in Chicago. He was known for being friendly, hardworking, and funny. His nephew remembers him for being a great man, even calling him the "life of the party"—one that made sure his family was always well taken care of.
To honour his name, his wife manages their dry-cleaning business and handles matters at home. Despite Khan's family having their doubts and suspicions about Ansari's intentions, she maintains her innocence and insists she was happily married to Khan.
Conclusion
As Alanis Morissette sings in her award-winning song "Ironic," there is a troubling sense of irony in dying just after winning the lottery. Urooj Khan hadn't even collected his winnings when he died tragically in his home, and though it was clear he was murdered, no answers ever surfaced regarding his death. More than anything, Urooj Khan wanted nothing more than to take care of his loved ones. Thankfully, his wife and daughter were able to continue his legacy and use his winnings to take care of themselves. One big question still remains: who killed Urooj Khan?