Nicole Pedneault and Roger Larocque: The Winners Who Were Almost Too Late
We all know winning the lottery is all based on random luck, but imagine if you were carrying a winning ticket and didn't even know it. For Loto-Quebec winners Nicole Pedneault and Roger Larocque, their ticket to wealth was hidden away for a year before they finally realised they'd hit the jackpot.
The Hidden Ticket & One Lucky Find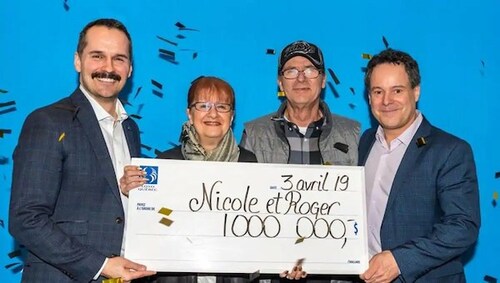 When Nicole Pedneault and Roger Larocque bought a Loto-Quebec ticket on Valentine's Day in 2018, they tucked it away and completely forgot about it. Little did they know that their winning numbers would be announced just a couple of months later on April 5th, 2018. In fact, they quite literally stumbled through their normal lives without knowing they'd just won big time. Fortunately, luck and time were both on their side. Almost a full year after the draw, Nicole found the ticket hidden in a book she'd brought back from vacation—just a few days before the ticket would expire and become no longer redeemable.
The couple claimed their prize of $1 million in Montreal on April 4th, 2019—the day before it would expire. Nicole admitted in an interview that, had her grandson not asked for souvenirs from her and Roger's trip to Japan, she would have likely never found the ticket. Had that been the case, the two would have likely been in the same position as would-be lottery winner Martyn Tott, who lost his winning ticket worth £3 million and was never able to claim his winnings, despite years of legal efforts.
How Did Nicole & Roger Spend Their Winnings?
While the win wasn't the largest Canada has ever seen, Nicole and Roger were excited for the $1 million extra that was sitting in their wallets. Like many other lottery winners, the couple acknowledged that they were most eager to take care of their children and grandchildren when asked how they'd be spending their winnings. Beyond that, Roger had planned to buy a new car and take his wife out to treat themselves to a celebration dinner, which would consist of poutine with extra gravy and cheese curds—a Canadian culinary staple.
Where Are They Now?
Since Nicole and Roger are a fairly modest couple, they've kept out of the public eye beyond their lottery press conference—much like Mega Millions winner Rick Knudsen. We can only assume that they are enjoying their time with their loving family.
Conclusion
So few of us know what it's like to experience the thrill of winning the lottery, but even fewer people can say they've bought a winning lottery ticket and almost missed out on the money because they forgot all about it. But stories like those of Nicole Pedneault and Roger Larocque's—not to mention Joemel Panisa—show us that truly anything can happen if luck is on your side. So, while it's easy to just give up and accept defeat, always remember to keep your tickets nearby so that you can easily check them. After all, few things would be as crushing as finding out far too late that you'd have won millions if you were a bit more organized.