Mega Millions Winner Rick Knudsen: The Man With the Luckiest Numbers?
We all dream of having our dream homes, dream cars, and dream lives. Unfortunately, for many of us, the only thing missing is the money we'd need to make this all happen. Is it really possible to be lucky enough to afford all of those things without already being rich? For Mega Millions winner Rick Knudsen, it's clear that the answer to that question is yes.
Rick Hits the Jackpot
Calimesa resident Rick Knudsen was known for being superstitious, and when a series of peculiar coincidences occurred in one day, he knew his luck was high. It all started when he made his first purchase on August 21, 2014, which amounted to $6 even. At first, he thought nothing of this. Then he made his second purchase, which was $9 even, and several other buys that day that came out to even amounts, no change included.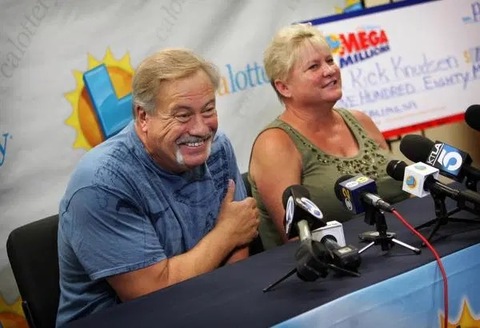 As a self-proclaimed "numbers freak," Knudsen was certain the world was trying to tell him something, so on his way home, he stopped at a local convenience store to pick up a $10 Mega Millions Quick Pick ticket. He knew something good was coming his way—after all, there are certain signs to look out for if you are about to win the lottery—but he just didn't know how good it would be.
The next day, on August 22, the coincidences continued. While at a timeshare in Indio, Knudsen and his wife headed to the cantina to buy necessities for their room. When he was given the total, he was in disbelief. It was $24 even, and it wasn't even the first time it happened that day either! Filled with excitement, he headed down to the casino to test his luck and played on seven different machines, each of which generated a win for him. It was obvious to him what was going on at that point, especially considering he'd paid even amounts on seven different purchases prior: his luck was off the charts and it wasn't going to stop there.
Early August 23, Knudsen received a phone call from his sister to inform him that someone from Calimesa had hit the $180 million jackpot during the previous night's drawing. The winner had even purchased their ticket from a Calimesa 7-Eleven, the same location where he'd bought his own. As anyone else would, he thought it may be too good to be true, considering all the luck he'd already had during the two days prior. Crazily enough, when he checked the winning numbers, they matched his own! He was so shocked that he almost fainted, and his family was right behind him. Though they'd been financially comfortable before, the accepted lump sum of $107 million ($80.25 million after taxes) secured their futures in a big way.
His winning numbers were 5-31-34-41-74, with Mega Number 3. For quite a few draws after that, many other hopeful lottery players went to the same store to play his exact numbers in hopes that luck would strike again—but, though not impossible, it's extremely unlikely that the same numbers will ever come up again.
How Did He Spend His Winnings?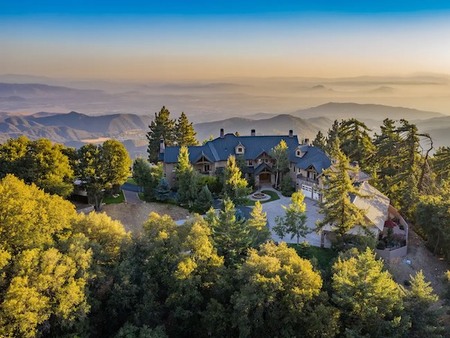 Rick Knudsen had no intention of blowing his riches, but the money certainly made it easier for him to do the things he'd always wanted to. His first plans involved him helping his church financially, including providing aid for renovations. As generous as he was, his newfound riches would certainly make it more affordable to give back to his community in a big way.
Beyond that, Knudsen and his family had been looking for a new home before they hit the jackpot. Since he had just become millions of dollars richer, he knew he could finally afford to move into his dream home in the mountains of Southern California. At $5.5 million, the Eagle Crest Estate was certainly a big investment, but Knudsen was so excited he bought a buffalo ranch and more land to make his estate even larger.
The rest of his plans were pretty typical for a lottery winner. New cars were in the family's future, but more than that, Knudsen was happily ready to start taking care of his kids and grandkids in a much bigger way. While money typically changes people, oftentimes for the worst, this winner didn't lose sight of what he truly cared about. This made him more financially responsible than a lot of other lottery winners we've read about.
Life After His Big Win
After Rick Knudsen won the lottery, he retired from his job as a builder. This allowed him to run his household and manage his buffalo ranch, as well as live his life to the fullest. He and his family enjoyed their happiest days during the years that followed, but like most good things, this naturally didn't last. Knudsen's son, Ricky, had been born with a heart defect, and by the age of 36 had already had three open-heart surgeries, two-closed heart surgeries, and two valve replacements. Ricky's life was certainly not a walk in the park, but fortunately, he had a loving family who would sacrifice anything to give him the best life possible.
When Ricky's doctor informed the Knudsens that he would be safer in a home at a much lower elevation, Rick made the decision to sell his dream home. This was a hard decision for the family, especially considering his son loved all of the freedom he had on the wide stretch of land. When the property was put up for sale, it made big news. Rick initially priced their estate at $26 million, which seemed fair given all of the work he put into the property. When it wouldn't sell with that price tag, the price was cut by $19 million and put up for auction with a minimum price of $6.9 million.
Though the family was giving up the place they loved the most, they were eager to start fresh and purchase a ranch with 100 acres of land surrounding it. While it was a significant downgrade, Rick knew his son would be able to enjoy his life all the same, which is what mattered the most.
Conclusion
Though Rick Knudsen's win was worth an incredible sum, he still maintained modest spending habits and managed to keep his family mostly out of the public eye. Of course, this isn't always the case, as can be seen with winners Roger and Lara Griffiths—a couple who blew their winnings and made their personal lives extremely public. For those of us with high hopes to win big, Knudsen's story is pretty inspiring and shows that good luck—and trusting your intuition—may not be a sham after all.