Kerala Lottery Review
There are many regions around the world that forbid their residents from taking part in certain, if not all, lotteries. The main problem with this is that such areas often don't even bother running a lottery for their own residents. However, this is definitely not a problem with the Kerala region in India—also known as God's own country—and this state-run lottery is arguably the most famous lottery in India. In this Kerala Lottery review, we will look at how this lottery came to be, how it operates, and whether it's worth playing.
KERALA LOTTERY HISTORY
Before the launch of the Kerala State Lottery in 1967, there were no government lotteries in India. In fact, lotteries were completely banned. At this time, the Minister of Finance in the Kerala region was looking for a way to increase revenue for the government without raising taxes or creating new taxes that residents would have to pay. From this need, the Kerala Lottery was birthed.
Now, many years later, the lottery rakes in billions of rupees for the government while changing the lives of winners on a daily basis. There are seven different lotteries that operate under the Kerala Lottery umbrella—one for each day of the week. In addition to this, there are six other lotteries that take place throughout the year and generally occur to mark special holidays.
HOW TO PLAY KERALA STATE LOTTERY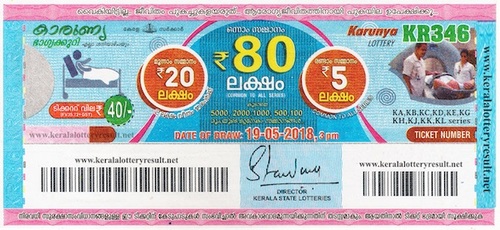 To play in the Kerala Lottery, players will need to visit a certified Kerala Lottery dealer. Around the region, there are over 35,000 registered lottery agents and over 100,000 lottery retailers from which players can purchase tickets. Once a player has purchased a ticket, they will have to write their full name and physical address on the back of the ticket. They will also have to sign it, or else the ticket will not be valid.
Unlike traditional lotteries, players do not need to choose their own numbers to play in any of the Kerala State Lotteries. All tickets come with a pre-defined ticket number. These are the identifying numbers that are drawn to determine the winner of the draw, meaning the game operates more like a raffle than a conventional lottery.
Costs of tickets and the size of the jackpot available depend on the lottery that players wish to purchase tickets for. The daily lotteries available are as follows:
| | | | |
| --- | --- | --- | --- |
| Day Lottery Is Held | Lottery Name | Ticket Price* | Estimated Jackpot** |
| Monday | Win-Win | Rs. 30 | Rs. 6,500,000 |
| Tuesday | Dhanasree | Rs. 40 | Rs. 7,500,000 |
| Wednesday | Akshaya | Rs. 30 | Rs. 6,500,000 |
| Thursday | Karunya Plus (Previously Pratheeksa) | Rs. 50 | Rs. 10,000,000 |
| Friday | Bhagyanidhi | Rs. 30 | Rs. 6,500,000 |
| Saturday | Karunya | Rs. 50 | Rs. 10,000,000 |
| Sunday | Pournami | Rs. 30 | Rs. 6,500,000 |
*Price shown is the maximum price that can be charged and is shown in Indian Rupees.
**This price estimate is taken off of the official Kerala Lottery website and is subject to change.
ODDS OF WINNING KERALA LOTTERY
The odds of winning any of the lotteries held by the Kerala Lottery are dependent on which draw you have chosen to play. Each draw has a maximum number of tickets that can be printed. From this, the estimated odds of winning are:
| | |
| --- | --- |
| Lottery Name | Odds of Winning* |
| Win-Win | 1 in 6,300,000 |
| Dhanasree | 1 in 4,500,000 |
| Akshaya | 1 in 6,300,000 |
| Karunya Plus (Previously Pratheeksa) | 1 in 3,500,000 |
| Bhagyanidhi | 1 in 6,300,000 |
| Karunya | 1 in 3,000,000 |
| Pournami | 1 in 6,300,000 |
*Odds are based on buying a single ticket in each given lottery. Purchasing more tickets per lottery will increase odds proportionally.
These odds are pretty decent, but considering the best international lotteries offer either much bigger prizes, much better odds, or both, there isn't much here for serious lottery enthusiasts to get excited about. US Powerball, for example, has jackpots that have climbed as high as $1.6 BILLION, Italy MillionDAY has a daily jackpot of €1 million and odds of 1 in 3,478,761, and Polish Mini Lotto offers a very respectable daily prize as high as €85,349 as well as fantastic odds of 1 in 850,668.
That being said, each of Kerala's daily lotteries has a total of 8 main prize tiers in total plus a consolation prize. As an example, here's a breakdown of the Saturday Karunya Lottery's prize tiers:
Category

Details of Prize

Prize Amount

# of Prizes Available

I

Common to all series

Rs. 1,00,00,000

1

II

Common to all series

Rs. 50 Sovereign

1

III

One prize in each series

Rs.1,00,000

5

IV

Last four digits to be drawn 20 times

Rs. 5,000

Up to 6,000

V

Last four digits to be drawn 20 times

Rs. 1,000

Up to 6,000

VI

Last four digits to be drawn 30 times

Rs. 500

Up to 9,000

VII

Last four digits to be drawn 30 times

Rs. 100

Up to 9,000

VIII

Last four digits to be drawn 100 times

Rs. 50

Up to 30,000

Consolation

Rs. 10,000

4
KERALA LOTTERY DRAWING TIME
The draw for each lottery takes place at 3 pm (IST) at various locations around the Kerala region. The lottery officials post the location of the draw online and invite all interested parties to come and watch it in person.
BIGGEST KERALA LOTTERY JACKPOT
The current lottery jackpots are the largest of the daily lotteries in the history of the lottery. This means that the largest jackpot is currently the Karunya and Karunya Plus lotteries, which both have a jackpot of Rs. 10,000,000 (around US $140,930). However, if the annual holiday lotteries (called bumper lotteries) are taken into account, the largest jackpot belongs to the Thiruvonam Lottery at Rs. 70,000,000 (around US $986,510).
One well-publicized big lottery win in recent years was that of 22-year-old Mofijul Rahima Sheikh, who won the INR 10 million (around $150,000) jackpot in the Karunya Lottery back in March 2016. What makes his story even more amazing is that he bought his lottery tickets out of pity for a street vendor—using all of the wages that he had just earned on his first day of his new job!
PAYOUT OPTIONS
The payout for prizes less than Rs. 100,000 can be claimed at any regional Kerala Lottery office. If, however, the prize is above Rs. 100,000, players will need to claim their winnings from a registered lottery directorate office. Prizes will be paid via bank transfer or by cheque and require a large number of verification documents in order to be claimed. The list of necessary documents is available on the official website.
TAXES
Prizes over Rs. 10,000 are subject to a whopping 30% income tax that is deducted from the winnings and paid directly to the government. In the case that tickets were purchased by agents on behalf of groups (similar to lottery syndicates), a standard rate of 10% tax will be charged on the winnings.
HOW TO PLAY KERALA LOTTERY ONLINE
This is the one area that Kerala Lottery heavily disappoints compared to many other countries' lotteries. According to the lottery organization itself, there is no way to purchase Kerala Lottery tickets online. All tickets must be purchased in person at one of the registered vendors. However, there are specific agents online that purchase tickets on behalf of others. These agents then deliver the physical ticket to the purchaser's doorstep (in Kerala, of course) in order for them to sign the ticket and fill out their personal details on the reverse of the ticket.
KERALA LOTTERY – IS IT WORTH PLAYING?
The Kerala Lottery is a great lottery—as is evident by the fact that it has been around for a significant number of years and is the foundation on which many other Indian states based their own lotteries. With relatively good jackpots in relation to price, Kerala is definitely worth trying out—as long as you live in or happen to be passing through the Kerala State.
And ff you do but would like the chance to win much bigger prizes, find out how you you can legally play international lotteries in India. Knowing those details will open up a world of lotto possibilities that you never even dreamed of.
User Reviews and Comments (1)