Jackpot.com Syndicates Review
There are a fair number of factors to consider when looking for an online lottery syndicate to play in. Luckily, a large number of lotto sites today offer such a wide variety of syndicates that you can easily find one that fits your wants and needs perfectly. In this Jackpot.com syndicate review, we will look at three syndicates options that may just be perfect for you.
WHAT ARE Jackpot.com LOTTERY SYNDICATES?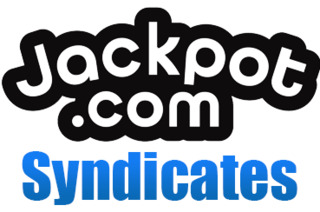 The syndicates offered at Jackpot.com are your regular, old-school, 'win me some money' syndicates. They allow you to pool your money with a bunch of complete strangers to increase your odds of winning the jackpots of your favourite lotteries. And, as with all syndicates, if your group does hit the jackpot, winnings will be distributed evenly amongst all members of the group based upon the number of shares in the syndicate that each person holds.
It appears that all three syndicate options available on the site all use the Random Selection method to select the numbers that will be played at the time of a draw. This method means that all numbers are chosen entirely at random (using a random number generator or "RNG") and that there are no algorithms that attempt to calculate what the next winning numbers will be.
SYNDICATE OPTIONS AVAILABLE
While three may not be a large number of syndicate options to choose from, the three syndicates available at Jackpot.com are, thankfully, for some great online lotteries. However, because the site is based in the UK (and only available to UK players), the only syndicates available are for UK lotteries. The three syndicates available include:
UK Lotto Syndicate
Regular Jackpot Odds: 1 in 45,057,474 / Biggest Jackpot Ever: £66 million
# of Lines / # of Draws

Syndicate
Type

Number
of Shares*

Cost per
Share*

Odds
of Winning

28 / 1

Random Selection

65

£2.99

1 in 1,609,196
The UK Lotto syndicate offers you 28 lines of play in the for a low price and helps reduce your odds of winning from an unfavourable 1 in 45,057,474 to an excellent 1 in 1,609,196. And, with jackpots proven to reach £66 million, you could be £1.02 million richer for holding only one share. If, however, you choose to purchase three (or even four) shares, you could win £3.05 million (or £4.06 million).
UK Thunderball Syndicate
Regular Jackpot Odds: 1 in 8,060,598 / Biggest Jackpot Ever: £500,000
# of Lines / # of Draws

Syndicate
Type

Number
of Shares*

Cost per
Share*

Odds
of Winning

21 / 1

Random Selection

55

£1.99

1 in 383,838
There are not many ways that you can reduce the UK Thunderball odds of 1 in 8,060,598 to only 1 in 383,838. In fact, playing through a syndicate is the only way unless you want to buy 21 lines/tickets yourself. This syndicate grants you these fantastic odds for the small price of £1.99. And, thanks to the relatively low number of shares available for the syndicate, it can leave you with £9,090 of winnings for having just one share. Having seven shares would allow you to claim £63,636.
EuroMillions Syndicate
Regular Jackpot Odds: 1 in 139,838,160 / Biggest Jackpot Ever: £161 million
# of Lines / # of Draws

Syndicate
Type

Number
of Shares*

Cost per
Share*

Odds
of Winning

15 / 1

Random Selection

50

£3.99

1 in 9,322,544
Considering that the jackpot can reach as high as £161 million (like it did back in 2011), it is no surprise that EuroMillions has such low odds of winning. However, this syndicate allows you to change these odds from 1 in 139,838,160 to only 1 in 9,322,544—effectively making them 15 times better. And, if the syndicate wins the jackpot mentioned, you could win £3.22 million with just one share, while having six shares would win you £19.32 million.
ABOUT Jackpot.com
Since 2016, Jackpot.com has been offering lottery players a great platform to participate in their favourite games. It supports 21 different international lotteries and has quickly become one of the most trusted lottery sites. With the introduction of online lottery syndicates, there is almost nothing the site does not offer. For more info, read our Jackpot.com review.
Jackpot.com SYNDICATES CONCLUSION
Asides from the very limited number of them available, there is nothing that we can complain about regarding the syndicates available through Jackpot.com. In fact, we are genuinely impressed at how the site has balanced their syndicate prices with the low number of shares that they allow for each syndicate. While this does mean that you will have to pay a marginal amount more for each syndicate share, it also means that if the syndicate does win, you will get a much more significant portion of the pie.
If anything, our biggest qualm with the syndicates mentioned above is the website that they are hosted on. Do not misunderstand us; we still think Jackpot.com is still one of the most recommended lottery sites to play on and that all players who can play using it should. However, it is disappointing that the site is not available in a variety of regions—making playing in these great syndicates impossible for many people.
If, however, you do belong to a country in which the site is supported, then we highly recommend that you get over to the site and purchase your syndicate share for the next big draw. You never know, you could be one of the next big syndicate winners.
Join Jackpot.com now